Learn all about spaghetti, butternut, kabocha and acorn squash in this guide to winter squash.
Don't be fooled by the name, winter squash is not just for winter. In fact, it's in season right now!
And considering it weirdly snow flurried yesterday (yes, on October 18th) here in NY, winter is letting us know it's just around the corner.
There is a plethora of winter squash out there but we're going to focus on the main four most are familiar with: butternut, acorn, spaghetti and kabocha squash today because that's what seems to be easiest to find at my local farmer's market.
It's kind of crazy to think this series started with spring peas in this sweet pea lemon crepe cake and strawberries in this guide to strawberries and here we are almost half a year later talking about squash.
Time flies!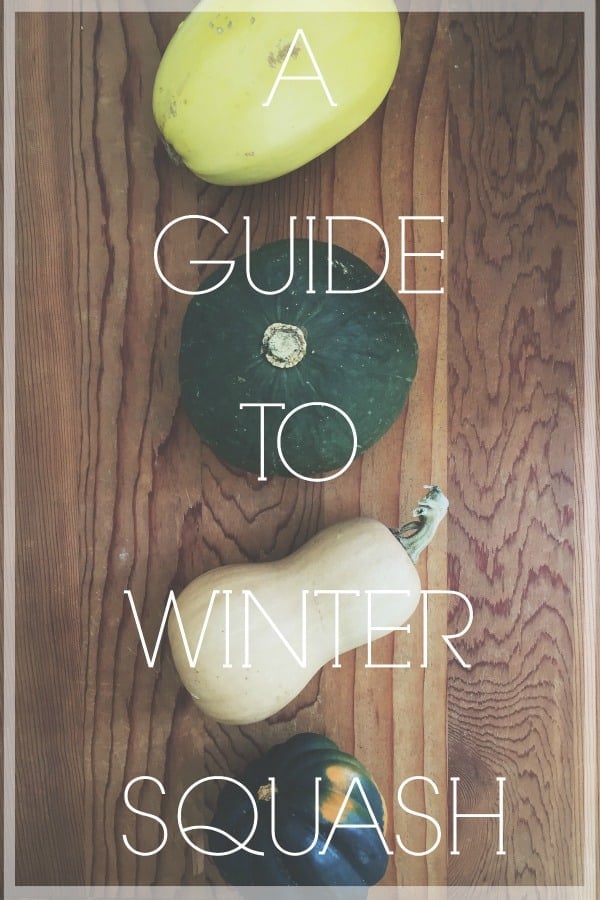 BASIC INFO ON WINTER SQUASH
Winter squash despite its name, is actually in season from the late summer through fall.
It's thick skin/rind, unlike summer squashes like zucchini, help it keep for long periods of time, through winter.
Picking winter squash:
There's not much to picking a good winter squash. There shouldn't be any soft spots and it should feel nice and heavy.
Storing winter squash:
Sort of like potatoes, winter squash stay best in a cool, dark place. I've actually stuck mine in our unfinished basement before and they've stayed all winter (4-5 months) down there without issue.
If you keep them on your counter-top, you'll want to use the squash within about 2-3 months.
Health benefits of winter squash varieties:
There are so many!
Winter squash are all a low-calorie, healthy complex carbohydrate full of fiber and an excellent source of vitamin A, C and potassium.
Iron and beta carotene also rank high in winter squash, the darker the skin, usually the higher the source of beta carotene.
Sub out winter squash for pasta, breads, rice and other grains once and awhile for healthy boost!
SPAGHETTI SQUASH
This squash can be baked, steamed, boiled and even microwaved.
Yep, I've cooked one entirely in the microwave before, so easy! My favorite way though is roasted.
Simply slice the squash in half, lengthwise, scoop out the seeds and place in a baking dish. Roast at 375-400 degrees until flesh is soft and can easily be scraped, at least 45 minutes.
Once it's cooked, scrape the flesh out with a fork and it turns into spaghetti like strands.
Use it as a healthy pasta replacement like as the base for this spicy porter short rib chili, stuff it like in this chocolate chili stuffed spaghetti squash or make fritters out of it like these spicy spaghetti squash latkes.
Similar to stuffed spaghetti squash is this twice baked spaghetti squash recipe. It's filled with lots of goodness and you can't beat that bubbly center and crispy topping of the twice baking method!
You can even make this crazy "pasta-like" comfort dish of turkey sausage spaghetti squash baked ziti!
KABOCHA SQUASH
This is an Asian variety of winter squash.
Most kabocha on the market are kuri kabocha. Kabocha are dark green, squat and sometimes called Japanese pumpkins.
They look similar to buttercup squash but aren't entirely the same. Read all about that squash in this roasted buttercup squash recipe and this Thai buttercup squash soup.
The kabocha flesh has a very distinct, strong flavor. It's sweet (even sweeter than butternut) and almost reminiscent of the inside of a chestnut. While the rind is edible, most will peel it off or discard after roasting.
My favorite way to eat kabocha is to roast slices of it (with the rind attached) on a sheet pan seasoned with cinnamon and other sweet spices. Once roasted, scoop the flesh right off the rind.
It also makes a delicious puree given it's natural sweetness. You can also stuff kabocha like in this wild mushroom couscous lamb stuffed kabocha squash or make soup with it in this cinnamon ginger kabocha squash soup.
BUTTERNUT SQUASH
The skin of a butternut squash is very thin unlike most other winter squash varieties. I usually remove it with a vegetable peeler before cooking.
Butternut is commonly known for its sweeter flesh, but compared to the kabocha, it's definitely not as sweet and more like a traditional pumpkin flesh.
Butternut squash has become pretty interchangeable with sweet potatoes and is a great lower-calorie option roasted, pureed or mashed.
It's a squash that lends itself well to either savory or sweet preparation.
Make a sauce with it and prepare this creamy sage butternut white bean gnocchi, roast it and use it in this barley butternut squash salad, serve it as a puree instead of potatoes in this creamy coconut garlic butternut squash puree or make a fun lasagna inspired dinner everyone will love with these butternut squash lasagna roll-ups with chicken and spinach.
And if you love butternut, try this newer hybrid squash called koginut squash – it's a mix of butternut and kabocha with the best qualities from each!
Butternut was also used as one of the squash (the other being buttercup) to breed a new hybrid winter squash called honeynut squash.
It's got the best of both with an edible skin, small size and intensely sweet and nutty flesh. Check it out in the roasted stuffed honeynut squash recipe.
ACORN SQUASH
With its distinct ridges that make it look just like an acorn, you can't confuse this winter squash with any others.
Acorn squash can be used in soups and purees but the flavor profile tends to be best when baked or roasted.
It's often times stuffed, like in this apple lentil stuffed acorn squash but can also be made into onion ring like form for a fun way to get your squash on like in these coconut crusted acorn squash rings.
There's also a white variety which is so delicious as a simple side dish in this maple baked white acorn squash!
And don't get confused by sweet dumpling squash whose ridged appearance mimics acorn squash but is actually different in taste and texture. It's another one with an edible skin if you prefer that feature.
OTHER WAYS TO ENJOY WINTER SQUASH
Besides all the recipes above, you can also make roasted squash seeds with the seeds from any winter squash.
In fact, I prefer (and I think you will to) roasted winter squash seeds to roasted pumpkin seeds.
They're a bit smaller, much less tough and fibrous and roast up into crispy, crunchy bites that are perfect as a snack, as a soup or salad topper and even used in baked goods and homemade trail mixes.
You can roast them in a variety of seasonings and spices for any flavor combination you prefer!
Here's a recipe specific to delicata seeds too.
Don't miss these other info packed Guide posts:
A Guide To Strawberries
A Guide To Peaches
And these Spring Vegetable Guides:
A Guide To Leeks, A Guide To Peas, A Guide To Asparagus, A Guide To Radishes, A Guide To Artichokes