A creamy coconut garlic butternut squash puree that's a delicious fall side dish.
Butternut squash puree always reminds me of baby food. I see it, hear it, smell it and my mind instantly goes to those little glass Gerber jars. Are they even glass anymore? I don't think I've walked down that aisle of the grocery store in at least 15 years. #nobabies
So between the smell of baby food and the fact that we're an anti-children establishment over here, pureeing always gets the back seat.
But the thing is, I love butternut squash. It will always be my favorite of all the squash choices. I've dabbled in kabocha, delicata, carnival, acorn (yuck) and will occasionally buy one of them just to change it up only to get stuck wondering why I betrayed good ol' butternut the second I take a bite or when I'm trying to peel a ridged exterior and want to throw the stupid thing across the room.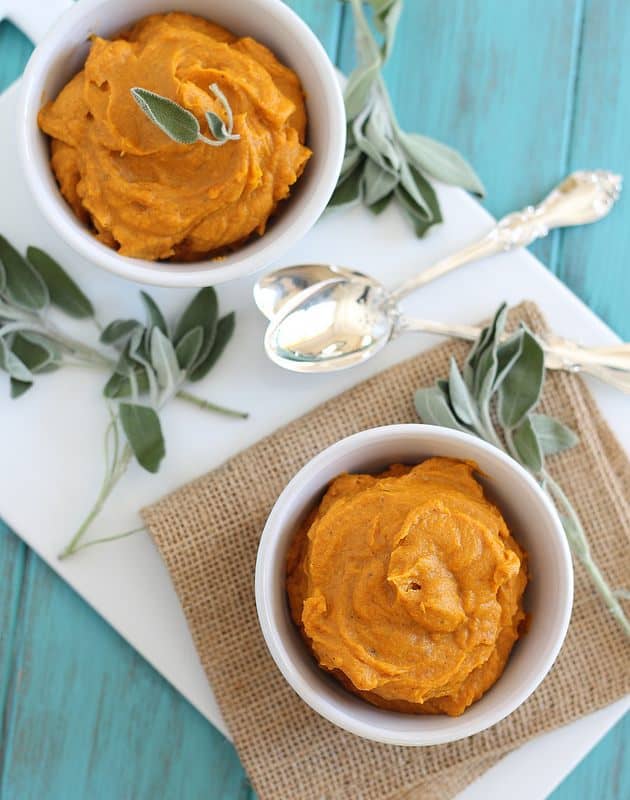 I did my best to dress this puree up with lots of adult flavors like coconut cream, garlic, sage and cinnamon hoping to trick my mind into not seeing baby food upon first glance.
The verdict?
No dice.
But it tastes a heck of a lot better than Gerber. Or so I assume anyway.
Creamy Coconut Garlic Butternut Squash Puree
A creamy coconut garlic butternut squash puree that's a delicious fall side dish.
Ingredients
1 medium butternut squash, cubed
2 tablespoons coconut oil, melted
1/2 teaspoon cinnamon
1/4 teaspoon nutmeg
salt & pepper
1/4 cup coconut cream (the thick part from the top of a can)
2 tablespoons coconut milk (the watery part from the bottom of a can)
1/3 cup almond milk
1 large garlic clove, smashed
handful of fresh sage leaves, chopped
Instructions
Preheat oven to 425 degrees and grease a baking sheet or line with aluminum foil.
In a large bowl, toss cubed squash with melted coconut oil, cinnamon, nutmeg and a generous amount of salt & pepper to coat. Spread out on baking sheet and roast for about 30 minutes, tossing once while roasting.
Remove squash from the oven and transfer to a food processor.
In a small bowl, combine remaining ingredients and microwave for about 45 seconds until heated through.
Remove from microwave and stir together.
With the food processor running, pour the liquid & garlic mixture in and continue to process until smooth, scraping down the sides as needed.
Season again with salt & pepper to taste.