This pineapple cashew bok choy is a side dish that will rival any Chinese takeout. You can make it in minutes at home.
Yesterday was a good day.
I wrapped presents, went for a run after a 4 day workout hiatus (it happens), started my new recipage (it's a work in progress, you can still find everything on the old recipe page until I'm done uploading everything) and made a bok choy dish that tasted straight up like Chinese takeout.
Except you can actually be sure of what's going into this dish.
I'll be honest, up until this dish, I bought baby bok choy more for it's cuteness factor than it's taste.
Have you seen the baby ones?
Think about it…they're cute.
Usually, I sauté it with some garlic, ginger and olive oil and call it a day.
Bor-i-n-g.
It's kind of watery and with that method you just end up with a garlic flavored watery mess.
Doesn't that sound appetizing?
Although, I do make bok choy salad with it sometimes too which is deeee-licious, love that crunch.
Or, simply grill it like in this grilled baby bok choy recipe.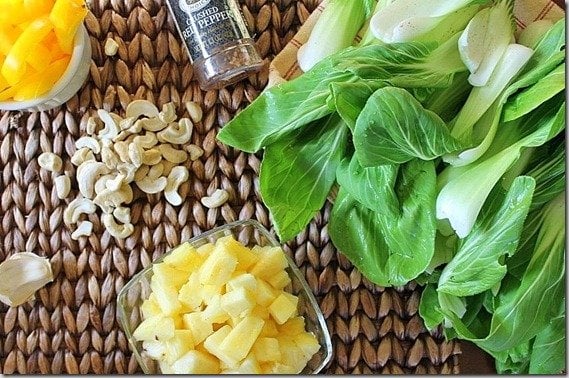 So I thought about Chinese takeout and for some reason sweet and sour chicken came to mind.
I think most places serve that dish with pineapple, but if not, mine at least does.
Guess who still had a quarter of a pineapple in the fridge?
This pineapple was a bit of a show off, getting three recipes (pineapple orange muffins, cashew crusted salmon and this orange pineapple smoothie) and now it's going on its fourth!
If you're sick of pineapple, don't worry, it's gone now and most likely not coming back until next summer.
The other thing Chinese places do? Cashews.
Mine actually has a whole section with "cashew" dishes. It reminds me of Bubba from Forrest Gump. Cashew chicken, cashew shrimp, cashew pork…
Cashews are always on hand over here for instant dough balls (<—best dough ball ever!) so an idea was sparked.
Throw the two ingredients together with some Asian flavoring and bam.
My own Chinese takeout cashew dish.
Serve it up with some brown rice and your protein of choice.
We went with shrimp. Gotta love Trader Joe's peeled, deveined, frozen shrimp. They just make it too easy.
Pineapple Cashew Bok Choy
Yield: 4 servings
Prep Time: 10 minutes
Cook Time: 10 minutes
Total Time: 20 minutes
This pineapple cashew bok choy is a side dish that will rival any Chinese takeout. You can make it in minutes at home.
Ingredients
4 baby bok choy, washed and roughly chopped
1 clove of garlic, minced
1 tablespoon sesame oil
1/2 teaspoon red pepper flakes
1 bell pepper, chopped
1 cup diced pineapple
1/3 cup cashews
1 tablespoon soy sauce
1/2 tablespoon white wine vinegar
1 teaspoon honey
1 tablespoon orange juice
1 teaspoon cornstarch
Instructions
In a large saute pan over medium heat, saute garlic, sesame oil and red pepper flakes until fragrant. About a minute.
Add pineapple and pepper and continue to saute for another 2-3 minutes.
Add bok choy and toss to coat. Saute for another 5 minutes until wilted and softened.
While bok choy cooks, combine soy sauce, vinegar, honey, orange juice and cornstarch in a small bowl and whisk together.
Add mixture to the bok choy in the last 2 minutes of cooking.
Toss with cashews right before you take off the heat.
Best served immediately.
What's your favorite Chinese takeout dish?