These salted rosemary roasted radishes are a simple way to prepare radishes and mellow out the intense radish flavor.

Try to forget you just read that title and tell me what these look like.
Betcha wouldn't say radishes. Probably those cute little red and white potatoes that cost 5 times the amount of normal ones popped into your head first, right?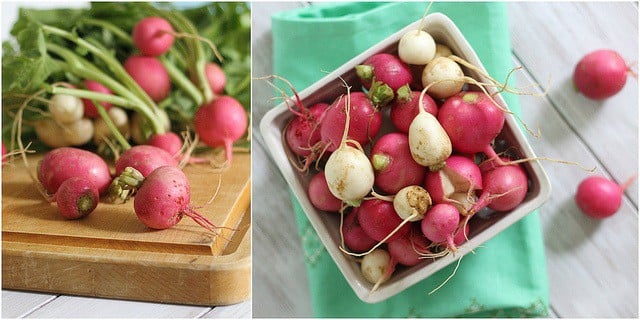 I finally joined a CSA this year after talking about it for at least 3 years. I kept waiting for Ulysses to tell me it was a great idea or for some other outside factor to push me along in my decision making process that shockingly, never happened. The day my husband willingly encourages me to spend $900 on fruits and vegetables will be the day pigs fly. So when Brandy suggested splitting a share this year, I said yes without even bothering with spousal consult.
Besides being majorly disturbed by some of the differences in fruit, so far, the CSA has been great for forcing me to cook with things I don't normally buy.
Like radishes.
Raw, I think they're gross. Peppery and crunchy in all the wrong ways. When you clean up their little tails (which unfortunately always make me think of sperm and that scene in the beginning of Look Who's Talking) and cut off their ugly brown spots, they look a heck of a lot like small potatoes. Potatoes, I like.
Soooo, why not treat them like potatoes, douse them in olive oil and seasoning and roast them up? I figured they couldn't turn out much worse than they taste raw.
Figured correctly. They not only take on the appearance of roasted potatoes, but they even start to taste like them a bit. There's definitely still a hint of radish, but in a much more mellowed out way that I can handle. And since everything is better when dipped, a dijon yogurt sauce pretty much takes them from good to great.
The best part is I totally tricked myself into thinking they were a starch during dinner due to their appearance. We had them with salmon and broccoli without me realizing I was basically doubling up on veggies. Not that that's a bad thing, but usually my brain wants some sort of legit carb with dinner. I didn't even realize it until after we were finished.
Radishes down, bring on the next challenge! Which might actually be taming the garlic scape in my fridge into something edible. Last time I played with those, I ended up with a pesto that made you breathe garlic for the next 2 weeks.

2-3
adjust servings
Salted Rosemary Roasted Radishes
A crispy roasted radish side dish that will have you fooled into thinking they're potatoes.
Ingredients
Radishes
2

cups radishes, cleaned and trimmed, larger ones halved

1

tablespoon extra virgin olive oil

1

generous pinch of kosher salt

pinch of black pepper

1

teaspoon minced rosemary

1

tablespoon honey (optional)
Dipping Sauce
1/4

cup plain greek yogurt

1

teaspoon dijon mustard

1

tablespoon honey mustard

1

teaspoon lemon juice
Instructions
Radishes
Preheat oven to 425 degrees. Grease a baking sheet with cooking spray.
Toss radishes with olive oil, salt, pepper and rosemary in a medium bowl to coat.
Spread the radishes on the baking sheet in an even single layer.
Roast for 30-40 minutes, stirring occasionally so they cook evenly and don't burn. Remove from oven when wrinkled and soft.
Drizzle with optional honey and more salt directly out of oven, serve warm.
Dipping Sauce
Combine all ingredients in a small bowl and stir together until mixed.