Curry flavored, crispy roasted broccoflower bites are a cross between broccoli and cauliflower and make for a fun way to jazz up your typical side dish.
Internet, meet the broccoflower.
I'm going to assume your reaction is similar to mine at the grocery store and somewhere along the lines of "what in hell is that?!"
At least that's what I'm hoping for otherwise it's official that I live under some rock having never seen this stegosaurus looking vegetable before.
You can't see a spiky, almost fluorescent green, new to you vegetable in the store for $1.49 and not pick it up, right? I actually grabbed this then ran around looking for Ulysses like a kid in a toy store seeking parental approval. Funny, he wasn't nearly as excited about my find as I was.
Now humor me and tell me those spikes remind you of the back of a stegosaurus because that's all I could think about the entire time I was cutting this thing up.
That and trying to remember how long ago it was since Jurassic Park came out (1993 in case you're wondering, I was 11).
And then since my mind was on dinosaurs, I started thinking about the paleo diet (get it? dinosaurs…paleolithic era…paleo diet..stay with me now) and wondering if this broccoflower existed back then.
Wouldn't you like to spend a day in my head?
It's a good time.
Besides it's funky appearance though, this pretty much acts, smells and tastes exactly like the offspring of broccoli and cauliflower.
Which, I guess is the point.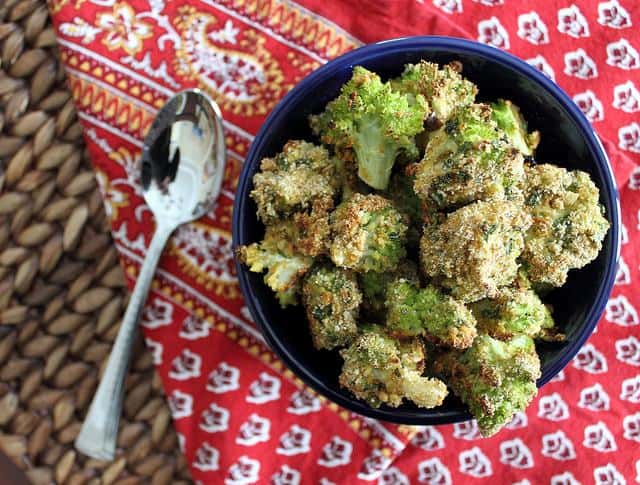 Since roasting is my favorite way to enjoy broccoli (I hardly ever buy cauliflower), I figured that's the way I'd go here with this roasted broccoflower. Except sassed up with some Indian flava.
Ohh, you should to tally make this sweet and spicy Indian chicken to go with this!
When we lived in Florida we had Indian neighbors a few houses down from us. We'd take walks pretty much nightly since we had a puppy Weimaraner at the time who had the energy levels of the friggin energizer bunny and we'd walk past the Indian neighbors house to literally smell the curry seeping out onto the street through closed windows and doors.
That stuff tastes delicious but man, does it linnnnnger.
Point of that little side story? My house still smells like curry after 24 hours and I only used 1/4 teaspoon of the stuff.
Proceed with caution.
But definitely proceed because these mini stegosaurus ridges will make your mouth happy in a crispy, crunchy, curry kind of way.
Glad to have met you, broccoflower. I see many more roasted versions of you in the future!
Love this roasted broccoflower recipe?
Try some of these side dishes too: Girl and the Goat Grilled Broccoli, Roasted Broccoli Cauliflower Parmesan Gratin, Salt and Vinegar Popcorn Cauliflower
Yield: 3-4 servings
Crispy Curry Roasted Broccoflower
Curry flavored, crispy roasted broccoflower bites are a cross between broccoli and cauliflower and make for a fun way to jazz up your typical side dish.

Prep Time 10 minutes

Cook Time 30 minutes

Total Time 40 minutes
Ingredients
1 large head of broccoflower cut into small florets (can substitute regular broccoli or cauliflower)
1/4 cup breadcrumbs
1/4 teaspoon curry powder
1/4 teaspoon garam masala
1/2 teaspoon fresh ginger, minced
2 cloves garlic, minced
1 tablespoon cilantro, minced
1/4 teaspoon salt
1/8 teaspoon black pepper
1 egg
1 tablespoon milk
Instructions
Preheat oven to 400 degrees
Line a baking sheet with foil and grease.
Combine dry ingredients into a shallow bowl.
Combine egg and milk in a small bowl and whisk together.
Dip florets first into the egg mixture, coating well and then into the breadcrumb mixture in batches.
Spread out on baking sheet.
Roast for 25-30 minutes, tossing once.