This bok choy salad is crispy and crunchy with a tangy Asian inspired sesame soy dressing. Try it paired with a juicy grilled steak or chicken.
Yesterday we woke up in our hotel overlooking the falls and couldn't see 5 inches out the window it was so foggy.
We went to breakfast, realized all of our options for things to do were outside, checked the weather to see if it was going to clear up at all during the day and that's when I saw that it was supposed to be 91 and sunny at home today.
It took us about 2 minutes to decide to pack up a day early and head home so we could enjoy the full day off in the sunshine.
I'm probably laying on a beach towel in my front yard right now attempting to get rid of my winter Casper appearance. It really doesn't do me any favors.
This whole 60 hour trip, 15 of which were spent in the car, made me realize a few things…
I know the lyrics to a disturbing amount (and quite varied bunch) of songs.
From Snoop to Easton Corbin to Billy Joel to O.A.R. to Christina Perri, I can pretty much recite every word. I can't hit the notes for shit, but I can tell you what they're saying.
Ulysses, however, likes to make up 90% of the lyrics. This seriously gets under my skin.
I'm quite positive hip hop peaked in 1998. Mo Money Mo Problems will forever be one of my favorite songs. "Stay humble, stay low, blow like Hootie." You just don't get lyrics like that anymore.
I have a weird thing where I must have the side of the bed furthest from the bathroom in hotels. It's not like this at home, just at hotels.
I also cannot stand walking on hotel tile with bare feet and will make a "trail" with bath towels to step on. The carpet doesn't bother me though.
McDonald's does serve one good purpose on this earth and that is vanilla soft serve cones at the 5 hour mark in the car.
Canadian border patrol officers are incredibly odd. Increeeeedibly.
I missed veggies. A LOT.
I did seriously enjoy the double mousse with caramel brittle and chocolate & hazelnut pot de crème for dessert, like seriously seriously, but I don't think I've ever been so happy to see leftover veggies in the fridge as I was when I saw this bok choy salad at 9pm last night.
Even after 3 days, it was still crunchy and delicious.
The sesame soy sauce had plenty of time to marinate every single shred of vegetable and I ate every single one of them up in about 2 minutes flat.
How Do You Make Bok Choy Salad?
This salad is as simple as any other, you literally just throw all the ingredients together in a bowl and toss with the sesame soy dressing.
Wait! Can You Eat Bok Choy Raw?
Yes, you can!
Baby bok choy is perfect for this. You can eat regular bok choy raw too I just prefer the tenderness of the baby bok choy.
What Exactly Is Bok Choy?
Bok choy looks like lettuce on the top and celery on the bottom. Although, it doesn't really resemble either in taste.
It can be slightly bitter raw (that's why this salad is tossed in a delicious sesame soy sauce!) but not so much as say mustard greens.
It's a little more cruciferous (because of this, it stands up great to grilling too like in this grilled baby bok choy recipe) and almost a bit like cabbage but more delicate.
It can pair nicely with savory (like in this soba noodle carbonara) or sweet (like in this pineapple cashew bok choy) ingredients and is an all around pretty versatile vegetable.
What Are The Health Benefits of Bok Choy?
Well for starters, it's a vegetable and I've never met one of those that aren't good for you!
Bok choy is high in vitamins C, A and K and also a good source of iron, calcium, magnesium and potassium. Some consider it a green leaf superfood.
Whether you saute it, grill it or make a bok choy salad, it's a vegetable worth adding to your routine!
Love this recipe for baby bok choy salad?
Try another fresh and easy salad recipe like Lemony Shaved Asparagus Tomato Salad, Radicchio Endive Fennel Salad with Tangy Dijon Herb Dressing or, Pickled Fennel Citrus Salad.
Yield: 4 servings
Bok Choy Salad with Sesame Soy Sauce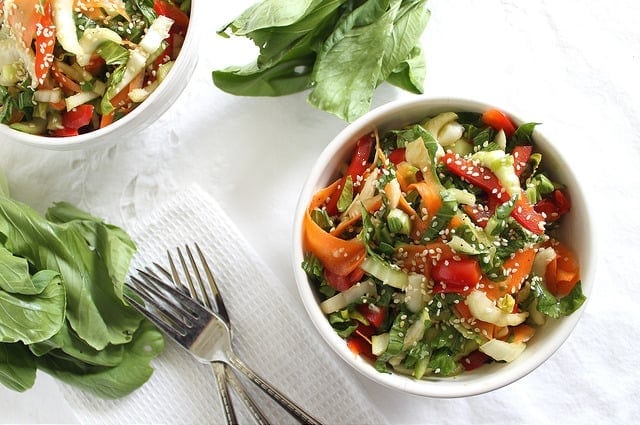 This bok choy salad is crispy and crunchy with a tangy Asian inspired sesame soy dressing. Try it paired with a juicy grilled steak or chicken.
Ingredients
4 baby bok choy, washed and thinly sliced
1 carrot, thinly sliced or peeled
2 stalks of celery, thinly sliced
1 red pepper, thinly sliced
21/2 tablespoons extra virgin olive oil
1 tablespoons sesame oil
1 tablespoon rice wine vinegar
1 teaspoon soy sauce
1 teaspoon agave (or honey)
salt & pepper
sesame seeds
Instructions
Combine all vegetables in a large bowl.
Whisk together dressing ingredients (olive oil through salt & pepper) and pour over vegetables.
Toss well to fully dress the salad.
Garnish with sesame seeds.