This vanilla carrot parsnip puree is just slightly sweet and a great mashed side dish alternative to potatoes.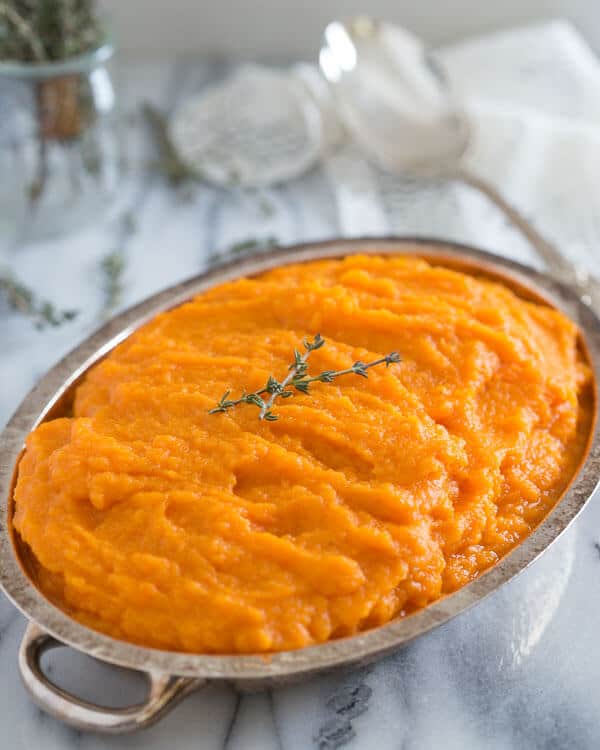 Last week it was all about the meat (just try to resist the twss right there…you can't, can you?) in this house. I made short ribs, chuck roast and beef carnitas all within 6 days and justified it by saying "hey, we're both borderline anemic, red meat is good for us".
True, but a vegetable side dish was a welcomed sight after all that.
We can be real here, this looks like baby food. I admit it.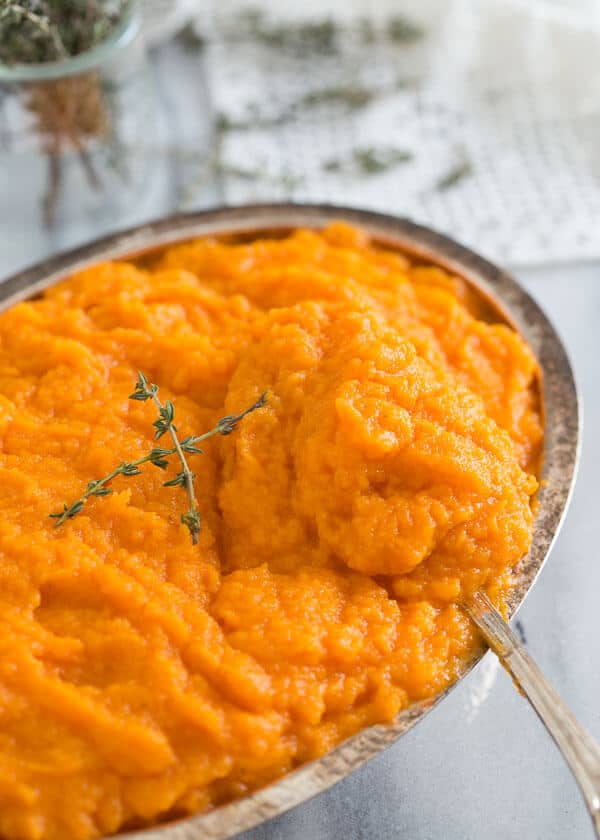 I can definitely imagine something exactly like this coming out of my mom's blender 32 years ago in her attempt to keep me as healthy as possible (and yet I ended up with every allergy under the sun…so much for that) but I challenge anyone to take something with "puree" in the title and make it look anything but.
I wanted to take this puree in the sweet direction.
There are a million carrot purees out there but not too many that combine parnsips to mellow out that intense carrot flavor and a hint of sweetness from maple syrup and vanilla almond milk.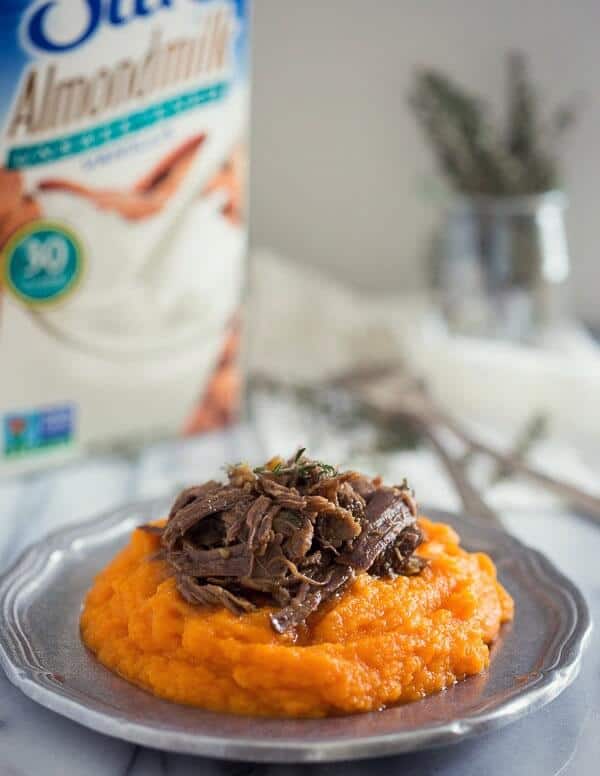 I love using Silk's unsweetened vanilla almondmilk so I can control the sweetness but still get that hint of vanilla flavor.
So instead of eating just meat all week long, we ate meat and baby food.
It's the new mashed potato.
Love this vanilla carrot parsnip puree recipe?
Try these other puree recipes: Roasted Parsnip Puree with Caramelized Onions, Maple and Roasted Garlic Squash Puree, Celery Root Puree with Roasted Balsamic Vegetables.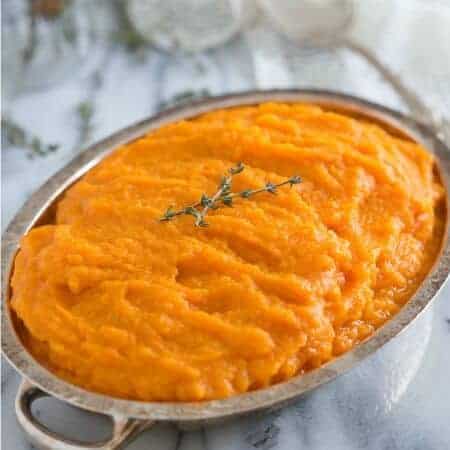 Vanilla Carrot Parsnip Puree
This vanilla carrot parsnip puree is just slightly sweet and a great mashed side dish alternative to potatoes.
Ingredients
2 pounds carrots, peeled and coarsely chopped
1 pound parsnips, peeled and coarsely chopped
1 medium sweet yellow onion, chopped
2 tablespoons butter
5 sprigs of thyme
1 cup water
1 tablespoon maple syrup
1/2 cup Silk unsweetened vanilla almondmilk
salt and pepper
Instructions
Add the butter to a large pot over medium-high heat.
Once melted, add the carrots, parsnips, onion and thyme and toss to coat the vegetables in the butter.
Add the water to the pot, bring to a boil then reduce to a simmer over medium heat, cover and cook for 30 minutes until fork tender.
Drain the vegetables and transfer to a food processor.
Add the maple syrup (more if you want it sweet) and Silk almondmilk and puree until smooth, scraping down the sides as needed.
Season to taste with salt and pepper.
This conversation is sponsored by Silk. The opinions and text are all mine.