These spicy orange beef carnitas are an easy one pot meal that makes tons of leftovers to eat throughout the week.
And the carnitas love lives on….
Guess what I found out?
My beloved carnitas recipe that I've made at least 10 times has a whole bunch of sugary corn syrup in those cans of Goya nectar. That's some bs, isn't it? I see the word "nectar" and I just assume fruit. Why would you need to add freakin' corn syrup to fruit, Goya? Have you never eaten a pineapple on it's own to realize it's already sweet?! I'm literally restraining my fingers from typing a nice long rant against Monsanto and our government right now. It's Friday, that kind of thing seems better suited for Mondays.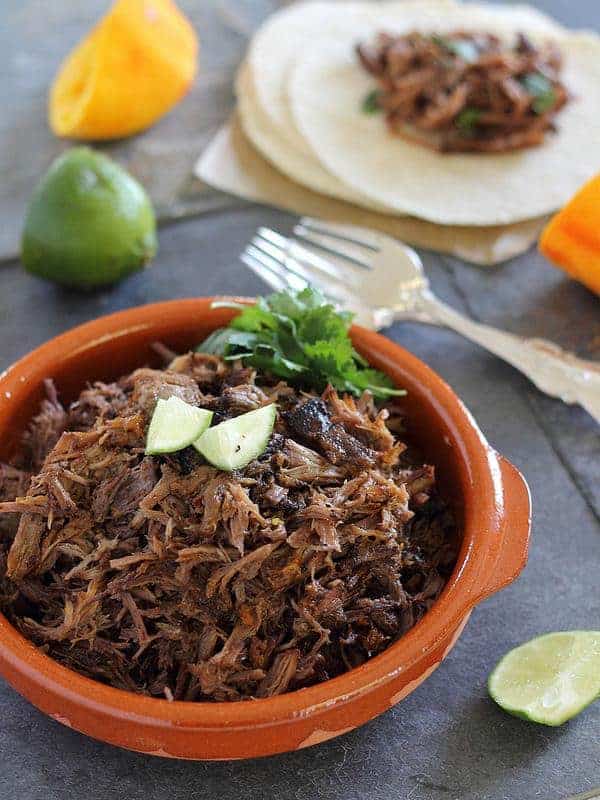 So I threw Goya out and got to work on my own rendition sans the life blood of America corn syrup.
And guess what?
I like it even better.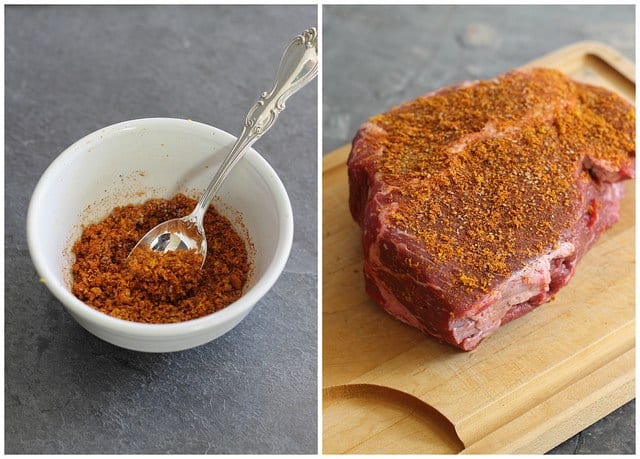 I added fresh orange zest and more spices to the dry rub, fresh orange and lime juice and some chili peppers for spice.
Good 'ol chuck did it's thing for 3 hours in the oven and came out just as tender with the perfect amount of reduced fruit juice to toss the caramelized pulled beef back into.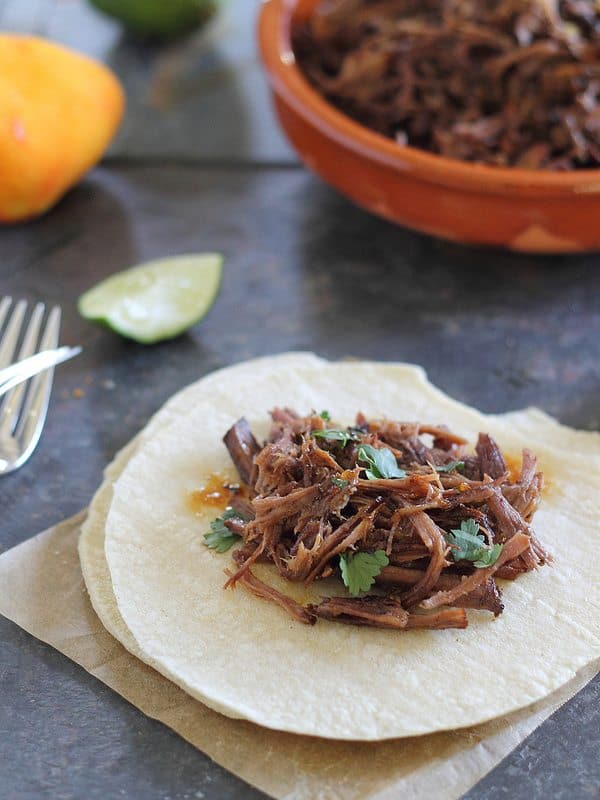 I got the same awesome sweetness to each bite but this time with a good bit of spice and heat and without the government subsidized crap.
Oops, I mean corn syrup.
Spicy Orange Beef Carnitas
Yield: 6 servings
Prep Time: 10 minutes
Cook Time: 3 hours
Total Time: 3 hours 10 minutes
These spicy orange beef carnitas are an easy one pot meal that makes tons of leftovers to eat throughout the week.
Ingredients
3-4lb. chuck roast
1 teaspoon chili powder (I use a hot version)
1 teaspoon cayenne pepper
1 teaspoon cumin
1/2 teaspoon garlic powder
1 teaspoon salt
1/2 teaspoon smoked paprika
zest of 1 orange
2 tablespoons olive oil
juice of 3 oranges
juice of 1 lime
2 small green chili peppers, minced
Instructions
Preheat oven to 300 degrees.
Combine spices and orange zest in a small bowl and mix together.
Rub spice mixture on both sides of the roast.
Heat a large dutch oven to high heat with the olive oil.
Once hot, add the roast and brown (about 3 minutes). Flip and brown on the other side.
Once all sides are browned, add the orange and lime juice and the chili peppers.
Cover with lid and transfer to the oven for 3 hours.
Remove from oven and pull beef apart with 2 forks.
Transfer the pulled beef back into the dutch oven to absorb all the remaining juices.
Serve garnished with cilantro and lime wedges.
Notes
Adapted from Pioneer Woman