This spicy porter short rib chili is the perfect bowl of comfort food on a cold day.
I've been a bit obsessed with apple cider donuts this fall. Usually, fall will roll around, I'll have maybe 3 or 4 for the season and we'll call it good until next year.
This year, I don't even want to think about how many have been consumed.
So last weekend my brother and sister in law were visiting and we planned an entire day around hiking + apple cider donuts. 10am we pulled up to the base of the mountain we were going to hike, hauled our asses 1 mile straight up to the top, followed my hiking obsessed brother with his gung-ho trail gps app on his phone around for another 5 miles at the top (only getting lost about 3 times) discussing apple cider donuts and how many we were going to shove in our faces afterwards for about 3 hours.
With every step down the mountain, I could start to taste them in my mouth.
We ate a quick burger lunch in the town nearby and then drove straight to the farm market that I've frequented every other weekend this fall for my cider donut fix.
We walked to the back where they keep them and were greeted with a completely empty donut shelf.
My heart sank.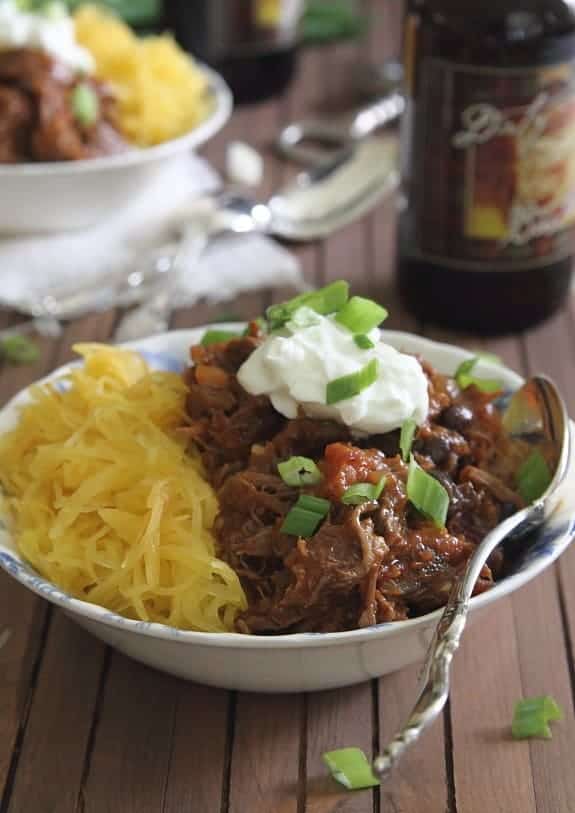 Clearly they had to be making more, 3pm on an October Saturday and you're out of donuts?! Blasphemous.
But they weren't so after a few cursed mumblings from me, I stormed out and declared we were going to the local grocery store/market where they fry them fresh outside because I wasn't giving up on cider donuts that easily.
We pull in and I can see the guys at the fryer stand….cleaning up for the day. I run over, take one look in the fryer to see if maybe there were still a few in there and then literally start begging them to make more.
It didn't work. They ran out of dough.
So instead of donuts, I bought short ribs inside and pouted for the rest of the day.
If ever there were a bright side to running out of cider donuts, it's this short rib chili.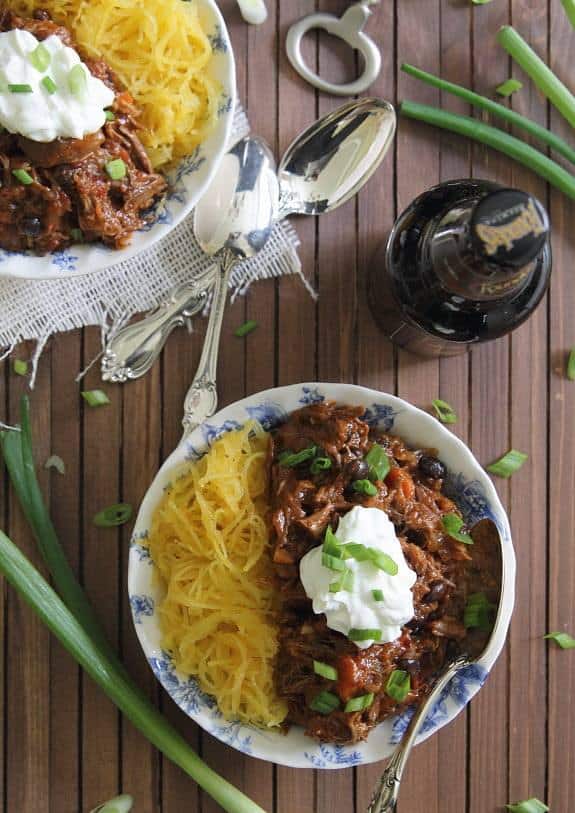 This was one of those recipes where I just decided to wing it, throw it stuff that sounded good together in a pot with absolutely no plan and pray that it turned out.
I thought at best it'd be something I could share on here after some tweaks except I totally got lucky and nailed it on the first attempt.
You want smoky, cocoa flavored comfort in the form of chili on a cold day?
This is your recipe.
And you'd probably really like this chocolate lamb chili as well!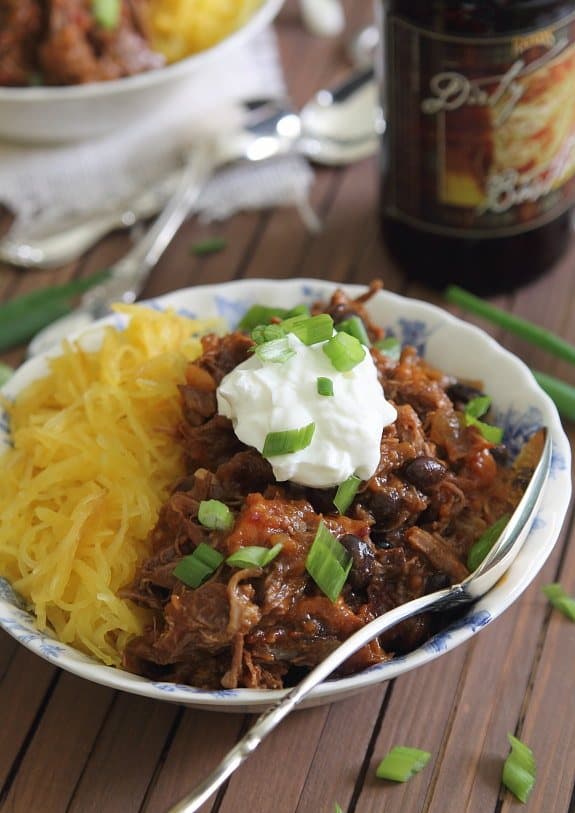 Now give me a donut.
Or maybe more appropriately, a piece of vegan cornbread to go with a bowl of this.
More cozy chili and stew recipes to try out:
Slow Cooker Lamb Stew
Spicy Hummus Turkey Chili
Chicken apple cheddar chili
Moroccan Lamb Lentil Stew
Kabocha Squash Chili
Spicy Porter Short Rib Chili
Total Time:
4 hours
10 minutes
This spicy porter short rib chili is the perfect bowl of comfort food on a cold day.
Ingredients
2.5 pounds boneless short ribs
2 tablespoons extra virgin olive oil
salt & pepper
2 carrots, chopped
1 large yellow onion, chopped
2 cloves garlic, minced
1 jalapeno, minced
1 tablespoon tomato paste
1 teaspoon cumin
1/2 teaspoon hot chili powder
1/2 teaspoon oregano
2 teaspoons dark unsweetened cocoa powder
2 chipotle peppers in adobo sauce, chopped
12 ounces porter/dark beer
1 15 ounce can diced tomatoes
1 8 ounce can tomato sauce
1 15 ounce can beef broth
1 15 ounce can black beans, rinsed and drained
Instructions
Season ribs generously with salt and pepper.
Heat the olive oil over medium-high heat in a large dutch oven.
Add the meat and brown on all sides.
Remove the meat from the pot, place on a dish and set aside.
Add the carrots and onion and saute for about 5 minutes until softened.
Add the garlic and jalapeno and saute for another minute until fragrant.
Add the tomato paste, cumin, chili powder, oregano, cocoa powder and chipotle peppers, mix everything together and cook for 1 minute.
Add the beer, the diced tomatoes with their juices, the tomato sauce and the beef broth. Stir to combine.
Return the ribs to the pot. They should be just covered by the liquid.
Bring to a boil, cover and transfer to a 325 degree oven.
Cook for 2.5-3 hours until the meat is tender.
Remove the pot from the oven, remove the meat from the pot to a cutting board and shred using two forks.
Return the shredded meat to the pot and simmer uncovered for another hour, stirring occasionally until thickened and the liquid has reduced a bit.
Add the beans, stir until warmed through then serve.
Notes
Like most chili, this is even better after sitting for a day. If you can resist eating it the day it's made, wait!
Nutrition Information:
Yield:

6
Serving Size:

1
Amount Per Serving:
Calories:

799
Total Fat:

48g
Saturated Fat:

20g
Trans Fat:

3g
Unsaturated Fat:

28g
Cholesterol:

189mg
Sodium:

1026mg
Carbohydrates:

24g
Fiber:

8g
Sugar:

6g
Protein:

56g
This website provides approximate nutrition information for convenience and as a courtesy only. Nutrition information can vary for a variety of reasons. For the most precise nutritional data use your preferred nutrition calculator based on the actual ingredients you used in the recipe.