This spicy hummus turkey chili is creamy, comforting and the perfect one-pot dinner for cold winter days.
After two weeks in Grenada and eating more fish in 15 days than I probably have in a year (seriously, they eat SO much fish. Even for breakfast…gag), I can't tell you how delicious this pot of turkey chili tasted.
I accomplished two things yesterday: sleeping until noon (I have no idea why since Grenada was only one hour ahead, it's not like I was six times zones away or something but it felt amazing) and cooking this.
This perfect pot of creamy, cheesy, hummus-y, turkey goodness without anything even remotely resembling fish in it.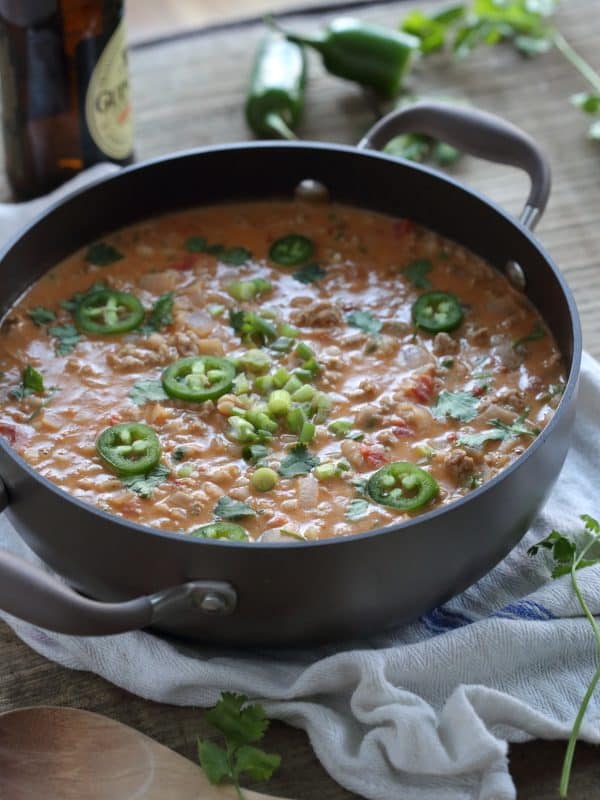 I love white chili. Maybe even more so than the usual red one because of its creamy factor.
The one thing I'm not a fan of though is the whole roux thing usually needed to get that creaminess.
So I had a thought: why not use hummus instead of a traditional roux for a way simpler, less ingredients spread out over the kitchen counter kind of alternative?
It totally worked.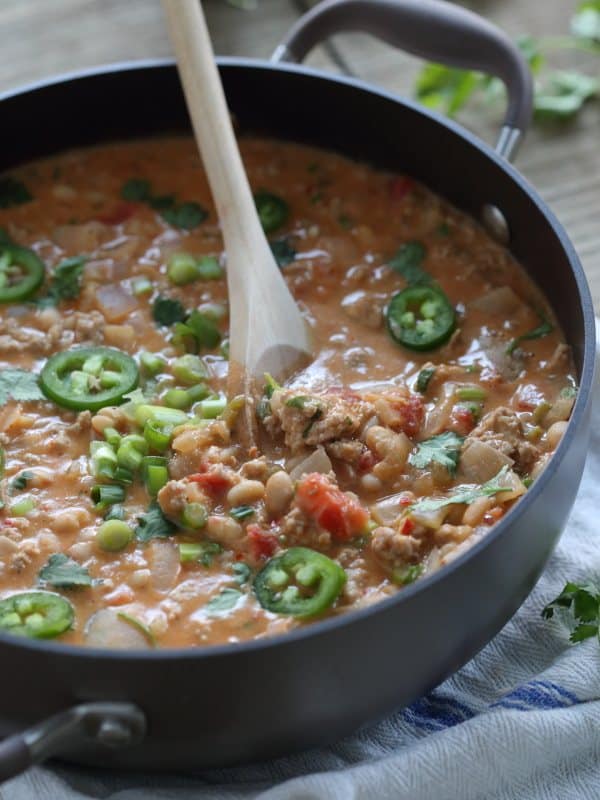 Sabra's Supremely Spicy Hummus was the perfect addition to this spicy turkey chili.
Between the jalapenos, red pepper flakes and the spicy hummus, this one packs a punch. Not overwhelmingly so, but definitely be ready for some heat with this recipe.
Consider yourself warned, spice haters.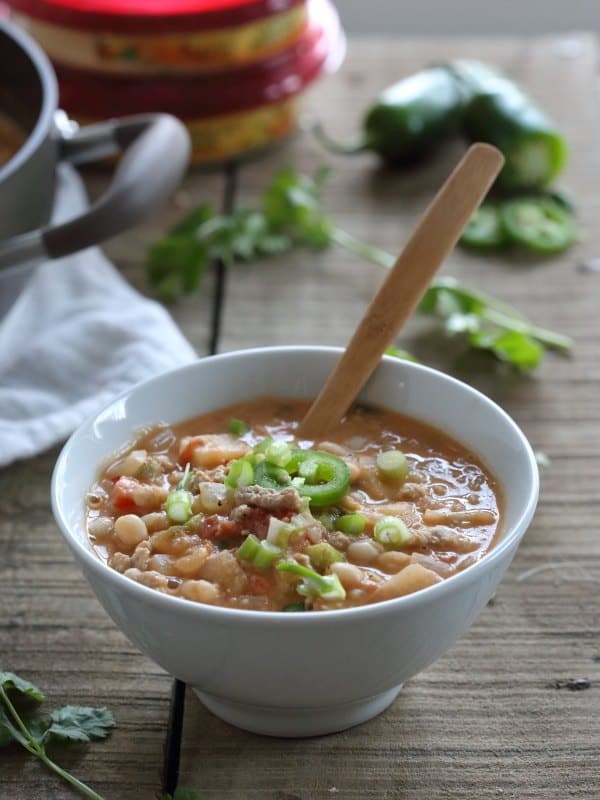 You guys know how I loathe football, but I gotta say, this is pretty much the ultimate football food.
Speaking of which, Sabra is hosting an Ultimate Tailgating Sweepstakes for 2 tickets to the 2016 Pro Bowl in Hawaii. You can enter HERE. Heck, even I would watch a game of football if it meant a trip to Hawaii.
Looking for more chili recipes? Try one of these:
Kabocha Squash Chili
Spicy Porter Short Rib Chili
Chocolate Chili Stuffed Spaghetti Squash
Turkey Chili Pie
Spicy Hummus Turkey Chili
This spicy hummus turkey chili is creamy, comforting and the perfect one-pot dinner for cold winter days.
Ingredients
2 tablespoons olive oil, divided
1 pound ground turkey
1 yellow onion, chopped
2 cloves garlic, chopped
1 large jalapeno, seeds removed and minced
salt and pepper
1/2 teaspoon coriander
1/2 teaspoon cumin
1/4 teaspoon red pepper flakes
15 ounce can diced tomatoes
2 cups chicken broth
15 ounce can white beans (any variety), drained and rinsed
1 10 ounce container Sabra Supremely Spicy Hummus
1 cup grated cheddar cheese
1/4 cup chopped cilantro
2 green onions, chopped
Instructions
Heat 1 tablespoon of the olive oil in a large dutch oven over medium heat.
Add the turkey and cook until browned. Transfer the turkey to a plate and set aside.
Add the remaining tablespoon olive oil to the pot.
Add the onion, garlic and jalapeno. Cook for about 3 minutes until softened.
Transfer the turkey back to the pot and add the salt, pepper, coriander, cumin and red pepper, stir to combine and cook another minute.
Add the diced tomatoes and broth to the pot, stir and let simmer over medium heat uncovered for about 20 minutes until some of the liquid has cooked off and the mixture has thickened.
Add the beans, hummus and cheddar cheese and stir until incorporated and cheese has melted.
Add the cilantro and green onions last and give it one final stir.
*This post is sponsored by Sabra. All content and opinions are my own.