An easy homemade tutorial on how to ferment vegetables in a mason jar.
You're probably thinking I've caught the hippie train straight out of here with this post but hear me out.
Do you like pickles? Yes? (note -you should check out this post on how to make simple homemade pickles and spicy garlic dill pickles if so).
Ok then, you're going to like fermented vegetables.
So read on.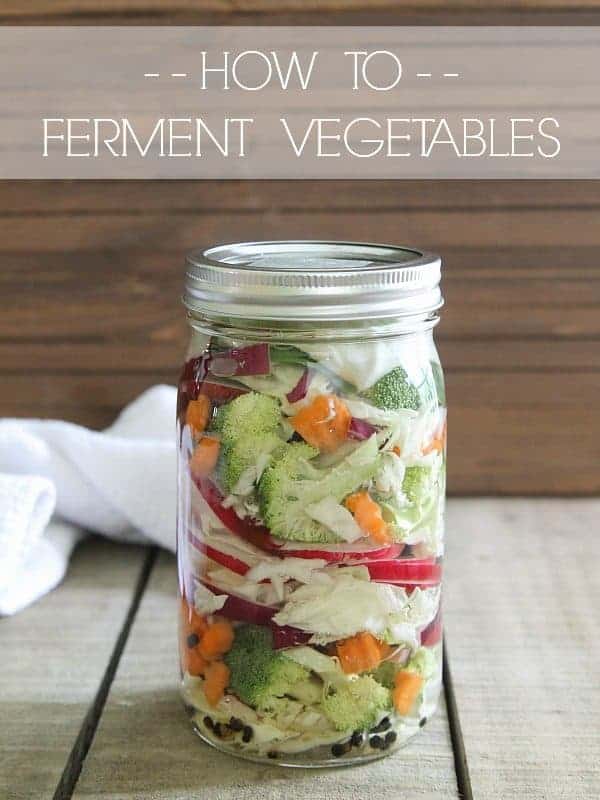 Unfortunately, I had to be on antibiotics 3 times over the last 6 months.
I absolutely hate taking them and believe me, if there was a way I could've avoided it, I would've.
I'm a huge proponent of probiotics so while I was filling prescriptions in the drug store these past few months, I was simultaneously buying some kick ass probiotics to try and help keep some good bacteria in my system.
And let me tell you, the *good* probiotic pills, yeah, well they're costly.
Six times more costly than the antibiotics in fact.
So, when the second round of antibiotics came around, I decided that instead of spending $30 on probiotic pills and $4 kombucha bottles every time I ventured into the hippie-mart (my loving name for the local natural foods store), I should probably look into this whole lacto-fermented vegetable thing.
Lacto-fermented vegetables
Lacto-fermented…it sounds crazy, right?
First thing I thought was "wait, there's milk in this?"
Um, no. Lacto, in this case, doesn't refer to milk, it refers to lactic-acid.
The naturally occurring bacteria on fruits and vegetables is called lactobacillus. When they're placed in an oxygen free environment, the bacteria convert sugar into lactic acid which is what gives fermented foods their characteristic tangy/sour flavor.
So now that the science lesson is out of the way, here's the cool part:
vegetables + water + salt + a few days = a probiotic powerhouse of tangy vegetable deliciousness.
Bonus: it doesn't cost $30 and they'll last in the fridge for months.
How to Ferment Vegetables
What you'll need to ferment vegetables:
You can literally ferment whatever vegetables you like.
They're perfect for snacking on or adding to your meals for a probiotic boost. I've been adding them to salads, on top of my protein with lunch or dinner or, just picking at them throughout the day when I'm bored.
Yeah, a lot of that.
And this is where I'm going to sound like a total nerd, but every time I eat them I silently say "take that, antibiotics, you bitch."
Kimchi is an Asian version of fermented vegetables so if you like that, you'll definitely like these fermented vegetables.
Also make sure to try out this bulgogi kimchi rice plate and this kimchi potato hash.
More pickled recipes to try if you love the taste of fermented vegetables:
Spicy Pickled Pineapple
Balsamic Pickled Shiitake Crostini
Pickled Fennel Citrus Salad
Pickled Blueberry Panzanella Salad
Mango Melon Soup with Pickled Cucumber
How to ferment vegetables
Yield: 8-10 servings
Prep Time: 4 days
Total Time: 4 days
An easy homemade tutorial on how to lacto-ferment vegetables in a mason jar.
Ingredients
sliced or chopped vegetables (anything will do, I really like broccoli, radishes and carrots)
2 cups water
1 1/2 tablespoon coarse sea salt
plastic lid (not necessary, but if you're going to do this often, the regular metal lids will corrode from the acid)
any spices or herbs you like (peppercorns, dill, basil, bay leaf, etc.)
1 small cabbage leaf
Instructions
Place vegetables and any spices/herbs you're using in the mason jar right up to the bottom of the neck, there should be about 1 inch of space to the top.
Stir the salt and water together until dissolved.
Pour the salt water over the vegetables until it reaches just below the top of the jar. There should be about 1/2 inch of room left.
Fold a small cabbage leaf and press it down on top of the vegetables so that it keeps the vegetables submerged in the salt water. This isn't necessary, but helps make sure the vegetables are submerged. Feel free to skip this step if you don't have cabbage on hand.
Close the lid on the jar tightly and place the jars out of direct sunlight in a relatively moderate temperature (68-75 degrees).
You will start to see some bubbling around day 2 or so. After day 2, over a sink (in case it leaks/drips), gently loosen the lids to let some of the gas escape once or twice a day.
The vegetables are ready anywhere from day 4-10. The longer they sit, the more tangy they'll be. Taste them starting on day 4 to figure out your preference. I like them best around day 5 or 6.
Once you decide they're the level of sourness you're looking for, place the the jar in the refrigerator where it will keep for a couple of months (not that they'll last that long!)