This pickled blueberry panzanella salad with the perfect balance of sweet and tangy.
I caved to a totally grown up only kind of thing earlier this year, a wholesale club membership. So, now I'm equipped with the most hideous picture to ever exist of myself on a plastic card to BJs.
The first trip I got a little over zealous and ended up spending almost $500 on all the household items like paper towels, cleaning products, toothpaste, soap and shampoo that I'll need for the rest of my life.
The second trip was a bit more practical.
Except for the 4 pounds of blueberries I came home with when I already had 2 pints in the refrigerator.
Thoughts of Violet on Willy Wonka were going through my head as I tried to squeeze blueberries into every single meal I ate before finally realizing I needed to do something more drastic than the handful with my yogurt in the morning to make a dent in this stash.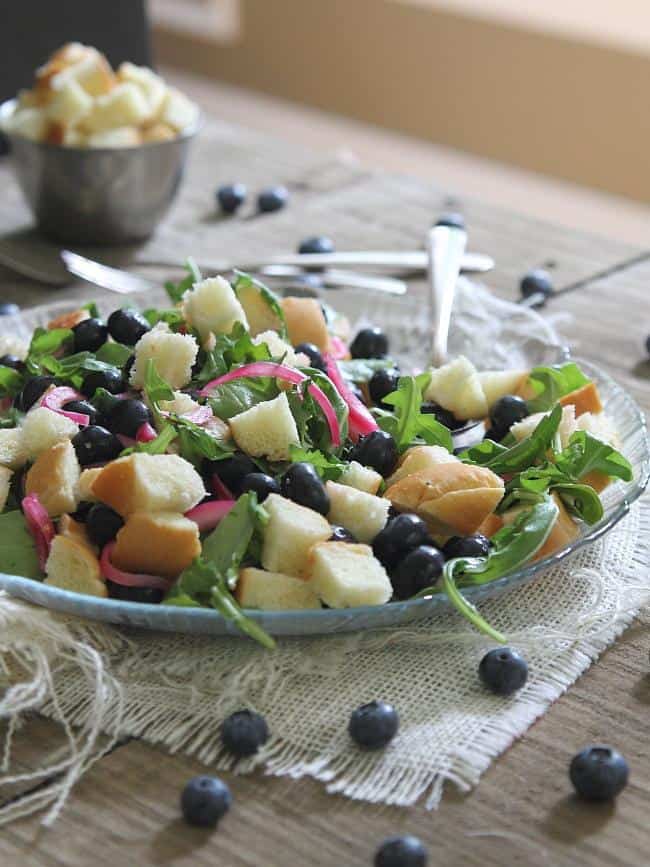 So, I pickled those babies.
We just discussed my love for vinegar so I don't think I really need to reiterate things but these little baby blues are the most perfect balance of sweet and tangy. So much so that I ate that entire mason jar of them in one sitting.
Luckily, I avoided Violet's fate and remained flesh colored after the ordeal.
I definitely suggest using challah or some slightly sweet cornbread for this. The sweetness of the bread just plays so well with the pickling juices. So yum!
Pickled Blueberry Panzanella Salad
Yield: 4 servings
Prep Time: 12 hours 5 minutes
Total Time: 12 hours 5 minutes
This pickled blueberry panzanella salad with the perfect balance of sweet and tangy.
Ingredients
For the Pickled Blueberries
1 cup white distilled vinegar
1/4 cup water
1 tablespoon kosher salt
3 tablespoons sugar
1/4 cup thinly sliced red onion
1 pint blueberries
For the Salad
3 cups day old bread (challah or cornbread is best), cut into cubes
2 cups baby arugula
pickled blueberries
Instructions
For the Pickled Blueberries
Whisk the vinegar, water, salt and sugar together in a small bowl.
Add the blueberries and red onion to a mason jar.
Pour the vinegar mixture into the jar until filled to the top and covering the blueberries.
Cover with the lid and refrigerate overnight (or at least 12 hours).
For the Salad
Combine the arugula and pickled blueberries in a large bowl. Spoon some of the vinegar from the blueberries on top and toss until dressed to your liking.
Add the bread and gently toss again a few times.
Plate the salad and serve immediately. This does not keep well as the bread will get soggy quickly.