This strawberry avocado honey lime salad is topped with a sweet and tangy dressing to make salad eating fun!
This salad is the epitome of fake it till you make it.
(It's also the epitome of indecisiveness with 3 pictures that all look exactly the same. Sorry, I couldn't choose.)
If I start eating like it, warm weather will eventually come.
Right?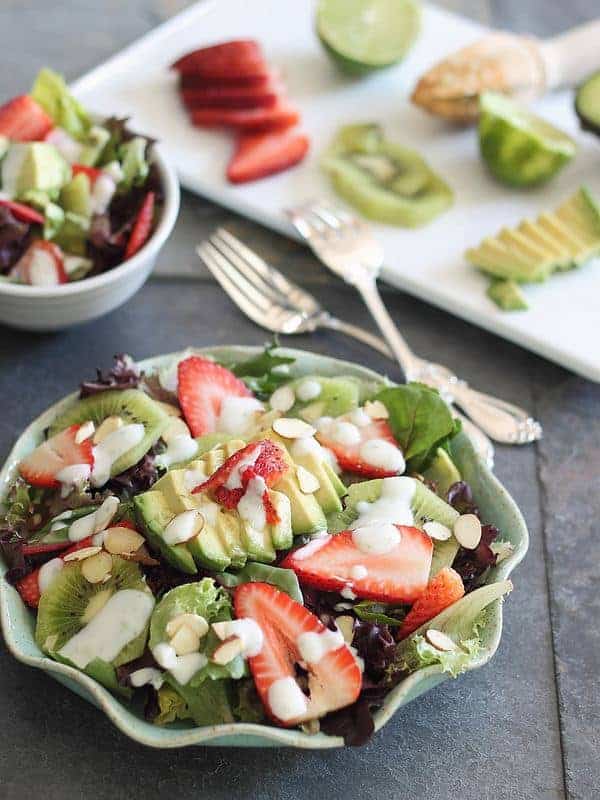 Because as it stands right now, I'm sitting on the floor in my dining room in the patch of sun pretending like vitamin D can be absorbed through the window. I have no idea if that's possible or not, but considering I'm not the type who gets a sunburn on cloudy days, I'm gonna go with no.
This might be the first year (that I can remember at least) where the forsythia aren't even in bloom on my birthday (in 11 days). There's not even a hint of yellow on those branches yet, they're still fully in the ugly brown stick phase they've been in for the past 5 months.
So before I lose it on Mother Nature and her 38 degree days in April, I'll just be shoving strawberries, avocados and kiwis down my throat in my imaginary happy place where the heat has been permanently turned off, I'm tan and my faux-fur slippers have been retired for the season.
Feel free to join me.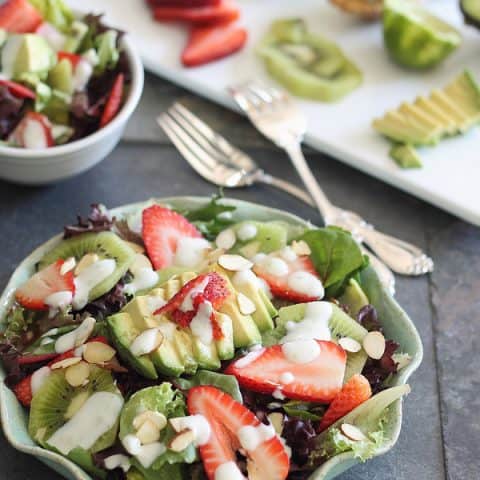 Strawberry Avocado Honey Lime Salad
A summery salad with strawberries, avocados and kiwi with a honey lime dressing.
Ingredients
2 cups mixed greens/chopped lettuce
1/2 cup sliced strawberries
1 kiwi, sliced
1/2 avocado, sliced
1 tablespoon sliced almonds
1/4 cup plain greek yogurt
zest of 1/2 a lime
juice of 1/2 a lime
pinch of salt
1 tablespoon honey
Instructions
Arrange the lettuce, strawberries, kiwi, avocado and almonds in a salad bowl.
Whisk together the remaining ingredients to form the dressing and drizzle over salad.