These simple homemade pickles are ready in just hours. Learn how to make pickles at home instead of buying them at the store.
I've got a pickle, I've got a pickle, I've got a…..yeah, that's been in my head since the first cucumber slice. Perhaps the only downside to this little homemade pickle making adventure.
So did you know how easy it is to make pickles?! I had no clue.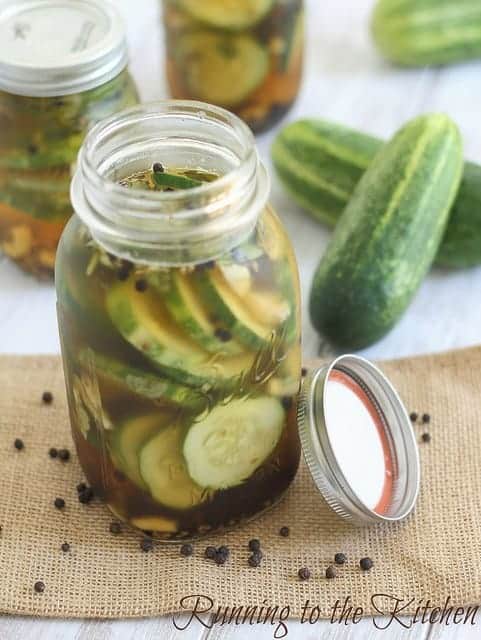 I see something that has to do with jars and I freak. Hence why canning and I have not yet rendezvoused.
In fact, even after slicing and throwing everything into the jar on Tuesday to chill out overnight, I was still freaked about tasting them yesterday.
There's something about soaking a vegetable in the same liquid I use to un-clog my coffee maker from calcium deposits (aka white vinegar) that just seems gross. Right? When it can be used as a cleaning agent, it just seems logical that it shouldn't be eaten.
Maybe that's just me.
If you're a pickle person, I'm betting you're probably a fan of kimchi too so don't miss this bulgogi kimchi rice plate or this kimchi potato hash.
Honestly, these were a total fly by the seat of my pants (dumbest saying ever, I mean whose pants have seats and how the hell are they flying?) kind of thing.
Ingredients To Make Pickles
peppercorns
anise seeds
garlic
fresh herbs (optional)
vinegar
water
Peppercorns and anise seeds sounded about right for flavor. Garlic was a must. And then I got crazy and threw some basil in there too. Woooah.
Ratio wise, I measured things, but I had no rhyme or reason for the amounts of vinegar and water I used.
And guess what?
These simple homemade pickles were crisp, tangy and perfectly spicy when I pulled them out of the refrigerator 12 hours later. Although, the longer they sit the more tangy and "pickle-like" they get!
How To Make Simple Refrigerator Pickles
This video shows how to make spicy garlic dill pickles (try those too, the spice level is totally optional/adjustable to your taste!) but the method for these basic homemade pickles is exactly the same.
Combine cucumbers and spices in a jar
Pour pickling liquid on top to cover
Make sure everything is submerged
Cover and refrigerate
Feel free to change out the spices and herbs to what you have on hand and what you like. As long as you have some peppercorns and garlic, you're pretty much set for a basic pickle recipe.
You can pickle lots of things like blueberries in this pickled blueberry panzanella salad, or mushrooms in this balsamic pickled mushroom crostini and even fruit like pineapple in this spicy pickled pineapple but nothing is as simple and perfect for a snack like a simple homemade pickle.
Crisp and tangy pickles make a great addition to so many lunches like a chicken salad sandwich or my all time favorite sandwich on this site, a roast beef smoked gouda grilled cheese.
And they totally level up some healthy sloppy joes too!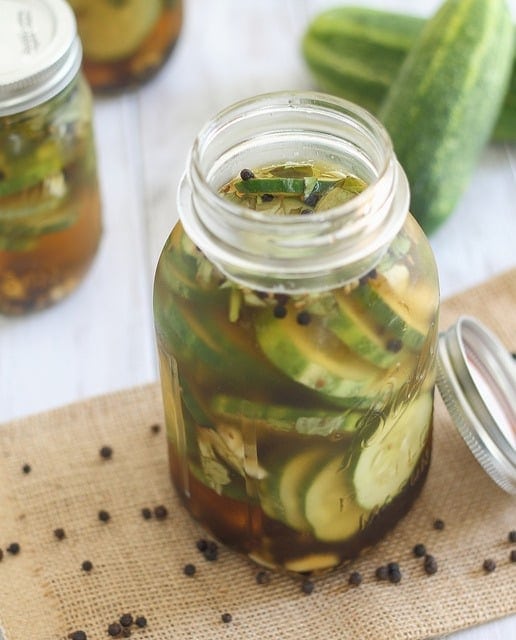 It seriously could not be any easier. I have a feeling these are one of those "hard to mess up" kind of things but I prefer to think that my combination is just that awesome and ignore that.
Sayonara, Vlassic.
And if you're into homemade pickles, make sure to check out my post on How to Ferment Vegetables too. Love the probiotic boost they bring to my diet and they're just as simple to make!
Simple Homemade Pickles
These simple homemade pickles are ready in just hours. Learn how to make your own at home instead of buying them at the store.
Ingredients
2 small (kirby) cucumbers, thinly sliced
3/4 cup white distilled vinegar
1 1/2 cup water
1 tablespoon kosher salt
2 cloves garlic, smashed and roughly chopped
2 tablespoons basil, chopped
1 1/2 tablespoons whole black peppercorns
1 bay leaf
1/2 teaspoon anise seeds
Instructions
Combine vinegar and salt in a small bowl, whisk together.
In a large mason jar, add cucumber slices.
Add garlic, basil, peppercorns, anise seeds and bay leaf.
Pour in vinegar and salt mixture and then top with water to cover.
Close lid and refrigerate for at least 8 hours before eating.
Nutrition Information:
Amount Per Serving:
Calories:

34.19
Total Fat:

1.18g
Carbohydrates:

2.68g
Protein:

0.2g