Everyone tends to go for pumpkin but have you ever roasted squash seeds instead? Almost all winter squash are great candidates for seed roasting! Learn how to make crispy, delicious roasted winter squash seeds with this easy method and simple seasoning. They're the perfect fall snack!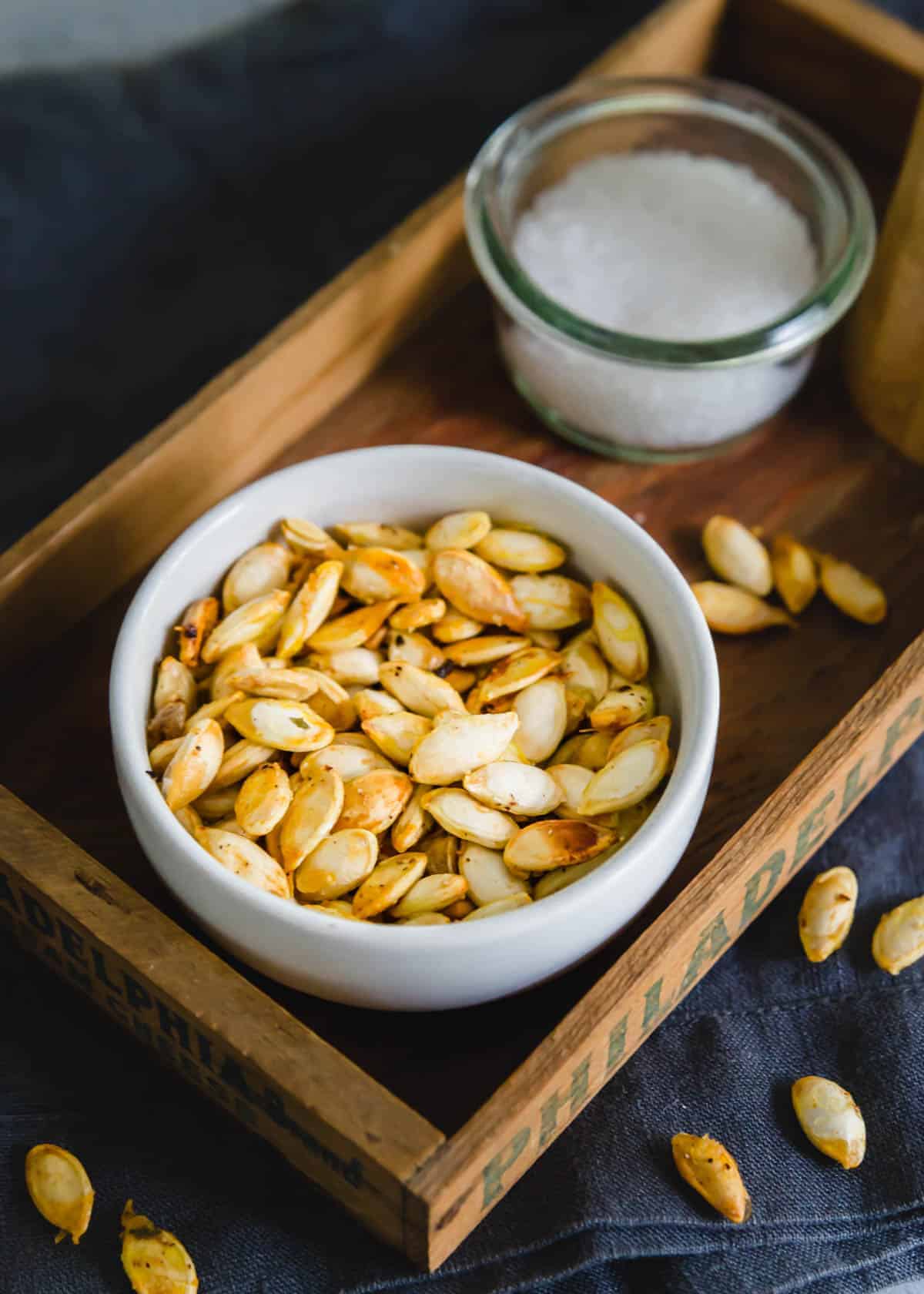 It had been a minute since I roasted any squash seeds.
And by a minute, I mean more like 30 years.
Pretty sure the last time I enjoyed a roasted squash seed was in the house I grew up in (which we moved out of when I was 9) during what I can only imagine to be a year my brother and I were successful in breaking down my mom's resolve to carve pumpkins.
Knowing my mom, if she was going to go through that messy effort with an 8 and 6 year old, she'd get something out of it in return, namely some roasted pumpkin seeds.
Now sure, I eat pepitas all the time. And while the whole world thinks pepitas are pumpkin seeds. They're really not. At least not in the sense you think.
This article explains the difference perfectly but basically, pepitas come from very specific types of pumpkins, not the kind we buy, carve or eat.
But pepita consumption (both in the actual seeds or as pumpkin seed butter) is about the closest I've come to eating any roasted squash seeds in years.
Until I was playing around with how to cook buttercup squash and decided to save the seeds, clean them off and roast them.
What resulted was one of the most delicious snacking experiences I've had in years.
I stood over the baking sheet on top of the oven and ate every single one of these crispy roasted seeds by myself, fully intending to save some for Ulysses but failing miserably with a capital F.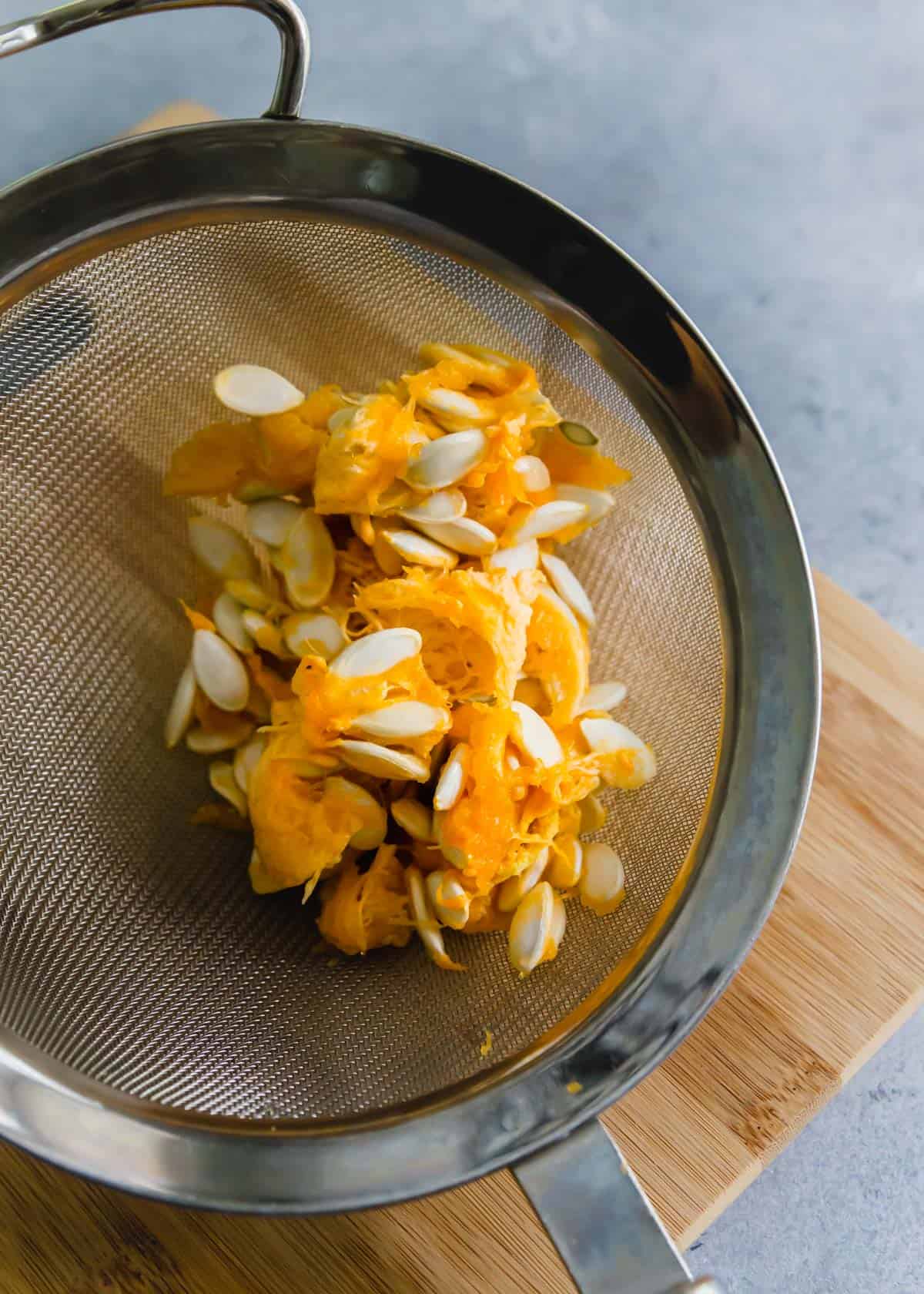 I consider October 1st to be the start of winter squash season.
So now that we're all buying a squash or two with every trip to the grocery store (or at least I am), I think it's perfect timing to go over how easy it is to make roasted squash seeds and how much you're going to absolutely love this little fall snack that's sorta just an added bonus kind of recipe.
So go make some creamy delicata soup, kabocha squash chili or, maple baked white acorn squash but save the seeds because we're getting our roast on!
WHY WINTER SQUASH INSTEAD OF PUMPKIN?
Let's cover the underlying question first, why are we using winter squash to make seeds instead of roasting pumpkin seeds.
The answer is simple: pumpkin seeds are just too big, too tough and way too fibrous.
When you roast them, the result is just sorta gross if we're being honest and you're left wanting to spit half of the seed out rather than swallow.
So, toss the pumpkin aside and grab another winter squash instead!
WHAT KIND OF WINTER SQUASH SEED CAN I ROAST?
Honestly, basically all of them!
Whether you like acorn, butternut, spaghetti, kabocha, delicata, buttercup, honeynut, sweet dumpling, etc… all of those squash varieties are way better suited for roasting and snacking than pumpkin.
The smaller the seed, the more crispy and thin they roast up making them a little easier to chew.
With that in mind, seeds from buttercup, delicata and acorn are actually some of my personal favorites but any will do.
I actually have a recipe specific to roasted delicata squash seeds if you're using that kind.
You can learn about a bunch of the more popular varieties in my guide to winter squash but just pick whichever one you like best or are planning to use in an upcoming recipe and instead of scooping out and discarding the seeds, set them aside for later use.
HOW DO I CLEAN SQUASH SEEDS FOR ROASTING?
When you first scoop out the seeds from any winter squash, you'll likely still have a bit of the pulp attached (like the picture above in the colander).
Try to discard as much of the pulp as possible from the get go but don't worry if there's still a bit attached.
To clean the seeds, place them in a colander and run cold water over them.
Use your hands to sort of separate the seeds from the pulp, discarding the pulp as you go. It's a slimy process but relatively easy.
Alternatively, you can fill a large bowl with cold water and place the seeds in that. As you separate the pulp from the seeds, the pulp should sink and the seeds will float.
If a small amount of pulp remains attached, don't worry, that's fine. The seeds don't have to be perfectly cleaned and pristine for roasting.
Turn the cleaned seeds out onto a large paper towel and pat dry.
HOW TO ROAST SQUASH SEEDS
Once you have cleaned and dried seeds the method to roasting them is quite easy.
SEASON:
Toss the seeds with:
extra virgin olive oil
kosher salt
freshly ground black pepper
Stir until they're well combined and fully coated.
ROAST:
Place the seasoned squash seeds on a parchment lined baking sheet in a single layer.
Roast for 20-25 minutes, tossing/stirring once or twice as they cook until they start to turn golden brown.
Take care to make sure the seeds don't burn! You don't want any charred spots, just a nice even golden color.
You'll be able to smell them once they're done too. To me, the smell is almost like popcorn!
WHAT DO ROASTED SQUASH SEEDS TASTE LIKE?
Besides being perfectly crunchy, when roasted, squash seeds sort of have a popcorn-like taste and smell to them.
They're just a really simple oven-baked flavor that really take on whatever spices and seasonings you coat them in whether savory or sweet.
HOW TO SERVE ROASTED SQUASH SEEDS
Well, if you don't just eat them straight off the pan like me, there are quite a few ways to enjoy these crispy roasted little guys!
Roasted squash seeds are great as a snack or appetizer. Adding them to charcuterie boards or appetizer spreads in a small bowl with a spoon is a great option!
They're also great as a garnish or topper.
Sprinkling them on top of soups like cinnamon ginger kabocha squash soup or, creamy carrot soup brings a nice crunchy contrast to the smooth texture of those soups.
You can also use them as a salad garnish kinda like croutons! Add some to this baby kale salad for a fun fall element or this turmeric chicken salad for some extra crunch in your lunch!
You can even add them as a savory topping to baked goods. Try them on top of these parmesan pumpkin scones or, these sausage cheddar breakfast muffins.
If you make homemade trail mix or snack mixes with nuts and such, throw a handful in there as well for some variety.
WHAT OTHER SEASONINGS CAN I USE?
Once you understand the basic method to roasting squash seeds:
1/2 cup cleaned squash seeds from any winter squash
1 1/2 teaspoons oil
you can play around with the seasonings and step up your game from the simple salt and pepper in this basic recipe.
For savory flavors, I like to use olive oil. For sweet variations, I prefer coconut oil instead or something more neutral like avocado oil.
Some other flavor combination ideas:
pumpkin pie spice
cinnamon sugar
spicy red pepper flakes
ranch seasoning – salt/onion powder/garlic powder/ground mustard/celery seed/paprika/black pepper/dill
Italian – salt/pepper/oregano/garlic powder/basil
dill pickle – salt/pepper/dill/garlic powder
MORE WINTER SQUASH RECIPES:
Rosemary Butternut Squash Skillet Pie
Holiday Butternut Squash Hummus
Creamy Pesto Spaghetti Squash Noodles
Turkey Sausage Spaghetti Squash Baked Ziti with Mushrooms and Chard
Garlicky Butternut Squash Noodles with Spinach and Ricotta
Roasted Squash Seeds
Learn how to roast perfectly crispy seeds from any winter squash with this easy method and recipe. They're the perfect fall snack!
Ingredients
seeds from 1 winter squash (about 1/2/ cup), cleaned
1 1/2 teaspoons extra virgin olive oil
pinch of kosher salt
pinch of black pepper
Instructions
Preheat oven to 325°F. Line a baking sheet with parchment paper.
Place seeds in a small bowl. Add olive oil, salt and pepper and stir to combine.
Spread the seasoned seeds out onto the baking sheet in an even single layer.
Roast for 20-25 minutes until starting to lightly brown around the edges. Toss/stir the seeds a couple times throughout roasting.
Remove from oven once they are a nice light golden brown (you want color but not too much!). Let cool a few minutes before eating.
Nutrition Information:
Yield:

2
Serving Size:

1
Amount Per Serving:
Calories:

68
Total Fat:

4g
Saturated Fat:

1g
Trans Fat:

0g
Unsaturated Fat:

3g
Cholesterol:

0mg
Sodium:

67mg
Carbohydrates:

9g
Fiber:

3g
Sugar:

3g
Protein:

1g
This website provides approximate nutrition information for convenience and as a courtesy only. Nutrition information can vary for a variety of reasons. For the most precise nutritional data use your preferred nutrition calculator based on the actual ingredients you used in the recipe.