Not only is this my first WIAW post but, I got to meet the lovely lady who started it all yesterday, Jenn!
Jenn happens to live close by to Topsail so when I knew I'd be down here for vacation we planned a little lunch rendezvous.
Let's start with breakfast first though…
Muffins! Who makes muffins when they are on vacation? I do! Chocolate chip, banana, walnut ones to be exact. With a Fage and some fresh fruit they make a delicious breakfast. 12 muffins for 3 people with 3 days left though might be problematic…
For lunch, Jenn suggested an awesome Mediterranean place called Marrakesh in Jacksonville. Or, J-Vegas as she called it which totally made me laugh. If you've never been to Jacksonville, NC think strip-mall, all that's wrong with America, kind of feel. In fact turning onto the road this place was located I saw Texas Roadhouse, Outback, Wendy's, Golden Corral and Walmart all within walking distance of each other. S-C-A-R-Y.
This place was great though. Falafel anyone?
Glorious bites of fried deliciousness with hummus.
In true blogger meet up form guess what we found after lunch?
FROZEN YOGURT!
When I pulled into the parking lot and saw this place next to our lunch spot I almost screamed in excitement (in the car by myself…awkward).
Hi Jenn!
I have a strict no-mix fruit + creamy flavors policy when it comes to frozen yogurt so it was a tough choice but we both ended up going with cake batter + red velvet. Soooo friggin good!
We spent a bunch of time chatting away at the frozen yogurt place because as it turns out, we're both pretty friend deprived living in the oh so happening towns of Jacksonville and Hopewell Junction.
Eventually though we called it a day and back to the beach I went to help out with dinner.
If you don't suck the mango pit thing too, you're missing out. Just sayin'.
Mango, black bean, corn salad. Very similar to this one.
All together now with grilled shrimp, brown rice, green salad and crappy lighting. When you spend the last minutes of sunlight enjoying happy hour, your pictures turn out crappy. It's a sacrifice I'm willing to make. Always.
Pretty good day of eats (and company!) if you ask me!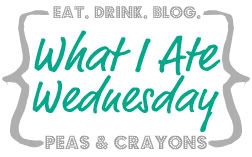 What was the best thing you ate recently? Um, fro-yo for me. No brainer.