Here we are at the last spring veggie to get excited about…peas. I used to tell people that I liked all vegetables except these green little guys. Reality though is that I just didn't enjoy the mushy overcooked canned peas my mom used to put on top of her meatloaf. Admittedly, that dish didn't really give them a fair shot. That combined with the one and only asthma attack I ever had at about 7 years old the night she made a shrimp and snow pea stir-fry…I was a bit turned off from the whole pea family. Luckily, like my aversion to fish and eggs, I eventually outgrew the pea hate.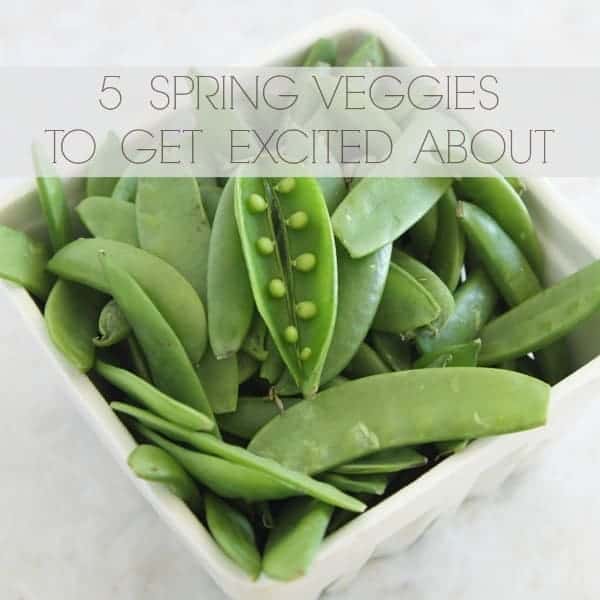 A Guide to Spring Vegetables – Peas
Peas are pretty versatile. I buy sugar snaps for snacks in the spring and love dipping them in hummus. Snow peas are a great addition to a quick 1-pan, stir fry kind of meal. And while I love the idea of buying fresh shelling peas from the farmer's market to shell myself, I really don't have the time for that and just keep a bag of frozen shelled peas on hand instead for a quick green addition to soups, stews, pasta, rice and other grain dishes.
Peak season: April – July
Varieties: Shelling peas, sugar snap peas and snow peas are the ones we're all familiar with. Shelling peas are great in pasta and rice and what's in that frozen bag from the grocery store. Sugar snap peas are the flat ones and snow peas are the more plump, both are common to stir-fries.
What to look for: Shelling pea pods should be glossy, firm and feel full. Sugar snap peas should be crisp. Snow pea pods should be flat without any visible bumps in the pod
How to store it: Peas should be eaten as soon as possible after purchase as they lose their sweetness quickly. Store them in a tightly wrapped plastic bag in the refrigerator for only a couple of days. If using shelling peas, wait to shell them until right before cooking.
How to prepare it: Sugar snap are great raw for a fun crunch, shelling peas are great in pasta, rice and soups and snow peas are perfect for stiry-frying. However, all can be sautéed, steamed or boiled.  
Nutritional benefits: Peas are a starchy vegetable high in fiber and vitamin K.
Pea recipes from Running to the Kitchen
Spring pea and lemon pesto pizza
Minty pea and avocado spread
Basil brown rice with lemon and peas
Pea recipes from around the web
Pea omelet with mint and marscapone – Healthy Green Kitchen
Pea mint feta fritters with yogurt mint dipping sauce – Gourmande in the Kitchen
Three pea ginger tofu stir fry – The Law Student's Wife
Spring zucchini pasta with peas, leeks and watercress – Inspiralized
Pea and goat cheese tart with fresh herbs – Tasty Yummies
Fresh easy sweet pea soup – Crumb
Sautéed strawberry salad with sugar snaps and almonds – Cook the Story
Asparagus, pea and leek stir fry – Karen's Kitchen Stories
Chilled fresh pea soup with crab and guacamole salad – Always Order Dessert
Snap pea, corn and red currant salad – Busy in Brooklyn
Other Spring Vegetable Guides:
A Guide to Spring Vegetables – Asparagus
A Guide to Spring Vegetables – Radishes
A Guide to Spring Vegetables – Artichokes
A Guide to Spring Vegetables – Leeks