This guide to leeks has all the information you need to know about spring leeks including a bunch of leek recipes to try out yourself!
I remember the first time I went to the local farmer's market store when we moved here in early March a few years back. I was so enamored with the ambience of the place, I didn't even care that the shelves were practically bare and the reality of March in NY when it comes to local foods is pretty slim.
I left with some local bacon and an ungodly amount of leeks, pretty much the only thing that was technically "in season" at the time and we ate these green little beauties in practically every meal for about 2 weeks.
1 leek goes a long way…
So it seemed appropriate to talk about leeks in this week's spring produce guide.
A Guide To Leeks
Leeks are fun because after far too many months of boring white onions, you can finally throw something green in your sauté pan!
Plus, their cute little circles always get me. Even the dirt they seem to amass doesn't bother me because…well, they're cute and green.
I've never missed that color as much as I do in the winter months when all I see as I look out the window is gray, white and brown.
Bonus – they're milder than their onion cousins and don't make you cry while chopping!
When Are Leeks In Season?
Peak season for leeks is March through April so stock up and get your fix now!
Leek Varieties:
There are winter and summer leeks. Winter leeks are harvested in the beginning of spring (now!) and tend to be heartier and more flavorful than the smaller and more mild summer leeks.
What To Look For In Fresh Leeks:
Leeks should be straight, firm and bright green. Wilted and yellow looking outer leaves/tops mean it's past it's prime. The smaller in diameter, the more tender. Try avoiding any stalks bigger than about 1.5 inches wide.
How To Store Leeks:
Easy, just store them in the plastic bag you bought them in and refrigerate for 5-10 days.
How To Prepare Leeks:
Leeks must be cleaned thoroughly before using as they contain lots of dirt from the way they grow.
The best way to clean them is to trim the top and bottom off, cut lengthwise down the stalk and then chop into half circles. Place half circles in a bowl of water, gently mix with your hands and let the dirt settle to the bottom. Repeat again if necessary.
Leeks are used like onions and are best sautéed or braised.
Nutritional Benefits of Leeks:
Leeks are a great source of vitamin K, maganese, vitamin B6 and vitamin A.
Leek Recipes From Running To The Kitchen:
Leek Apple Cheddar Soup – This leek apple cheddar soup is sweet, creamy and topped with chopped walnuts and cranberries.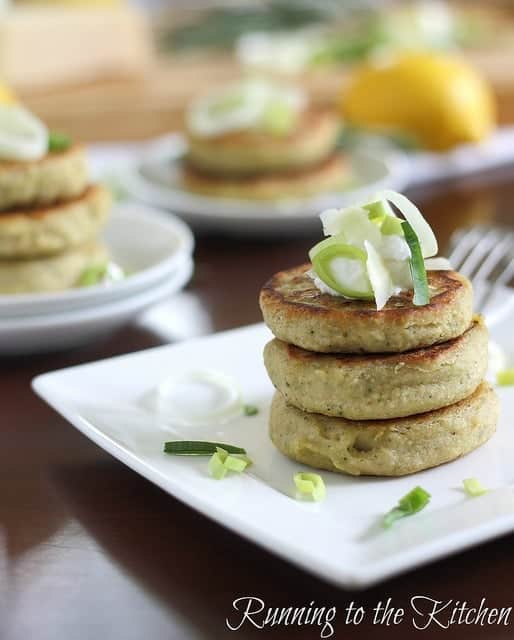 Rosemary leek cannellini cakes – These rosemary leek cannellini cakes make a light stand alone vegetarian meal or a great savory side dish.
Chicken with leeks, apples and sun dried tomatoes – This chicken with leeks is cooked with apples and sun dried tomatoes. A meal fancy enough for guests but easy enough for a weeknight dinner.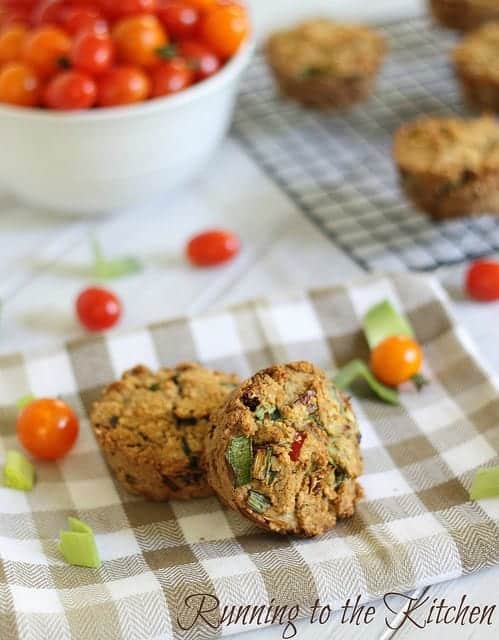 Sun dried tomato leek muffins – These paleo sun dried tomato leek muffins are made with almond and coconut flour and the perfect savory snack.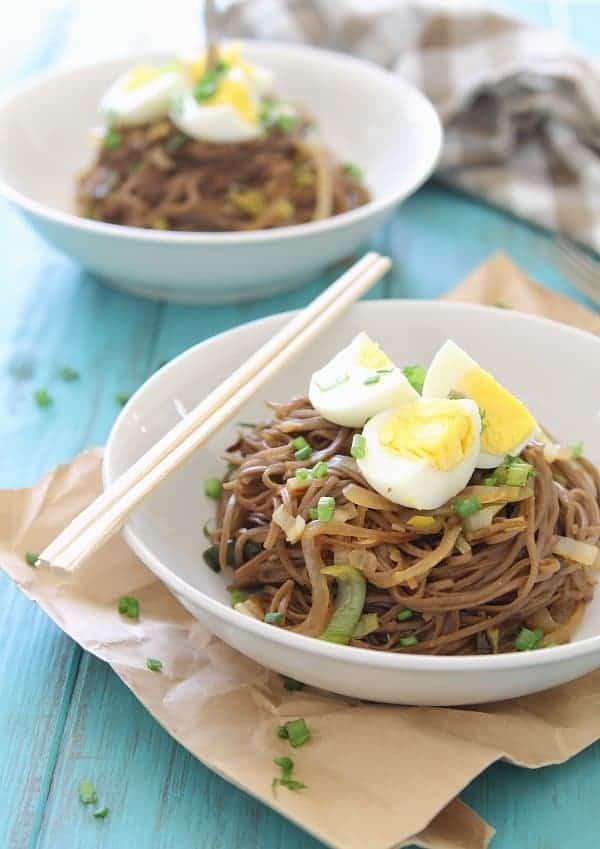 Soba noodles with leeks, sweet onions and egg – These soba noodles with leeks, sweet onions and egg are an easy and delicious vegetarian meal.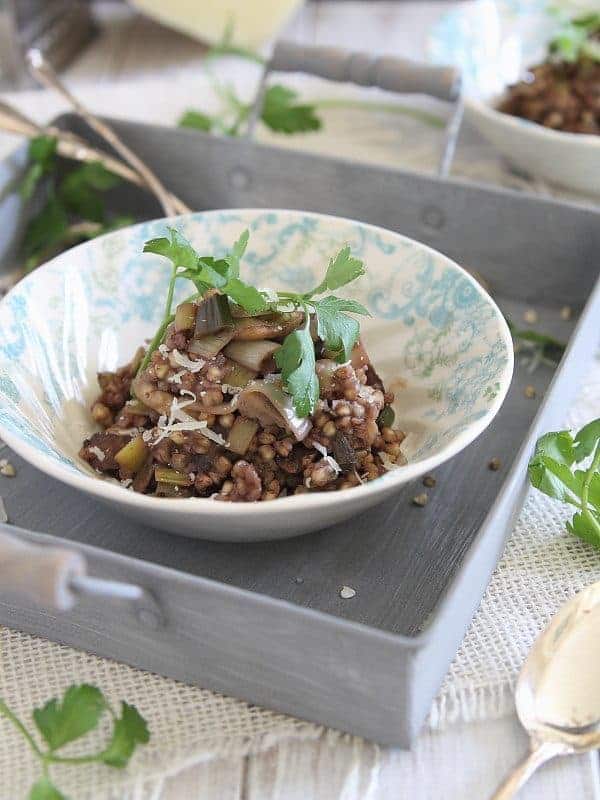 Buckwheat Risotto with Mushrooms and Leeks – This buckwheat risotto is a hearty dish packed with flavorful mushrooms and leeks.
More Leek Recipes:
Smokey white cheddar mac and cheese with leeks – An Edible Mosaic
Fried leek rings and homemade ketchup – What Jew Wanna Eat
Mushroom and leek bread pudding – Noble Pig
Smashed red potatoes and leeks – Oh My Veggies
Cheesy leeks and orzo – Farm Fresh Feasts
Leek, mushroom and bacon pizza – Taste and Tell
Vichyssoise potato and leek soup – Baked by Rachel
More Spring Vegetable Guides:
A Guide to Asparagus
A Guide to Radishes
A Guide to Artichokes
A Guide To Peas