These rosemary leek cannellini cakes make a light stand alone vegetarian meal or a great savory side dish.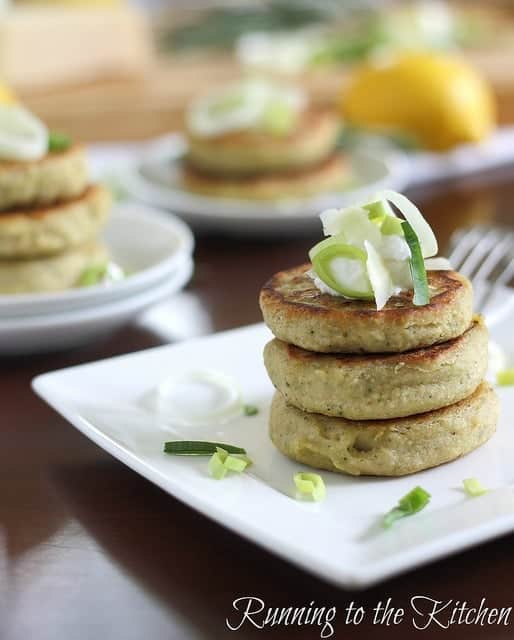 So, I could talk about these bean cakes, which really were beyond delicious little bites of savory, cakey goodness or, I could talk about the insanity that was yesterday morning trying to get here to Sonoma.
OMG.
3:40am alarm goes off. Get up, get ready, leave the house by 4:13am. Sweet, I'm on time.
Get 5 minutes down the road towards the gas station (since I had absolutely no foresight to fill up my car beforehand) and realize my left ring finger is bare. Spend 10 seconds debating how important wedding rings really are, this is a girls trip after all… Decide to turn around for rings.
4:23am pull back into driveway, run up the stairs, grab rings. Ginger gets very confused and starts running downstairs to be let out thinking it's morning. Yell at her to go lay down, get back into the car 4:24am, pull out of the driveway again.
Get 5 minutes down the road, have a sudden freak out realization that my phone is not in my bag. This time there's no contemplating going without (technology > marriage), turn around again, go back home. 4:29am. Run back upstairs, grab the phone from the bathroom where I put it down and told myself not to forget it while getting dressed (yeah, that worked well) and explain to Ulysses who is half awake and very confused that I'm a spaz. Yell at Ginger to go back to sleep again, run back to car. 4:31am.
Pull into gas station, get gas, get coffee (priorities), finally get on highway. 4:37am. I live about 1 hour and 25 minutes from JFK on a good day, I was supposed to be there at 5:45am in the long term parking lot.
(*Don't read this part, mom*) Book it going 85-95mph the entire way through fog so thick I can't see cars in front of me or hiding cops on the side of the road. Cross my fingers luck is on my side.
Get 25-30 minutes from airport, text Kat to tell her I'm going to be late, but should make it by 6am. We should still be fine for our 7:30am flight.
Or so I thought.
Her response:
What ensued was about 100 texts and multiple calls back and forth over the next hour. Long story short…jack-knifed tractor trailer 2 miles before the airport that shut the highway down and she was like the 3rd car from the accident, stuck there, not moving an inch. I avoided the accident going an alternate route, got to the airport and expected we'd need to go standby on the next flight. Then, with 57 minutes before the flight is scheduled to leave, I get this:
And respond with the best text cheerleading I can think of at 6:30 in the morning.
Bags checked with 43 minutes before the flight (after pleading with them since that was 2 minutes after the cutoff time), we sprint to the security line only to find out we're at the wrong one and have to sprint across terminal 4 (not the smallest JFK terminal by any means) to the other side. Sweating, out of breath, bags strewn across our bodies like idiots, we were those people. Brightside? Our workout for the day was completed by 6:50am.
This crap never happens to me when I travel for work. I'm a sleek, organized, arrive on time kind of traveler, rolling my eyes at the disheveled vacationers holding up the security line with their "does thiiiiis have to come out of my bag too?" questions.
But, we made it, had 2 amazing tastings (more on those later), a kick ass dinner and somehow the memories of the craziness have started to subside.
I'll admit this post is a definite injustice to these cakes, but talking about them and not the pyscho start to this trip just seemed impossible.
Here's the rundown.
They're kind of like a pancake but with the flavors of a savory Italian meal. A delicious side to a big, fat juicy steak or the perfect stand alone light vegetarian meal. Enjoy them with a nice glass wine on the side.
I'll happily be doing that last part for the next few days…
Rosemary Leek Cannellini Cakes
These rosemary leek cannellini cakes make a light stand alone vegetarian meal or a great savory side dish.
Ingredients
1/2 c. chopped leeks
2 tablespoons extra virgin olive oil, divided, plus more for pan frying
1 15oz. can cannellini beans, drained & rinsed
3/4 cup oats
2 tablespoon all purpose flour
1 clove garlic
1 tablespoon rosemary
zest of 1 lemon
juice of 1/2 lemon
salt & pepper, to taste
1 egg
Instructions
In a small pan over medium-high heat, saute leeks and 1 tablespoon olive oil until leeks are softened.
While that sautes, combine remaining ingredients, including the remaining 1 tablespoon of olive oil in a food processor.
Add leeks once sauteed and process until smooth and a ball just starts to form. The "dough" will be wet but should just start to form into some sort of ball shape.
Transfer dough to a medium bowl.
With wet hands (you will need to wet your hands after every other patty, dough is very wet & sticky) form into patty shape.
Using the same skillet you sauteed the leeks in, add enough olive oil to be able to pan fry the patties over medium-high heat. Fry on one side for about 3 minutes or until golden brown, flip and pan fry the other side adding more olive oil as needed.
Repeat with remaining patties.
Serve warm garnished with plain greek yogurt, parmesan and leeks.
Nutrition Information:
Amount Per Serving:
Calories:

602.69
Total Fat:

33.49g
Carbohydrates:

67.11g
Protein:

10.09g