This guide to artichokes has all the information you need to know about spring artichokes including a bunch of artichoke recipes to try out yourself!
This is a funny one to write because we're a house divided when it comes to fresh artichokes.
I love them even with all the prep work they necessitate, Ulysses hates them.
I live with a man who eats pizza with a fork and knife, sucking on artichoke leaves just isn't his idea of a good time when it comes to a meal. We've agreed to disagree on this one.
Let's get into this week's spring produce series – a guide to artichokes!
A Guide To Artichokes
When you think of artichokes I bet the canned, marinated ones come to mind before the fresh spring ones.
They do, don't they?
You think cheesy spinach & artichoke dip not fresh green vegetable with spiky leaves and fuzzy insides.
I know, I do too.
We're gonna change that today though because these fresh ones, although a little rough around the edges (quite literally) can be so much more delicious than the watery canned ones.
Artichoke Season:
Peak season for fresh artichokes is March through May.
And to be honest, they're usually not worth buying outside this time.
Out of season artichokes are nowhere as tender as their in-season counterpart and tend to be very rough and an all around unpleasant experience. Just skip them.
Artichoke Varieties:
Artichokes are the edible flower bud from a plant related to the sunflower. Baby artichokes are not a different variety, just a smaller bud.
The most common variety is the classic green globe artichoke although purple artichokes (which are used in my sheet pan sausage and veggies recipe) can be found in some stores as well.
What To Look For In A Fresh Artichoke:
Deep green color and tight leaves are what you're looking for. Loose and darkened leaves indicate an old artichoke.
The bulb should feel heavy for it's size.
How To Store Artichokes:
Storage is easy with these guys, keep artichokes in the plastic bag from the store in the refrigerator for up to a week.
How To Prepare Artichokes:
Artichokes take a bit of work before they're ready to be cooked.
Stems should be trimmed and shaved, outer leaves removed and tops of the remaining leaves snipped to cut off the pointy ends.
The heart, which is the inner core of the artichoke, is surrounded by fuzz. That should also be removed or avoided when eating.
Braising or steaming are probably the most traditional ways to cook artichokes but grilling and roasting are also options. Artichokes are fully cooked when you can remove the bottom leaves with ease.
Nutritional Benefits of Artichokes:
Artichokes are packed with antioxidants!
Artichoke Recipes from Running to the Kitchen: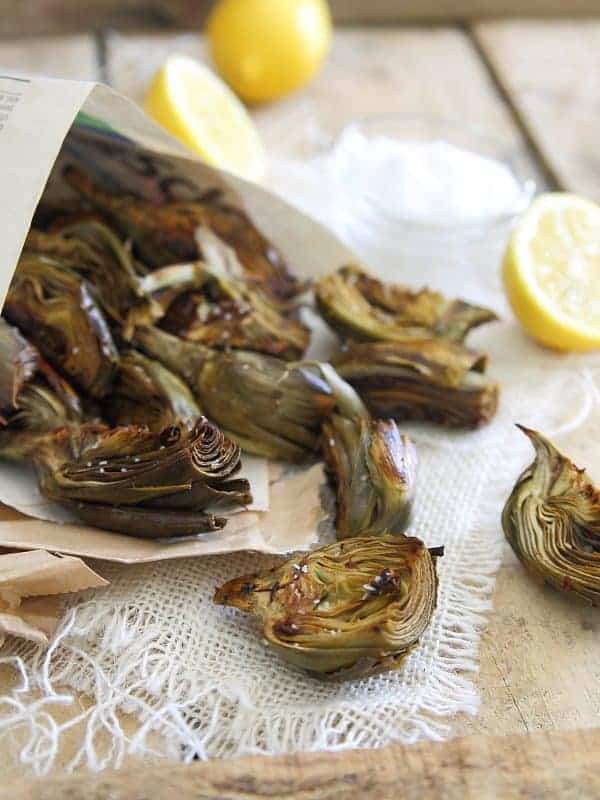 Crispy Lemon Roasted Baby Artichokes – These roasted baby artichokes tossed in lemon juice, baked until crispy and sprinkled with kosher salt making a delicious spring snack or side dish.
Chicken Artichoke Olive Skillet – While this easy skillet dinner uses canned artichokes, you could easily replace them with baby artichokes when in season!
Tomato Braised Artichokes with Pistachio Pesto – a simple braised artichoke recipe cooked until perfectly tender with whole peeled tomatoes and served with a delicious pistachio basil pesto. Every leaf is edible, that's how tender these get! Makes a great hearty vegetarian meal.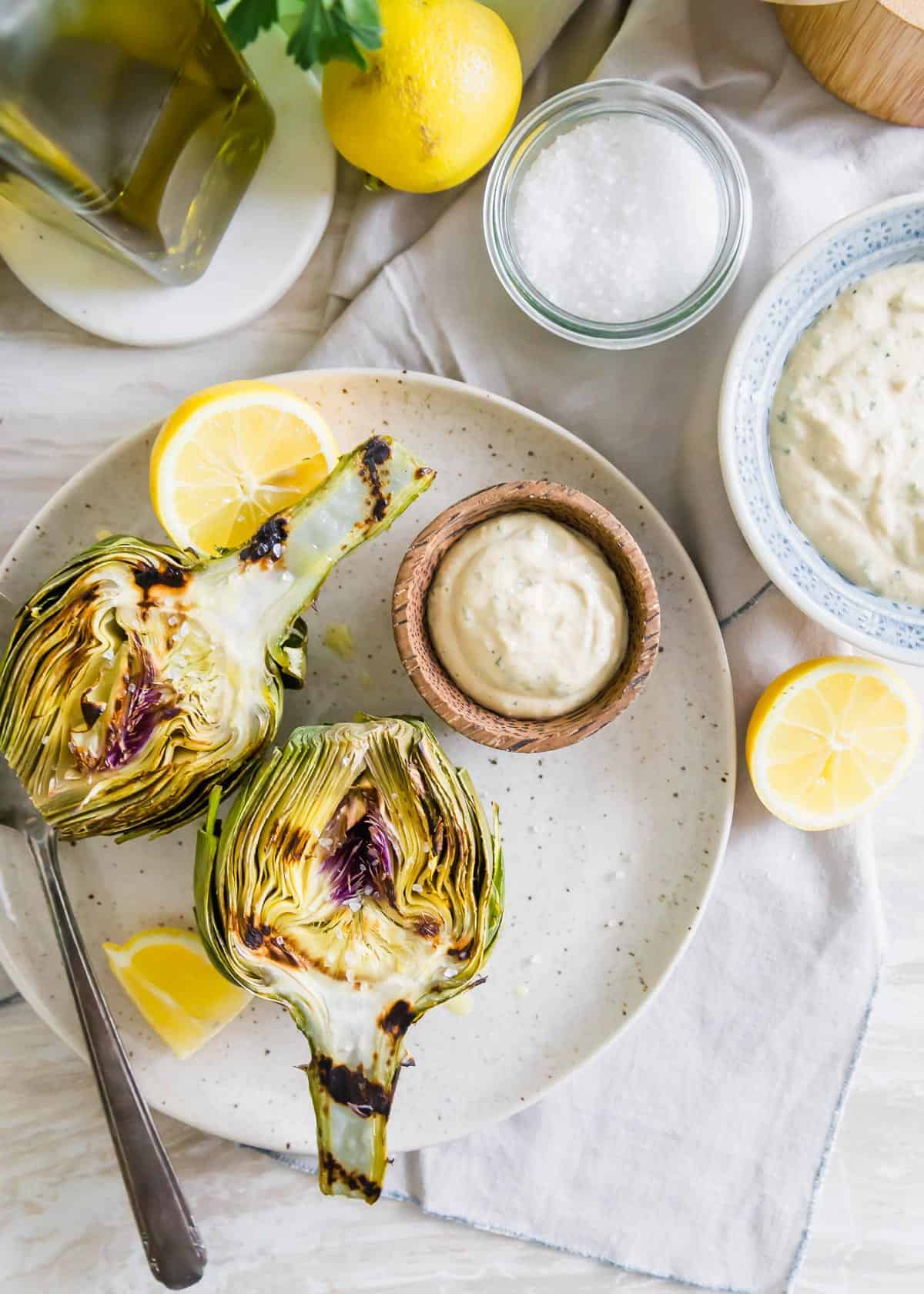 Grilled Artichokes with Lemon Herb Tahini Dipping Sauce – if you're looking for a new/slightly unconventional way to enjoy eating artichokes, try grilling them with this simple recipe! The smoky grilled charred flavor goes perfectly with a bright tahini lemon dipping sauce.
More Artichoke Recipes:
Garlic thyme oven braised artichokes – Gourmande in the Kitchen
Grilled marinated artichokes – Tasty Yummies
Whole wheat black pepper fettuccine with baby artichokes – Oh My Veggies
Purple potato and artichoke gratin – Nourished Kitchen
Zucchini blossom and artichoke risotto – Yummy Mummy Kitchen
Artichokes and cheesy grits – No Recipes
Baked stuffed artichokes with leeks – The Italian Dish
More Spring Vegetable Guides:
A Guide to Asparagus
A Guide to Radishes
A Guide To Peas
A Guide To Leeks