These roasted baby artichokes tossed in lemon juice, baked until crispy and sprinkled with kosher salt making a delicious spring snack or side dish.
Now that we've talked all about them in this guide to artichokes and I'm sure you ran out to the store to buy some this past weekend (or, more likely drank green beer in some sketchy establishment while downing some greasy bar food over the St. Patrick's Day holiday), let's talk about an artichoke recipe.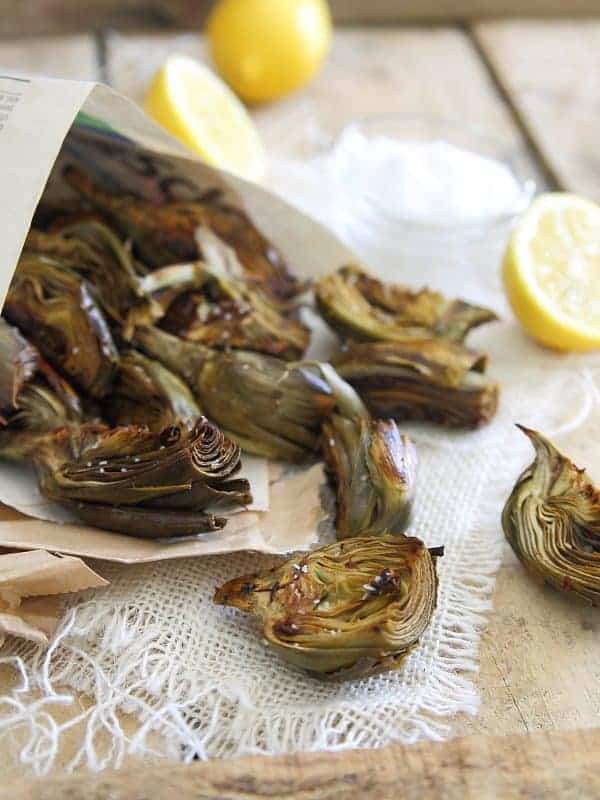 If artichokes could be street food, this is how they'd roll, all crisped up, tossed in salt and completely inhibiting your ability to stop popping them in your mouth one by one like an addict.
Baby artichokes (like baby eggplant) are where it's at honestly.
Those big ones you see in the store…they're good, but they take some effort and a bit of time to cook.
Side note: I absolutely love braising them for an easier way to enjoy like in this tomato braised artichoke recipe.
Or, you can grill them and enjoy these Grilled Artichokes with Lemon Herb Tahini Dipping Sauce.
Baby ones need just a quick trimming and some outer leaves plucked off.
No dealing with fuzzy cores, long cook times and all that nonsense.
Would you believe me if I told you that I ate the leftovers of these reheated under the broiler the day after I made them, dipped in some ketchup and they seriously rivaled fries?
Yes, fries. I swear.
A good fry is crispy on the outside, tender on the inside and the perfect vehicle for ketchup consumption.
Roasted baby artichokes? Check, check & check.
So for all you artichoke intimidated people out there, this one's for you.
A simple trim, toss & roast. Nothing complicated and I promise you'll be an artichoke addict from here on out.
There are worse things in life to be called, I assure you.
More artichoke recipes to try:
Don't miss out on this Chicken Artichoke Olive Skillet or, this End of Summer Vegetable Bean Skillet either.
They're both a great way to incorporate some canned artichoke hearts into an easy dinner recipe.
Crispy Lemon Roasted Baby Artichokes
Yield: 4 servings
Prep Time: 10 minutes
Cook Time: 25 minutes
Total Time: 35 minutes
These roasted baby artichokes are tossed in lemon juice, baked until crispy and sprinkled with kosher salt making a delicious spring snack or side dish.
Ingredients
8 baby artichokes
3 tablespoons extra virgin olive oil
juice from ½ a lemon
pinch red pepper flakes
kosher salt
freshly ground black pepper
Instructions
Preheat oven to 400 degrees.
Remove the outer leaves of the artichoke and peel the stem with a vegetable peeler. Cut the artichokes in quarters and trim about ½ an inch off the tips with a knife or kitchen shears.
Place the artichokes on a baking sheet and toss with the olive oil, lemon juice, red pepper flakes, a generous amount of kosher salt and black pepper.
Roast for 20-25 minutes until they are golden brown and crispy on the edges, tossing a few times throughout.
Sprinkle with a bit more salt after removing from oven.
Serve with more lemon and/or ketchup.