These paleo sun dried tomato leek muffins are made with almond and coconut flour and the perfect savory snack.
We went to the county fair yesterday. I saw cows (did you know there are dairy cows the color of weimaraners? totally in love), goats, sheep, wool scarf making, chickens and pigs. There was a canine tent, a dock dog jump and a mini zoo. You could eat all the funnel cakes, hot dogs, cider donuts, gyros, pizza, cotton candy, sausage & peppers, ice cream and lemon fizz you wanted.
And what did I leave with?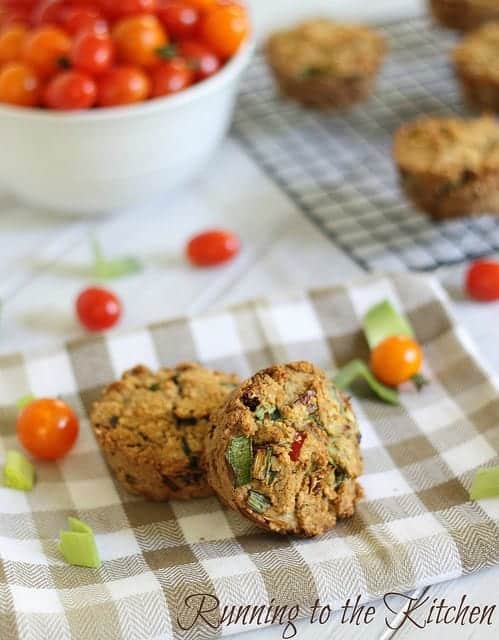 A vitamix.
It was the first tent I saw when we walked in and shockingly, there was hardly anyone at it. A healthy marketed blender at a fair? No idea why it wasn't more popular.
I ate green juice samples, peach sorbets and chicken tortilla soup while I stood there procrastinating. I'm usually pretty black and white when it comes to big purchases. I either want it enough that I just buy it relatively quickly or I deem it not worth the investment and move on (little purchases are a whole other story, I'm queen of procrastinating those. Like the $12 collar I didn't buy for Ginger yesterday even though she's needed one for 2+ years). The vitamix for some reason though hasn't worked that way in my mind and I either longingly covet my mother in law's when we visit or tell myself a $500 blender is overkill and push it out of my mind.
So in the oddest of locations, under a tent, surrounded by people shoving fried, greasy food in their mouths like they'd never eat again, I finally bought one.
And because I'm a loser, I came home and actually watched the "get started" DVD.
Um, did you know this thing can make DOUGH?!
I feel like knowing that would've sped up my 3+ year decision making process. I pretty much have no need for the food processor or KitchenAid mixer on my counter top any more with this appliance. One of which has already been relegated to the bottom cabinet.
So while being enlightened by the DVD and paging through the baking cookbook it comes with, I decided muffins were in order.
You're probably thinking I made them in the Vitamix and that would be fitting after this entire story but, no. I didn't. I was too scared to have it's virgin run be dough making. These were done the traditional way with two bowls and a spatula.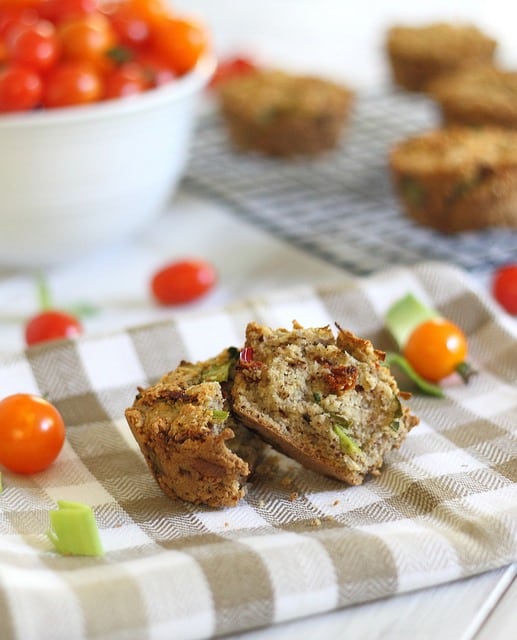 They're hearty, savory and would've been so.damn.good. with bacon. Totally kicking myself for not putting some in, I highly suggest you do. They're also paleo because I can't stop my obsession with the texture almond flour gives baked stuff. We ate these warm, straight out of the oven with a Vitamixed smoothie on the side. Totally in love.
With the muffins and the blender.
Sun Dried Tomato Leek Muffins
These paleo sun dried tomato leek muffins are made with almond and coconut flour and the perfect savory snack.
Ingredients
1 large leek, chopped
1/4 cup sun dried tomatoes, chopped
1 small hot pepper, minced
1/2 tablespoon extra virgin olive oil
1 cup almond flour
1/2 cup coconut flour
1/2 teaspoon kosher salt
1/4 teaspoon garlic powder
3/4 teaspoon baking powder
1/2 teaspoon baking soda
1/4 teaspoon black pepper
2 eggs
1/2 cup extra virgin olive oil
1/2 cup almond milk
Instructions
Preheat oven to 350 degrees and grease muffin tin.
In a medium skillet over medium-high heat saute leeks, tomatoes and pepper with 1/2 tablespoon of olive oil until softened, about 3-5 minutes. Set aside.
In a large bowl, combine dry ingredients.
In a separate small bowl whisk together eggs, olive oil and almond milk.
Add wet ingredients to dry along with leek mixture and combine with a spatula until fully incorporated.
Scoop batter into muffin tins.
Bake for 25 minutes.
Let cool in tin for a few minutes before transferring to a rack.
Best served warm with some butter.