I have a pantry stocking problem. Really, it's like a sickness and I'm pretty sure it's genetic because I guarantee you I could find cans and boxes of food items that have a "best by" date of at least 5 years ago in my mom's house.
I swear, we're not the people you see on hoarders, we just like a well stocked pantry!
There's nothing worse than being in the middle of cooking a meal only to realize you ran out of a basic thing like canned tomatoes.
Ulysses operates the exact opposite of this however, which has made for a *fun* 7.5 years of living together when I'm constantly trying to justify the need for 6 different cans of beans at all times as the flimsy wire shelves in our pantry bow under the weight.
But seriously, a well stocked pantry is key to not only quick & easy meals, but healthy ones too.
The first thing I did when I was actively trying to lose weight was throw out all the processed crap and re-stock my pantry and cabinets with basics to create healthy meals.
Today, I'm sharing what I think are the 10 pantry staples for healthy meals and recipes to go along with them!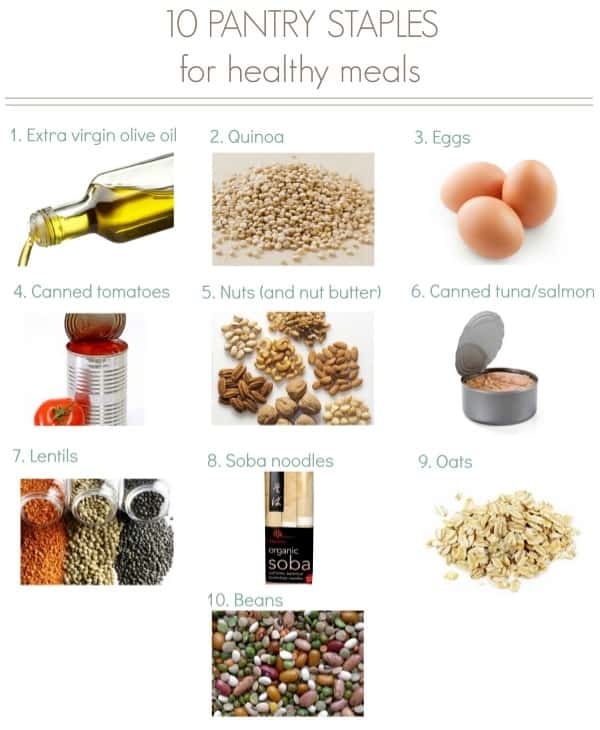 Extra virgin olive oil
I love this stuff. Maybe it's the Italian in me, but this is my cooking oil of choice 90% of the time. Coconut oil takes up another 9% and a variety of others make an occasional appearance for that last 1%.
It's delicious enough to use on salads and eat straight up and it's versatile enough to hold up well in stove top cooking.
The "extra virgin" means it's the least processed of any types of oil and therefore has more monounsaturated fats than other olive oils which may have benefits for your heart.
TRY THESE RECIPES:
Lemony tomato herb scallops
Meyer lemon roasted carrot strings
Quinoa
Quinoa is like the grain that's too good to be true. And that's probably because it's not really a grain, it's a seed. But hey, it cooks like a grain, tastes like a grain…so yeah, in my mind it's a grain. The one big difference with quinoa is that it's a complete protein. No other grain can boast that on it's resume. It's also packed with calcium, iron and fiber. It's a great way to "healthify" a dish traditionally made with rice or pasta.
TRY THESE RECIPES:
Cheddar chicken quinoa bake
Turkey quinoa muffins
Cashew quinoa granola
Eggs
The incredible edible…Not really a pantry item because unless you're getting super farm fresh ones (and if you are, I'm jealous), I'm betting these reside in your refrigerator, but a necessity to have on hand for healthy meals. Eggs are a great backup protein source. On nights when I haven't (or forgot) to defrost any other protein, they become my go-to.
TRY THESE RECIPES:
Pad Thai salad
Kale and feta egg bake
Canned tomatoes
Let's be real, tomatoes in the winter are gross. But chili, soups and pastas are perfect comforting winter meals, no? Canned tomatoes to the rescue! At any point in time I'll have diced tomatoes, tomato sauce, tomato paste, whole peeled tomatoes and crushed tomatoes in my pantry. No need for jarred tomato sauce when you have canned tomatoes on hand either. A simple onion, garlic and seasonings sauté with some canned tomatoes will get you a sauce in no time!
TRY THESE RECIPES:
20 Minute tomato sauce (<—use 1-28 ounce can of crushed tomatoes instead of fresh like the recipe says)
Spicy porter short rib chili
Nuts (and nut butter)
Nuts and nut butters are great for snacking, we already know that. But they also make a great addition to a meal.
Use them in pesto, as a crust for fish or meat or even just a topping on salads or pastas for some extra protein and omega-3s.
TRY THESE RECIPES:
Dijon almond crusted tilapia
Thai basil cashew chicken skillet
Canned tuna/salmon
Convenient, inexpensive, high in protein, vitamin D and omega-3s. Need I say more? If you're freaked out by fish in a can (I used to be), get over it. Seriously. I buy the cans packed in water and use it for lunch time salads or sandwiches. Sometimes I'll even add it to whole wheat pasta for dinner. Trader Joe's wild salmon is my favorite.
TRY THESE RECIPES:
Healthy tuna waldorf salad
Crispy salmon bites
Lentils
I used to think lentils were complicated. I vividly remember being at a friend's house as a kid and there being lentil soup on the stove-top for hours on end so I thought they were an "all-day" kind of thing. Um, they're not. Unlike dried beans (which we'll get to) there's no soaking involved and they cook in pretty much the same time that rice would. They're a great base for soups or a big warm salad.
TRY THESE RECIPES:
Red curry vegetable lentils
Apple & lentil stuffed acorn squash
Soba noodles
I could put all whole wheat pastas on here, but soba noodles are really my favorite. They're made with buckwheat (full of antioxidants and all 8 essential amino acids) and they cook in about 3 minutes. Healthy and quick, what's not to love?!
TRY THESE RECIPES:
Creamy garlic scape pesto with soba noodles
Soba noodle carbonara
Oats
Primarily used for healthy breakfasts and snacks, rolled oats (or steel cut) are full of fiber, help manage cholesterol and keep you nice and full for a bit. My favorite thing outside of a bowl of oatmeal is to use them in snack balls.
TRY THESE RECIPES:
Chicken parmesan muffins
Oatmeal raisin quinoa breakfast cookies
Oatmeal peanut butter chocolate chip balls
Beans
Dried beans are definitely the more affordable option here but honestly, I've never bought them. I don't have time or patience for soaking. Canned beans can be just as good. Opt for the low sodium ones and make sure you thoroughly rinse them before using. They're an excellent (and cheap!) way to add some protein to a meal. Use black beans in salads and soup, cannelini for making dips and spreads, chick peas (garbanzo) for whipping up your favorite hummus and red beans for a big batch of hearty chili.
TRY THESE RECIPES:
Chicken apple cheddar chili
Rosemary leek cannellini cakes
Turkey chili pie
And that's it – 10 pantry staples for healthy meals! Keep these things stocked in your kitchen pantry and I guarantee you'll always be able to throw something together.
It may not be fancy, but it will be a quick, easy and healthy meal.