This cheddar chicken quinoa bake is an easy, healthy casserole everyone will love. Use leftover rotisserie chicken for a simple dinner for busy nights!
Updated 9/6/2017: recipe video added below! Text and pictures are still original to the post. 
I don't think I've ever been on point with holiday appropriate recipes in the past 2 years of this blog. So why start now? I bet you're probably all Peeped and Cadbury'd out anyway.
Ps- if I don't get at least 1 Cadbury crème egg before this weekend is over, I may cry. Childhood obsession still going strong.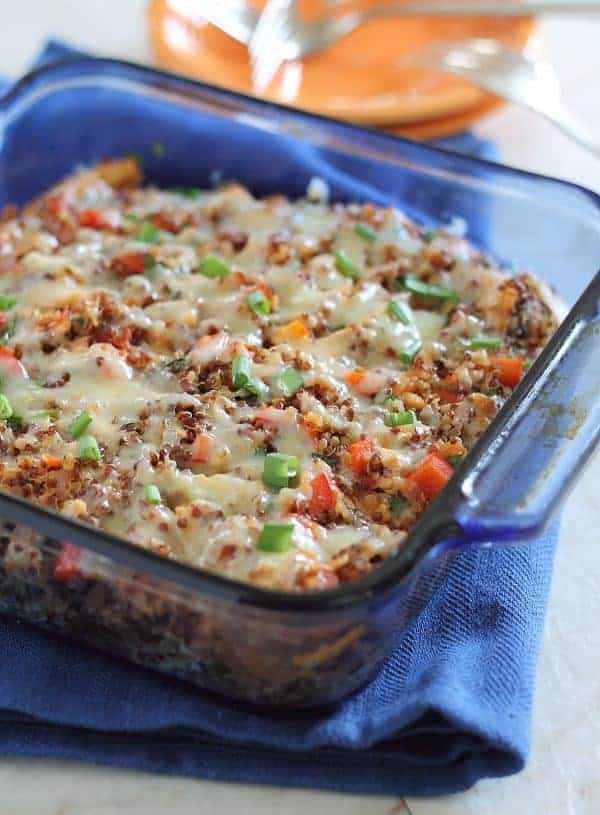 This is about as far from my Easter brunch menu as possible but now I'm kinda wishing I could replace that spiral ham (not my thing, but grandpa loves it) in the fridge with the cheesy deliciousness of this cheddar chicken quinoa bake.
It's one of those simple meals, packed full of flavor but still healthy enough that you can load your plate up and not think twice.
Using precooked chicken (leftover rotisserie chicken is great for this!) keeps it super simple and easy enough for those busy weeknight meals when dinner all in one casserole dish is just the kind of thing you need.
My crossfit box just announced another paleo challenge starting mid next month and while of course I'll be doing it (because I'm easily peer pressured into stuff like this) meals like this make me hate paleo.
Ain't nothing wrong with quinoa and some cheddar cheese! In fact, I'd call this a pretty damn healthy casserole despite paleo not agreeing.
But, I have 3 weeks before I need to deal with that. Until then, you can find me in the corner shoving cheese, chocolate and all the carbs in my face.
Because obviously, that's what you do before starting a diet, right?
WATCH THE VIDEO: How to make this Cheddar Chicken Quinoa Bake

4
adjust servings
Cheddar chicken quinoa bake
This cheddar chicken quinoa bake is an easy, healthy casserole everyone will love. Use leftover rotisserie chicken for a simple dinner for busy nights!
Ingredients
1

tablespoon extra virgin olive oil

1

shallot, minced

1

clove of garlic, minced

2

green onions, chopped

1

tomato, chopped

1 8oz.

can tomato sauce

dash of red pepper flakes

salt & pepper

2

cups cooked & shredded chicken (I used leftovers from a roasted chicken)

2

cups cooked quinoa (I used a mixture of red & white)

1/2

red bell pepper, chopped

1

green chili pepper, diced (optional)

1/4

cup cilantro, chopped

11/2

cups grated white cheddar cheese, divided
Instructions
Preheat oven to 375 degrees and grease an 8Ã?8 baking dish.
In a skillet over medium-high heat, add olive oil, shallot, garlic and green onions. Saute for about 2-3 minutes.
Add chopped tomato, tomato sauce, red pepper flakes and salt & pepper. Stir and simmer for 5-7 minutes.
Meanwhile, combine quinoa, chicken, red pepper, chili pepper, cilantro and 1 cup of the cheddar cheese in a large bowl. Season with salt & pepper to taste.
Add sauce to the bowl and toss to combine.
Transfer mixture to the baking dish.
Top with remaining 1/2 cup of cheddar cheese and cover with foil.
Bake for 15 minutes. Remove foil and bake for another 10 minutes.
Remove from oven and garnish with additional green onions and/or cilantro.