Zucchini noodles with avocado cream sauce makes a perfect side dish or light meal for summer. Add some grilled shrimp or chicken for a heartier meal.
*This post has been updated (7/5/2017) to include a video (scroll down to watch). The video uses a spiralizer versus the julienne peeler I used in the original pictures. Feel free to use either tool for your zucchini noodles!
It's been just over a month since Ulysses got home from the police academy and is now around all week again.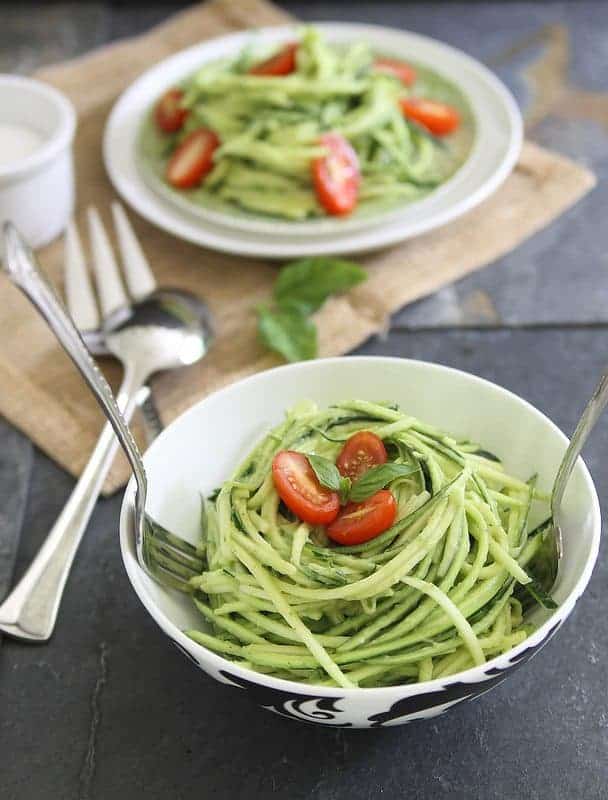 Well, "around" is relative with 12-hour shifts, but from a cooking perspective, he's eating meals at home more or less.
And among all the adjustments that take place when you go from 1 to 2 people living in a house, the food thing has definitely been one of the harder ones for me to get used to again.
OJ containers are finished in 3 days flat..
Bunches of bananas vanish in 2 days. (I live with a primate, not a human)
Every meal is followed by a "second meal" of either cereal, oatmeal or a pb&j sandwich.
Bacon and eggs need to be replenished twice a week now.
I won't even get into how annoying it is that all this food can be consumed with absolutely no repercussions on the scale for a certain someone….
So, here I've been trying to "bulk" up meals for this bottomless pit known as my husband and guess what that means?
More grains, more dessert, more of pretty much everything. But it hasn't just been him eating it…as I looked in the mirror the other day with my bathing suit on I was like "hmm, this looked a lot better on in February…"
So I had a get real conversation with myself, told Ulys that I'm done playing the European "shove everything you can eat in your face" wife role and going back to cooking how I normally would.
To which he replied (in typical male fashion) "um, that's fine. I don't care."
Which brings us to zucchini noodles.
Last week, I would've boiled up some water and thrown in some whole wheat Barilla thinking it would be a more satisfying meal for that man I live with.
This week, I'm happy with my julienne peeler + zucchini and a creamy avocado sauce that's the perfect way to celebrate what summer has to offer.
How To Make Zucchini Noodles with Avocado Cream Sauce
Zucchini noodles are all the rage lately and they couldn't be an easier base for so many easy healthy recipes!
Julienne peeler
The cheaper (although a bit more tedious way) to make zucchini noodles is with a julienne peeler. I have had that one for years and its done me well. It gets the job done producing straight strands of zucchini noodles (or whatever other vegetable you use it on) but it has its limitations.
The julienne peeler really only works well on soft fleshed vegetables and it will take you some time as its a pretty manual process. Side note – it's the best tool for making eggplant noodles.
Spiralizer
Recently, I upgraded to a spiralizer.
It's a bit more expensive but a much more heavy duty gadget.
It gives you 4 different shapes of noodles (including the classic curly-q you see in this squash noodle recipe and works on almost any squash, vegetable and fruit you can imagine like in this winter root vegetable salad this yogurt tahini Mediterranean carrot salad or these garlickly butternut squash noodles.
The pictures in this post show the zucchini noodles made with the julienne peeler but the video shows them made with the spiralizer so you can get an idea of the difference.
Once you have your zucchini noodles made, whichever way you decide to do it, the avocado cream sauce comes together in just minutes!
Also try Thai chicken zucchini noodles or Chinese chicken zoodles (<– zucchini noodles "other" name).
Ingredients For the Avocado Cream Sauce
The avocado cream sauce is kind of a mix between a pesto and guacamole with these simple ingredients:
avocado
fresh basil
cucumber
garlic
almond or coconut milk
salt and pepper
You throw everything into a food processor or blender until smooth and that's it!
It's refreshing and creamy and you can really use this sauce as a base for so many things. It'd be great on grilled chicken or fish.
I tossed the sauce with the zucchini noodles, added some cherry tomatoes and ate this as a light meal. If you wanted to add some protein, any grilled meat or some shrimp would make this a well-rounded meal.
If you love this recipe, make sure to also check out creamy tomato zucchini noodles for another easy zucchini noodle recipe idea. And don't miss creamy pesto spaghetti squash noodles either!
Zucchini Noodles with Avocado Cream Sauce
Zucchini noodles with avocado cream sauce makes a perfect vegetarian side dish for summer.
Ingredients
4 small (or 2 large) zucchini, ends trimmed and made into noodles with a julienne peeler or spiralizer
1 avocado
1/2 a cucumber, chopped
juice of 1/2 a lemon
1 clove garlic
2 tablespoons almond or coconut milk
about 8 leaves of basil
salt & pepper
halved cherry tomatoes & basil leaves for garnish
Instructions
Place zucchini spirals in a large bowl.
In a food processor, combine the remaining ingredients and process until smooth.
Toss the zucchini with the avocado sauce until fully coated.
Garnish with cherry tomatoes and basil leaves, season with more salt & pepper to taste.
Recommended Products
As an Amazon Associate affiliate member, I earn from qualifying purchases.
Nutrition Information:
Amount Per Serving:
Calories:

565.67
Total Fat:

38.3g
Carbohydrates:

53.76g
Protein:

13.58g