These zucchini noodles with creamy roasted tomato basil sauce are the perfect way to enjoy fresh summer produce.
I won a radio contest last month. Here's the funny thing about it though…
1. I hardly ever even listen to the radio. I drive to CrossFit and the grocery store 99% of the time I'm in the car and both are within two miles of my house.
2. When I do listen to the radio, I don't ever listen to the station I won the contest from.
3. Ulysses is the one who heard about it, came home and was like "there's this radio contest where all you have to do is submit a 'real food recipe' to enter."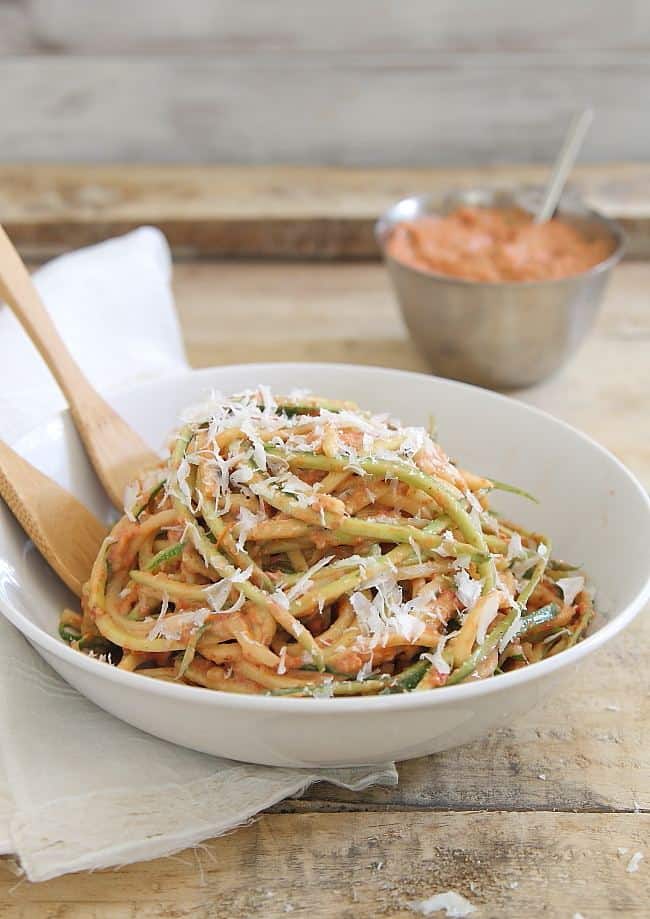 Real food recipe? I think I might have a few things that would qualify for that…
So I grabbed this zucchini pasta with avocado cream sauce from last summer because it's the one recipe that epitomizes summer + real food in my mind and it's one of the most popular ones on this site, sent it in and forgot about it.
Three days later, I was on the phone with Chris Marino and his cheesy radio DJ voice (in case you were wondering if radio DJs talk like total tools off air, they do) telling me I won.
So in addition to a gift card to a local restaurant, a recipe reader and a credit to Plated, I won a 4-day trip to NYC. Sounds glamorous, but I've lived an hour away from NYC almost all my life so I think the trip was a lot cooler to the 20 other people that won from their respective clear channel stations and got flown in from all over the country than the person who lives in the suburbs of the city. But, I wasn't about to pass up a car service to the city, spending money, hotel accommodations and a trip to Brooklyn Grange.
So Brandy and I spent last weekend eating, eating, walking a bit, eating, seeing Lady Day at Emerson's Bar & Grill (<–amazing) and eating some more.
Wanna know what we ate? Tomatoes, burrata, tomatoes, zucchini, burrata, tomatoes and some more tomatoes…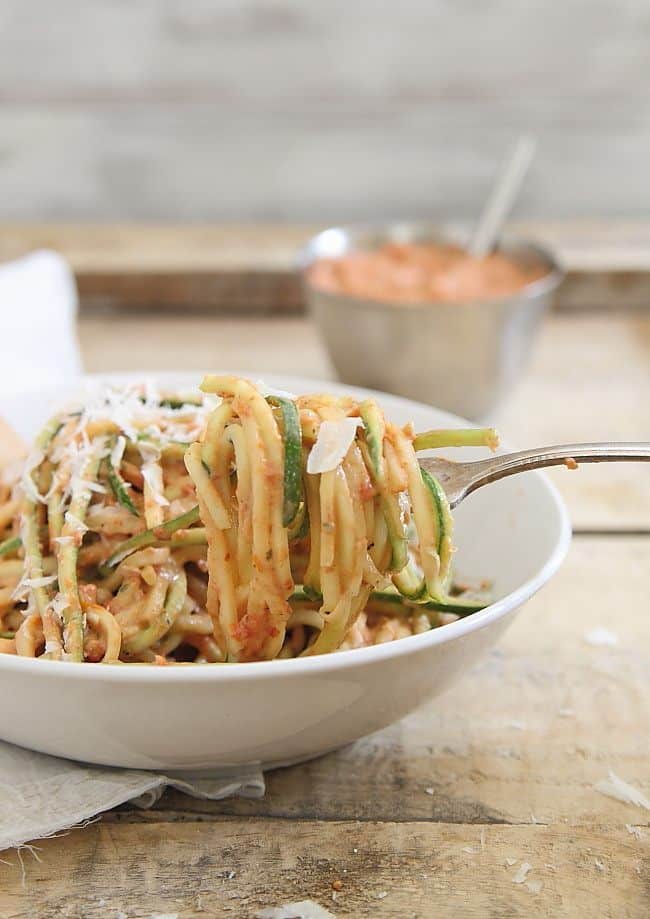 Then I came home, decided I still wanted more tomatoes and zucchini and made these noodles as a spin off of last year's recipe that won me the contest.
'Tis the season!

4
adjust servings
Zucchini noodles with creamy roasted tomato basil sauce
These zucchini noodles with creamy roasted tomato basil sauce are the perfect way to enjoy fresh summer produce.
Ingredients
2

pints grape tomatoes

2

tablespoons extra virgin olive oil

salt and pepper

2

ounces cream cheese

1/4

cup fresh basil leaves

1/2

teaspoon red pepper flakes

2

large zucchini made into noodles with a julienne peeler or spiralizer
Instructions
Preheat oven to 400 degrees.
Toss tomatoes with olive oil, salt and pepper on a baking sheet.
Roast in the oven for 20-30 minutes until the tomatoes start to brown and blister.
Remove the tomatoes from the oven and transfer to a food processor.
Add the cream cheese, basil, red pepper flakes, salt and pepper to taste and process until smooth.
Place zucchini noodles in a large bowl. Add the tomato sauce to the bowl and toss until all the noodles are coated.
Serve with freshly grated parmesan cheese.