A guide to peaches with more than 35 recipes for the delicious summer fruit will tell you how to pick, store, cook and bake with them.
Ok guys, we are officially in June and that means I can now call it summer without that little voice in my head saying "Gina, it's May. May is not a summer month, delete that word." Yeah, that actually happens. Which is part of the reason I get so agitated with the early pumpkin pushers. You throw pumpkin in my face in August and we're gonna have words. Ok not really, but I'll secretly hate you behind this computer screen.
A Guide To Peaches
So, June = summer and you know what summer means? PEACHES.
My all time favorite fruit. Try and tell me anything is more delicious than a sweet juicy summer peach and I'll immediately dismiss any credibility you may have had in my book. Nothing beats a peach. Nothing.
So what's the skinny on this amazing summer fruit?
Peak season for peaches: May – October
Varieties of peaches: The most popular is the cling-free peach but white peaches and donut peaches are also widely available. Personally, I'm a huge white peach fan. Donut are cute, but not enough bang for your buck with those little guys.
What to look for when picking peaches: Local peaches are best if you have access to them. They bruise easily and therefore are hard to transport. Look for fruit that isn't bruised, without any hint of green near the stem and a well defined crease. Smell the fruit. If it smells how you'd want it to taste (peachy!) then it's a good pick.
How to store peaches: Store unripe peaches on the counter in a single layer (<–great tip to avoid mold growth). Once softened and ripe, they can be transferred to the refrigerator to halt the ripening process. They're best eaten within a week.
How to prepare peaches: Obviously, peaches can be eaten without any preparation and just enjoyed out of your hand. Of course, you can bake them, grill them, poach them and even pickle them too.
Nutritional benefits of peaches: Peaches are high in vitamins A and C.
Don't miss out on more guide posts:
A Guide To Strawberries
A Guide To Apples
A Guide To Winter Squash
Peach Recipes from Running to the Kitchen:
And because I don't want you to miss even 1 day of peach season, here are 35+ recipes to get your peach on!

Grilled peaches with brown sugar pecan crumble

Peach and cherry quinoa crumble

Peach coconut almond flour muffins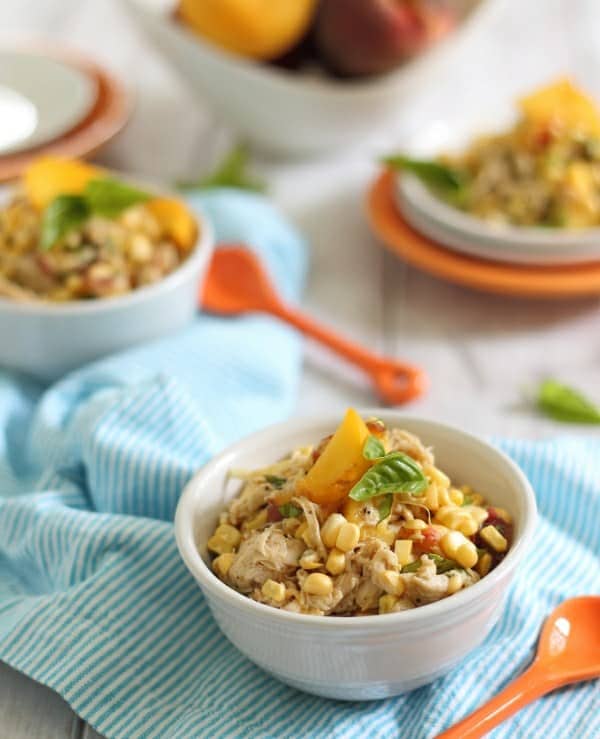 Sweet corn, peach and honey mustard chicken salad

Walnut crusted peach tart with cashew coconut cream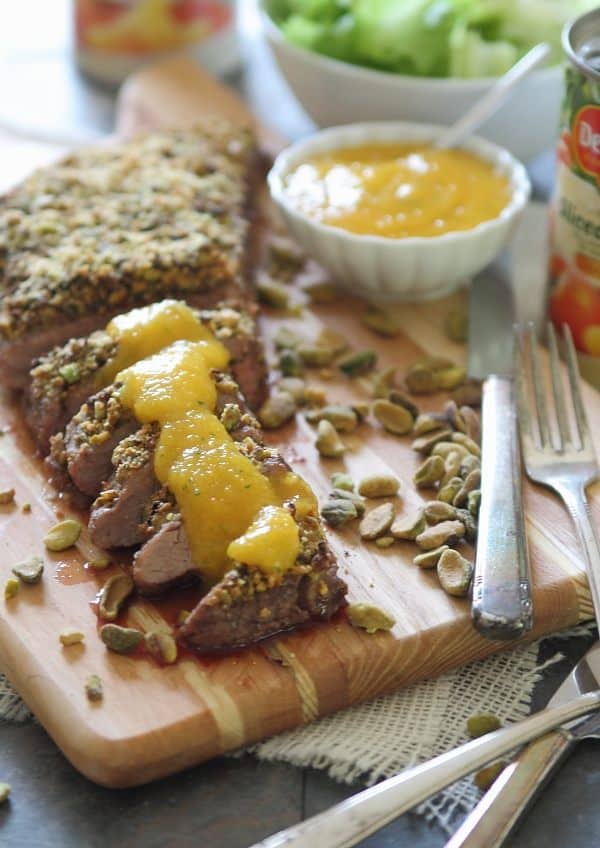 Pistachio crusted flank steak with peach puree
Peach Recipes From Others:
Sweet ream roasted peach bruschetta
Peach guacamole
Ginger peach pie
Pickled peaches
White peach mini galettes
Roasted peach muffins with cinnamon streusel
Peach infused vodka
Grilled peach salad with jalapeño vinaigrette
Peach slab pie
Peach and pecan quinoa salad
Baked peach almond oatmeal
Tomato peach burrata salad
Habanero peach jam
Deep fried peaches and ice cream
Roasted peach buckwheat pancakes
Gluten free peach french toast bake
Vanilla honey peach butter
Peach mint bourbon sweet tea
Ricotta pizza with peaches
Peach honey sangria
Fresh peaches and cream muffins
Peach chai frozen yogurt shake
Maple glazed sweet potatoes and peaches
Grilled peach salad with peach cumin dressing
Ginger shortcakes with fresh peaches
If you liked this post, don't miss these Spring Vegetable guide posts either:
A Guide To Leeks
A Guide To Peas
A Guide To Asparagus
A Guide To Radishes
A Guide To Artichokes