These grilled peaches with brown sugar pecan crumble are the perfect simple summer dessert.
We have a serious problem in our house revolving around fruit. Ulysses likes all his stone fruits (and pears) crunchy. As in, not ripe at.all.
This makes my blood boil.
He will happily bite into a peach and it will CRUNCH it's so under ripe.
Me? I'm a normal person and prefer my fruit sweet, juicy and soft to the touch (aka: ripe). I go to the store twice a week to restock produce, usually buying 4-5 of whatever stone fruit looks good, put them in the fruit bowl on the countertop and prepare to wait the 1-2 days for them to get to that perfect juicy, ripe state.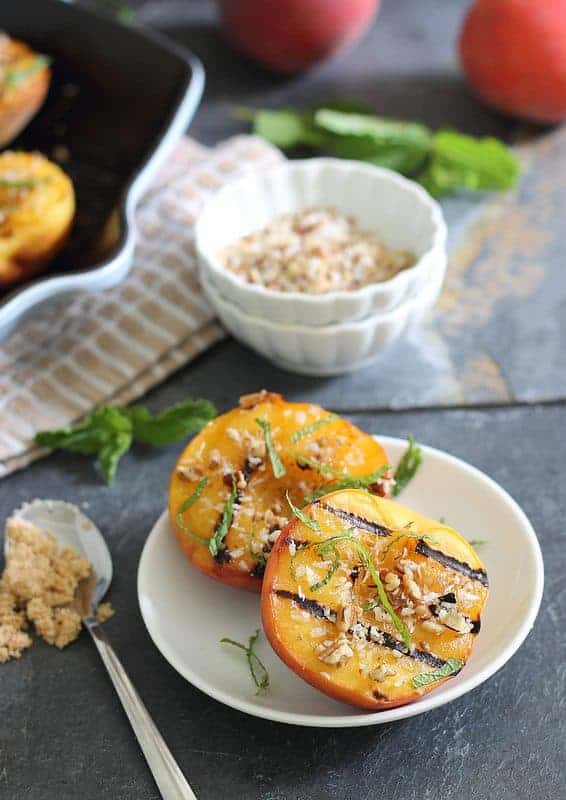 Except they hardly ever make it that long because Ulysses comes along, snags the still hard as a rock fruit and devours it.
It's seriously one of the most trying things in our marriage (right behind the whole toilet seat thing).
I feel like I need a secret hiding spot for my fruit. But that would probably just result in molding peaches and nectarines shoved behind something in a cabinet somewhere.
So this was an attempt to meet somewhere in the middle. You don't want the peaches super ripe because then they'll fall apart on the grill and the grilling softens them up a bit anyway. The heat brings out the sweetness though and then the brown sugar pecan (and coconut!) mixture takes it from summer fruit to summer fruit dessert.
I'd still like to be able to just bite into a ripe peach in my house but I'd say this is a decent solution for now.
Grilled Peaches with Brown Sugar Pecan Crumble
A light summery dessert of grilled peaches with an easy brown sugar, pecan crumble.
Ingredients
3 peaches, (about 1 day before peak ripeness) halved and pits removed
1/2 tablespoon brown sugar
1 tablespoon unsweetened coconut flakes
2 tablespoons finely chopped pecans
1-2 sprigs of fresh mint, sliced for garnish
Instructions
Heat a grill or grill pan and grease the slats/pan with any kind of oil (I used coconut oil spray on a grill pan)
Once hot, add peaches to the grill, open side down.
Grill for about 5 minutes until peaches have softened a little and have nice grill marks on them.
Flip, and grill on the other side.
While peaches are grilling, combine the brown sugar, coconut flakes and pecans in a small bowl and mix together,
Remove peaches from grill, sprinkle with the crumble mixture and top with the mint.
Enjoy warm (vanilla ice cream would be a great addition!)