Chocolate dipped clementines are an easy, delicious snack perfect for winter time citrus that satisfy a sweet tooth in relatively healthy way.
It's Wednesday. Holy flipping hell, I have 4 days to finish Christmas shopping. I think I've kind of screwed myself too because now that I finally know what I want to get those last couple of people, the only place I can get it is online and I'm pretty sure it won't get here in time unless I pay some exorbitant overnight shipping fee. Not gonna happen. So yeah, this is going to be fun. Back to the mall I go!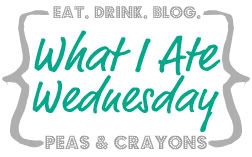 I've been trying to eat as healthy as I possibly can this week knowing full well that come Saturday and Sunday, there's no hope. Here's how I did yesterday…
Breakfast:
I played around with a new oat and cornmeal breakfast bake with some tangerines and almonds. It came out really good flavor wise, but the texture was a little off. I think it may have just been overcooked by about 20 or 30 seconds in the microwave so it could be an easy fix, but you'll have to wait on a recipe until I'm happy with it. Still delicious.
Lunch:
I had a 12:30 conference call (gotta love dealing with a 4 hour time zone change for clients in Alaska!) so I toasted up the last biscuit beforehand for a snack and had some yogurt and apples after the meeting.
Snack:
We used to get those chocolates in the shape of an orange that came apart in segments as kids during Christmas. For some reason I thought about them today and this idea came to mind. It couldn't be simpler.
clementines (I used tangerines, but they have seeds and kind of ruin the experience)
dark chocolate
sea salt
Peel a clementine and break into segments. Melt the chocolate in a small bowl. Dip clementine pieces and lay on a piece of parchment paper. Sprinkle with sea salt. Let it firm up in the fridge for a few minutes and you're all set.
Best snack ever.
Dinner:
Unappetizing photo? Check.
Ok, this may look disgusting but it tasted pretty delicious. Quinoa, roasted broccoli, sautéed onions and chicken apple sausage topped with Angela's vegan cheeze sauce. I've been wanting to make a "cheeze" sauce for quite some time but find they usually all use cashews as the base. I'll be honest, my cashews are too precious to use in a cheeze sauce when I'm not actually vegan. So this one, made with nutritional yeast as the base caught my eye. It's easy, it's nutritious and it's pretty tasty. Definitely not cheese, but delicious in it's own way. I could've eaten about twice this amount.
Dessert:
Hot chocolate and cookies. Just call me Santa.
If you want to drool some more, go check out Jenn's blog for all the WIAW posts!
Anyone else still have last minute shopping?
Do you like the citrus + orange combination?