These chocolate covered figs make an excellent quick snack that satisfies a sweet tooth.
Hey, hey it's another what I ate Wednesday! This is the one in which I eat totally random, unglamorous food, mostly photographed with an iPhone. Well, besides lunch. There was bacon at lunch. Bacon is glamorous.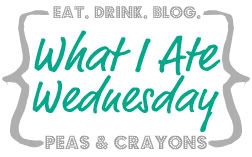 Breakfast:
Hey, ugly leftover steel cut oats. You were quite tasty doctored up with some toppings to help keep me full a bit longer. Also, Ulysses was kind enough to cut me half a grapefruit. I love grapefruit, but 99% of the time will pass it up because I'm too lazy in the morning. What you don't see here is the best part of my day my normal 2 cups of coffee. The filter collapsed while brewing unbeknownst to me and the last swig was a nice mouthful of coffee grinds. Yum.
Lunch:
If you follow me on instagram, you might have some idea of what this is. If not, you'll find out tomorrow. There was bacon. It was delicious. I really hope Ulysses didn't eat it all for dinner (I'm traveling) because I really want some when I get home today.
Dinner:
Yep, this is for real. At 4:45pm nonetheless. I had to leave to drive upstate for the night for a work meeting today and knowing there is absolutely nothing between my house and Oneonta, NY worth stopping for, I decided to fill myself up with random snacks before I left.
Edamame dip, yogurt with some toppings and pretzels with this amazing raspberry honey mustard dip that I would marry if I could. It was part of a gift basket at Christmas and it's almost gone so I looked up the company that makes it and found out it's $9+ for that jar. Do you see how small that jar is? Expect a homemade attempt at recreating it soon.
Snack/Dessert:
Because no 2+ hour car ride should be without a snack. I made these the other day with a bag of dried figs that tasted off. The figs just tasted straight up weird. So, I covered them in chocolate because obviously, chocolate is the answer to all life's problems. Guess what? They're "fixed." I had no problem popping 4 or 5 of these chocolate covered figs while driving.
And that's a wrap folks. Happy Wednesday, happy eating and get excited for tomorrow, it's gonna be a gooood one!