These chocolate covered figs make an excellent quick snack that satisfies a sweet tooth.
Hey, hey it's another what I ate Wednesday! This is the one in which I eat totally random, unglamorous food, mostly photographed with an iPhone. Well, besides lunch. There was bacon at lunch. Bacon is glamorous.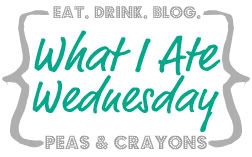 Breakfast:
Hey, ugly leftover steel cut oats. You were quite tasty doctored up with some toppings to help keep me full a bit longer. Also, Ulysses was kind enough to cut me half a grapefruit. I love grapefruit, but 99% of the time will pass it up because I'm too lazy in the morning. What you don't see here is the best part of my day my normal 2 cups of coffee. The filter collapsed while brewing unbeknownst to me and the last swig was a nice mouthful of coffee grinds. Yum.
Lunch:
If you follow me on instagram, you might have some idea of what this is. If not, you'll find out tomorrow. There was bacon. It was delicious. I really hope Ulysses didn't eat it all for dinner (I'm traveling) because I really want some when I get home today.
Dinner:
Yep, this is for real. At 4:45pm nonetheless. I had to leave to drive upstate for the night for a work meeting today and knowing there is absolutely nothing between my house and Oneonta, NY worth stopping for, I decided to fill myself up with random snacks before I left.
Edamame dip, yogurt with some toppings and pretzels with this amazing raspberry honey mustard dip that I would marry if I could. It was part of a gift basket at Christmas and it's almost gone so I looked up the company that makes it and found out it's $9+ for that jar. Do you see how small that jar is? Expect a homemade attempt at recreating it soon.
Snack/Dessert:
Because no 2+ hour car ride should be without a snack. I made these chocolate covered figs the other day with a bag of dried figs that tasted off. The figs just tasted straight up weird. So, I covered them in chocolate because obviously, chocolate is the answer to all life's problems. Guess what? They're "fixed." I had no problem popping 4 or 5 of these chocolate covered figs while driving.
Chocolate covered oranges or chocolate stuffed strawberries would've been great options too but I liked the less likelihood of making a mess that comes with dried fruit versus fresh when driving.
And that's a wrap folks. Happy Wednesday, happy eating and get excited for tomorrow, it's gonna be a gooood one!
Gina Matsoukas is the writer, founder, photographer and recipe developer of Running to the Kitchen — a food website focused on providing healthy, wholesome recipes using fresh and seasonal ingredients as much as possible. Her work has been featured in numerous media outlets both digital and print, including MSN, Huffington post, Buzzfeed, Women's Health and Food Network.