Chocolate stuffed strawberries are a fun twist on the chocolate and strawberry combination and topped with sea salt. Make them for Valentine's Day!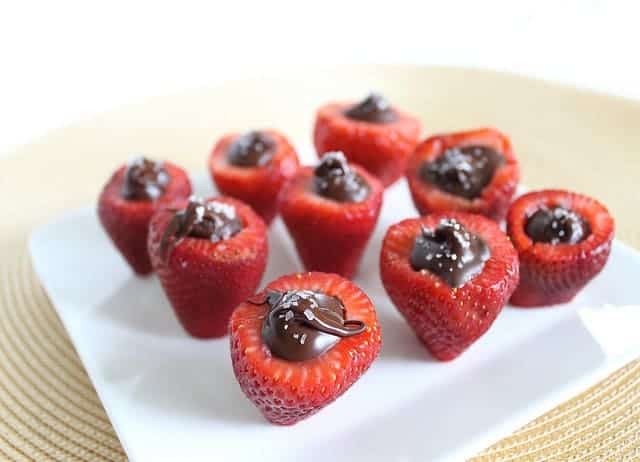 It's Friday, the webinar is over and I have chocolate stuffed strawberries in my fridge.
It's a good day people.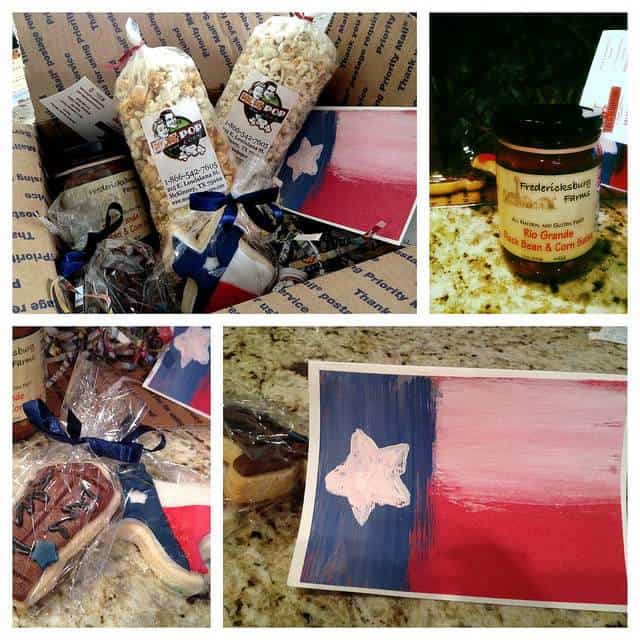 So, are you wondering what all that deliciousness above is about?
Well, let me introduce you to Foodie Penpals.
This was my first month joining the fun and how could I say no after finding out it's basically all about sending and receiving treats with other people just as food obsessed as I am? Answer? I couldn't.
The UPS man rings my doorbell pretty much every day (Ulysses has a slight Craigslist and eBay obsession) leaving me car parts, video games or most recently, motorcycle paraphernalia, but this month I finally got a package and it was filled with awesome goodies from my penpal, Kim in Texas.
At the beginning of the month, everyone receives their penpal to send to and who you will be sending stuff to you (they aren't the same person). After a quick email exchange with my penpal, Kim basically telling her I have absolutely no dietary restrictions and to feel free to send anything, I was more than psyched when this box of local treats arrived.
Also, she did a way better job of putting fun shredded newspaper in the box for shipping than I did for my penpal, Katherine who got about 25 plastic baggies shoved in between items. Sorry 'bout that.
So far, I can attest to the amazingness of everything except the salsa which we haven't opened yet but I doubt will disappoint. The popcorn was demolished during the Hunger Games last Sunday, caramel jalapeno for me, sea salt for Ulysses and the cute cookies have served as dessert for the last two nights. Texas was quite tasty.
Thank you, Kim!
**************************
On a completely unrelated note, I feel forced to share these sea salt chocolate stuffed strawberries with you.
It's nothing earth shattering, it was just my attempt to fix a chocolate craving without eating copious amounts of it yesterday afternoon. But then they turned out so cute and pretty (oh, and tasty) that you needed to see for yourself.
Sea salt.chocolate.stuffed.strawberries.
What's better than dipping your strawberries in chocolate?
Stuffing them with it.
And adding some sea salt.
Since you have to slice the top off to stuff them, they become instantly poppable and therefore way more fun and dangerous at the same time.
I wouldn't make much more than you want to eat because they're pretty much impossible to resist every time you open the fridge.
They're a great anytime treat but would make the cutest little Valentine's Day dessert too! Basically like an inside out chocolate covered strawberry.
Love these chocolate stuffed strawberries?
Try out more delicious chocolate and strawberry combinations like Chocolate Strawberry Bread Pudding, Strawberry yogurt chocolate chip snack cake or Strawberry Marshmallow Brownie Sandwich Cookies!
Sea Salt Chocolate Stuffed Strawberries
Chocolate stuffed strawberries are a fun twist on chocolate & strawberry combination and made even better topped with sea salt.
Ingredients
10 strawberries
1/4 cup dark chocolate chips
pinch of sea salt
Instructions
Wash and dry strawberries.
Slice top off, lay strawberry on it's side and with a sharp paring knife cut the core of the strawberry out being careful not to puncture through to the exterior.
Slice a small sliver off the bottom of the strawberry so it will stand upright.
In a small bowl microwave chocolate chips and pinch of sea salt for about 1 minute and stir until smooth.
Carefully spoon chocolate into the cavity you've created.
Immediately sprinkle more sea salt on top of the chocolate before it sets.
Eat immediately or keep refrigerated to serve later.
Nutrition Information:
Amount Per Serving:
Calories:

460.8
Total Fat:

4.2g
Carbohydrates:

110.4g
Protein:

9.6g