I can't believe it's Wednesday already. Being without power on Monday kind of made it feel like an extra weekend day. It's almost hard to complain about not having heat and lights when that's the case!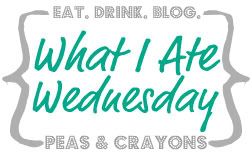 Breakfast:
On to lunch:
Mushroom, kale, tomato and gorgonzola frittata. Yum. Frittata's are so easy. I honestly think it's easier to make this than a sandwich. Granted, you have a pan to wash but it's totally worth it.
My solution:
The homemade Reese's. Except I added almonds.
So simple, so delicious. Perfect fuel for an 11 mile run. I credit these bad boys for improving my average pace 6 seconds from last week's 10 miler. Sugar high!
Last but not least, my lame but tasty dinner: