These turkey quinoa muffins are like little meatloaf bites that are high in protein and only about 100 calories each.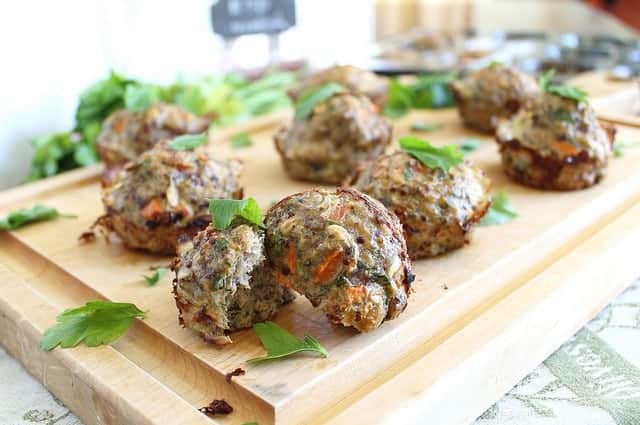 Let me apologize up front.
There's only so much prettying up you can do to muffins made primarily out of ground turkey, quinoa and eggs. You know the saying "lipstick on a pig," well, here it's parsley on a turkey muffin. It helped…a little.
Luckily the saying "don't judge a book by it's cover" has some weight to it though because these are a prime example of just that. Not the sexiest guy on the block, but don't worry ladies, he makes up for it on the inside.
Ok, that's like three idioms in four sentences…let's move on.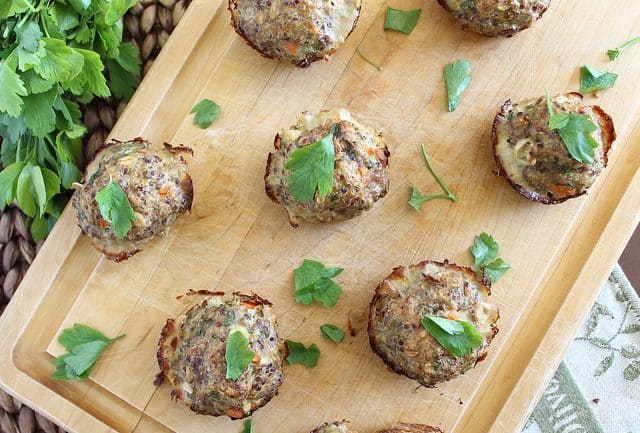 Ulysses made fun of these when I told him what they were. His response was something along the lines of "ohhh, you're all into protein, protein, protein now. You're gonna get like super huge muscles eating all this protein…." (said jokingly).
He's partially right, I am a bit more "into" protein recently since starting the Livefit trainer program but I'm not just downing buckets of cottage cheese or anything. I'd like to actually enjoy that extra protein and eat something besides egg whites which is pretty much what I'd be doing if following the meal plan exactly. Also, this is coming from someone who as I'm typing this, is in the room above me telling some stranger on the internet that the enemy is coming up behind him. I think he might actually converse more with his Battlefield friends than me in a given day.
Needless to say, his criticism is taken with a grain of salt.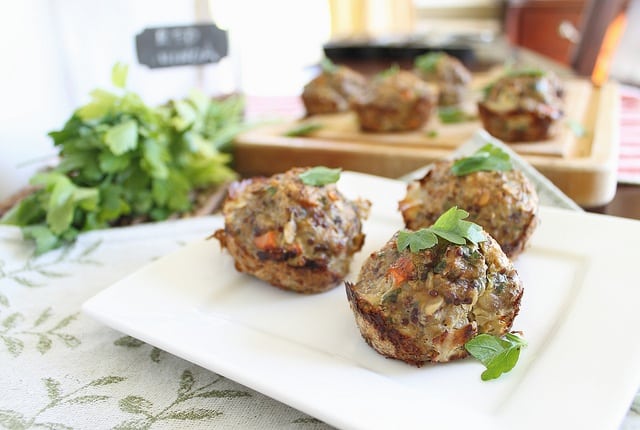 Back to the muffins…
So let's call a spade a spade, (let's see how many idioms I can squeeze into one post) these are basically meatloaf muffins. They're made with oats and quinoa and a bunch of non traditional meatloaf spices, but that's basically what they are, perfectly portioned (just about 100 cals, 10g protein, 7 carbs, 3.5g fat for those that care) tastier than average, meatloaf muffins.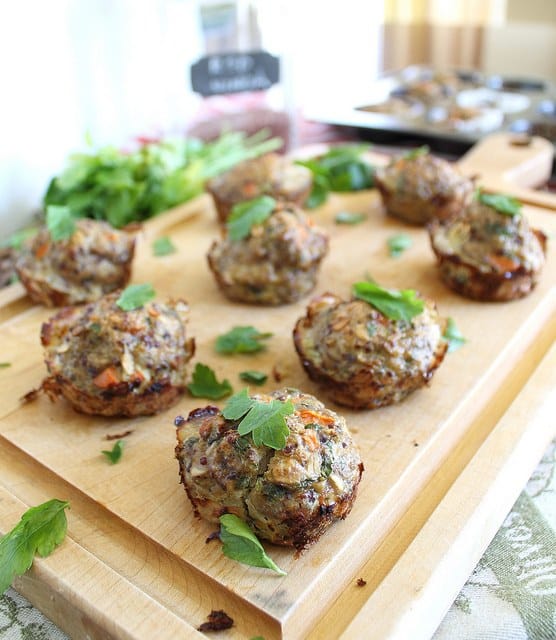 So go get your ducks in a row, get your feet wet and dig in.
See what I did there? Bam…8 in one post.
Turkey Quinoa Muffins
These turkey quinoa muffins are like little meatloaf bites that are high in protein and only about 100 calories each.
Ingredients
1 lb. ground turkey
3/4 cooked red quinoa
1/2 cup rolled oats
1 carrot, diced
1 green onion, chopped
1 egg
2 egg whites
1 teaspoon cumin
1/2 teaspoon salt
1/4 teaspoon pepper
1/4 teaspoon ground mustard
1/4 teaspoon chili powder
1/4 teaspoon garlic powder
2 tablespoons fresh parsley, chopped
Instructions
Preheat oven to 375 degrees and grease a muffin pan or line with muffin cups.
Mix all ingredients in a large bowl together.
Roll into balls (about 3 tablespoons of the mixture per ball) and place in muffin tin.
Bake for 35-40 minutes until fully cooked.
Let cool for 5 minutes, use a knife to loosen the edges (the egg whites will sort of ooze out a bit and make them stick slightly) and cool on a rack.
Store in the refrigerator.
Nutrition Information:
Amount Per Serving:
Calories:

908.22
Total Fat:

13.44g
Carbohydrates:

120.19g
Protein:

76.83g
Adapted from Jamie Eason