These easy lemony tomato herb scallops come together in minutes but taste totally gourmet.
A few years ago I was home alone for dinner and decided to splurge on some scallops.
They are so insanely expensive for what seems like the smallest amount that getting only 4 or 5 to feed one person is really the only time I'll buy them.
I remember having no idea what I was going to do with them that night but coming up with this lemony, shallot and herb laced tomato base that was so damn good I ended up slurping the juice out of the bowl while watching house hunters on tv.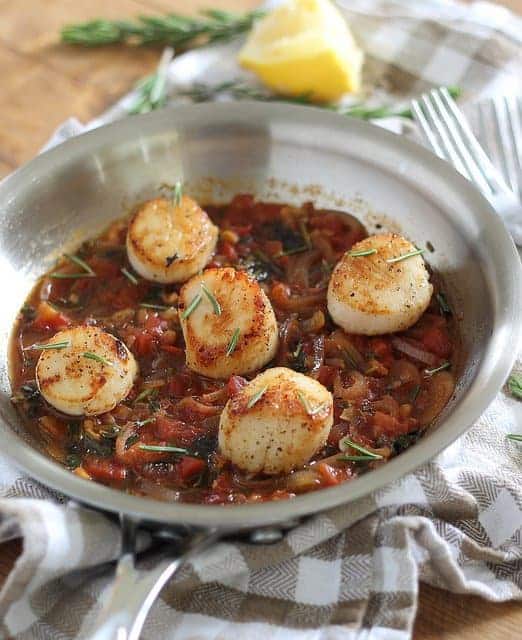 Weird how I can't even remember what I wore yesterday and yet I can remember that.
I made it a few times after that discovery and then just forgot about it.
Monday night at the fish counter however, the recipe came back to me as I was desperately trying to meal plan the rest of the week in my head on the spot (something I'm really horrible at doing and therefore end up at the store 3-4 times a week) so, I bought six.
Wondering why you only see five scallops here then?
Ginger apparently thinks scallops are delicious too.
As I was setting up the photography area (meaning throwing down the towel you see in these pictures for all of 5 seconds) she must've snatched and swallowed one of them whole.
There wasn't even an ounce of expression on her face either which of course made me question my sanity of having bought six to begin with for the next 20 minutes.
And then once I realized I did, spend the next 30 minutes freaking out about what the internet says about dogs eating raw scallops.
Turns out, she's fine and I just had more juice to slurp.
More scallop recipes to try:
Grilled Scallops with Tomatillo Plum Salsa
Grilled Scallop Citrus Ceviche
Grilled Basil Butter Bay Scallops with Summer Vegetables
Bay Scallop Baby Kale Corn Salad
Watermelon Feta Salad with Cornmeal Crusted Fried Scallops
Lemony Tomato Herb Scallops
Yield: 1 serving
Prep Time: 5 minutes
Cook Time: 10 minutes
Total Time: 15 minutes
These easy lemony tomato herb scallops come together in minutes but taste totally gourmet.
Ingredients
5-6 sea scallops, rinsed & pat dry
salt & pepper
1 tablespoon butter
1 tablespoon extra virgin olive oil
1 shallot, sliced
1 clove of garlic, minced
2 tablespoons fresh herbs, minced (I used basil, rosemary and lemon thyme)
1/2 cup diced tomatoes
1/4 cup chicken broth
juice of 1/2 a lemon
Instructions
Heat butter in a medium pan over medium heat.
Season scallops with salt & pepper and place in the pan once hot.
Let cook for about 3 minutes until nice and golden brown, flip and cook for another 2-3 minutes on the other side.
Remove scallops from the pan and set aside on a dish.
Add olive oil to the pan with shallots and garlic.
Saute for about 1 minute.
Add the remaining ingredients to the pan, stir to release any of the bits stuck to the bottom and let simmer over medium heat for about 5 minutes until the sauce reduces and thickens.
Once thickened, transfer the sauce to a plate and top with the scallops and their juices.
Garnish with fresh herbs and a squeeze of lemon.
Notes
This is excellent served with a piece of crusty bread.
Nutrition Information:
Amount Per Serving:
Calories: 5696
Total Fat: 299.11g
Carbohydrates: 492.88g
Protein: 293.14g