These festive sugar plums are made will all raw, healthy ingredients for a nutritious spin on the classic holiday treat.
*Note: this post for sugar plums was first published on 12/10/2011. The photographs have been updated and the recipe slightly tweaked for an even tastier little bite. These festive treats come together in just minutes, are no-bake and yet filled with all those honey and spice holiday flavors you love. They're perfect with a cup of tea in the afternoon but special enough to pass as dessert too. Hope you whip up a batch and try them out!
Content below is original to the 2011 post date.
—–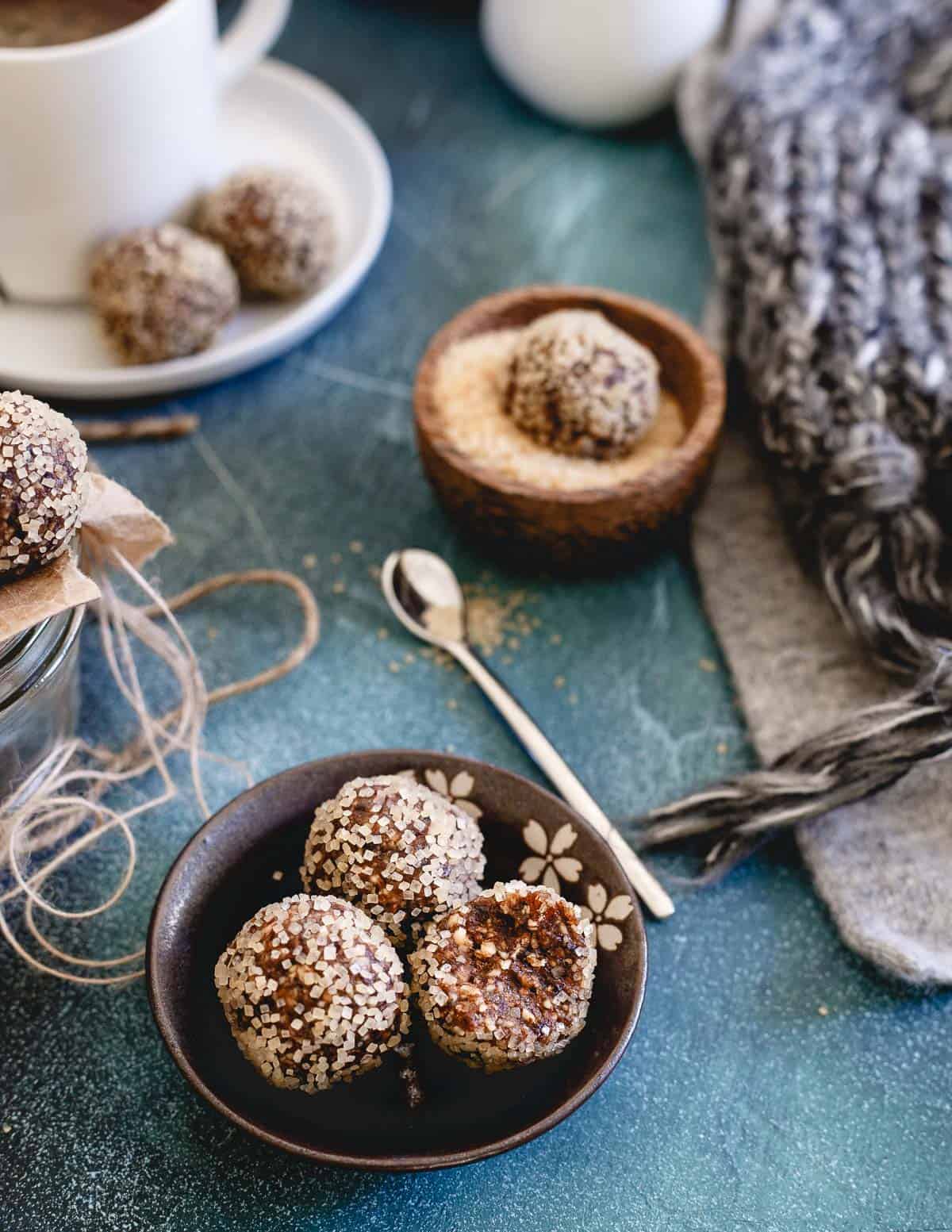 It's December 10th, there are 15 days until Christmas and there isn't a single decoration up in my house, a holiday card sent nor a present bought. Usually, I'll be cooking with a glass of wine and Christmas music on in the background this time of year. Lately though, it's just been the normal Pandora stations with that glass of wine. I have no idea why I'm not into the holiday season this year, but I'm not. Like, at all.
The thought of the mall sickens me. The thought of spending hours decorating makes me cringe and let's not even talk about the the thought of cleaning up and having to put those decorations away come January.
If I wasn't still into baking holiday treats I'd probably be googling some sort of holiday depression disorder to try and figure it all out but have no fear, that part of me is still alive and kicking! I think I just belong in the kitchen, not on HGTV. And I'm cool with that.
Have you ever heard of sugar plums? And no, not the kind in the Nutcracker that dance around all daintily on stage. Funny side story on the Nutcracker actually…my grandparents took me to see the performance in NYC at Lincoln Center when I was pretty young, definitely elementary school age. We got dressed up for the event and my grandmother let me wear one of her short mink fur coats. She's pretty short so it fit me at the age of 8 or 9. We were walking in to Lincoln Center and all I remember is that there were a bunch of people with signs yelling at us because we were wearing fur coats. I apparently got really mad at them, having no idea who they were and why they were yelling at me and my grandmother so I yelled back telling them to "shut up!" Many years later I found out it was a PETA group, which totally makes sense in retrospect but as an 8 or 9 year old, I had no idea who those people were and why they were yelling at me. I was sassy as a kid. I still am.
Anyway…sugar plums.
So yeah, I had no idea what the heck they were as far as food goes until I stumbled upon this recipe by my man Alton. Since I love a good ball, I decided to make my own interpretation with stuff I had on hand.
More holiday ball/bites inspiration –> cranberry orange oatmeal cookie bites, gingerbread chocolate chip bites, dark chocolate kahlua coffee bites.
I'm not sure what I expected from these but they taste how I imagine a fruit cake rolled up into a ball, coated in sugar would taste like.
Disclaimer, I've never had fruit cake before so I'm not totally sure of the accuracy of that statement but a quick google search tells me it's basically a cake with a bunch of dried fruit in it (shocking) so I'm sticking with that comparison.
These are basically dried fruit + almonds + spices & extract + a coating of sugar. Kind of like a healthy snack ball meets a holiday dessert.
They're also what I'm telling myself separates me from being a complete scrooge. Right? Rigghht.
Yield: 12 servings
Sugar Plum Balls
These festive sugar plums are made will all raw, healthy ingredients for a nutritious spin on the classic holiday treat.
Ingredients
1/2 cup almonds
1/4 cup prunes (about 5)
1/4 cup pitted, chopped medjool dates
2 tablespoons raisins
1/4 teaspoon cinnamon
1/4 teaspoon fennel seeds
1/8 teaspoon nutmeg
1/4 teaspoon vanilla extract
1/4 teaspoon almond extract
1/8 teaspoon cardamom
1/8 teaspoon anise extract
pinch of salt
1 tablespoon honey
1/4 cup raw, coarse sugar for rolling
Instructions
Combine nuts and fruit in a food processor and pulse until it becomes finely chopped but before it starts to form a ball.
Transfer mixture to a medium bowl and add remaining ingredients. Combine/mix together with hands.
Roll into balls and set aside.
Add sugar to a shallow ball and roll balls in the sugar until completely coated.
Store in an airtight container at room temperature.