It's Friday, I bet you could use a treat. Me? Not so much considering I've eaten more sugar in the past 2 days in Italy than I have in the past 2 months at home. Luckily, I have a date with a crossfit box here in Milan this afternoon to help balance that out!
Today's post is from Amanda. I have no idea how I even found Amanda's blog originally, but we both started blogging around the same time, I was in love with her photographs and we soon figured out that we pretty much had led parallel, mid 20s crises.
Nothing like bonding over food and life turmoil.
Amanda's bringing you some delicious cookie dough balls today that just so happen to be Nutella inspired. How appropriate as I'm frolicking around Italy, right? She also refers to me as the queen of balls in this post. It's probably weird to say I take that as a compliment but, I do.
On to the balls…
………………………………………………………………………………………………………………
These no-bake nutella cookie dough balls are a surprisingly healthy decadent treat.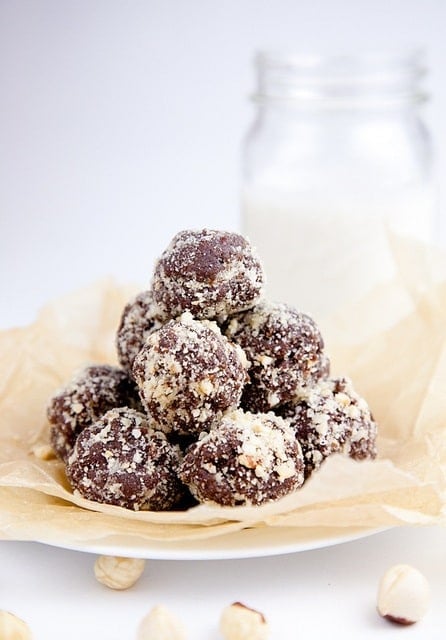 Hi! I'm Amanda and I blog over at Pickles & Honey.
During the last two years, I quit my 9-5, moved from Boston to San Francisco and then back again, and left safe, but stagnant to pursue what I love – writing, specifically about healthy food, with a heavy emphasis on dessert!
Gina and I met through our blogs last fall, when I had just started mine and Gina was one of only a handful of readers. I clicked over to Running to the Kitchen and it was love at first post – Gina's recipes use a lot of my favorite flavor combinations and her personality really shines through in her honest, no-nonsense style of writing. I totally appreciate her sense of humor and sarcasm.
Seeing as how Gina is the queen of balls (sorry, I couldn't resist!), I knew I needed to add to her ever-expanding ball recipe collection. I've been on a big nut butter kick recently – almond, walnut, cashew, good old-fashioned peanut butter – but it had been way too long since I made a batch of my Vegan Nutella.
Craving that classic combination of roasted hazelnuts and chocolate, I decided to use those flavors to create Nutella-inspired snack bites.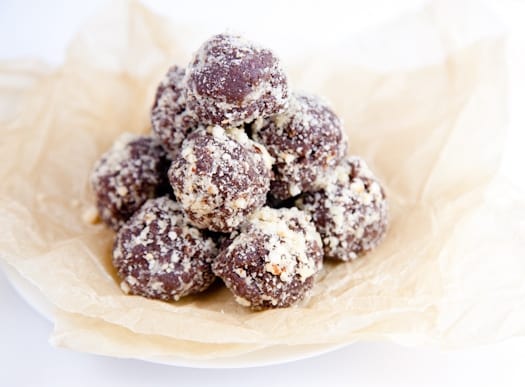 I made a couple of variations: one paleo-friendly, one with gluten-free oats, and both vegan.
The paleo version was good, but the oats took these from sticky chocolate-hazelnut-date balls to what can only be described as a mix between a rich, Nutella cookie dough and a dense, almost fudge-like brownie.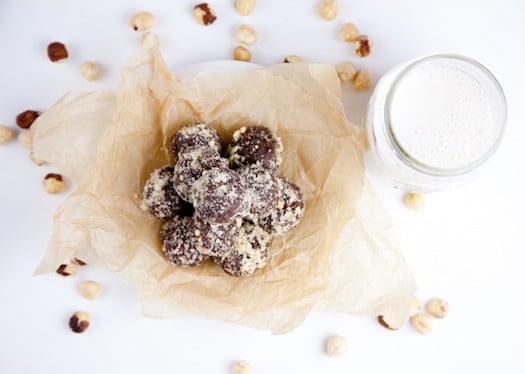 And yet, these little unassuming balls have zero processed sugar.
Medjool dates are kind of magical like that.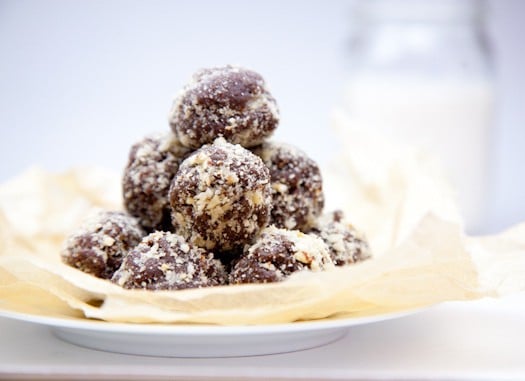 Rolled in some finely chopped hazelnuts for a little crunch, I've been loving these as a pre-workout snack, a post-dinner dessert, and the other day, I even ate a couple for breakfast when I was on a never-ending conference call.
Just try to time it so that you're not eating one moments before you have to present.
Talking with a Nutella ball stuck to the roof of your mouth can make for some really awkward client interactions.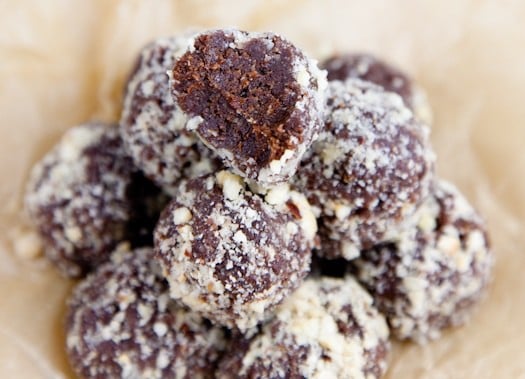 Thank goodness for almond milk to wash it all down.
More cookie dough treats to try:
Pumpkin Cookie Dough Bites
Healthy Cookie Dough Bites
Cookie Dough Bars with Chocolate Chips and Tart Cherries
Healthy Peanut Butter Cookie Dough Dip
Chocolate Chip Coconut Cookie Dough Balls
Nutella Cookie Dough Balls
These Nutella cookie dough balls are vegan, gluten-free, and naturally sweet.
Ingredients
2/3 cup Raw Hazelnuts, plus an additional 1/4 C. for coating
1 cup Pitted & Chopped Medjool Dates
1/3 cup Gluten-Free Rolled Oats (or regular rolled oats)
3 Tbs. Cocoa Powder
1 1/2 Tsp. Vanilla Extract
1/4 Tsp. Sea Salt
Instructions
Preheat your oven to 350 degrees F.
Once the oven is heated, spread the 2/3 C. + 1/4 C. of raw hazelnuts on a baking sheet and place in the oven for 8-10 minutes, until fragrant. Keep a close eye on them during the last couple of minutes so they don't burn.
Allow the roasted hazelnuts to cool.
Once cooled, remove the hazelnut skins by rubbing them in a dish towel. No need to be perfect, but try to remove as much of the skins as you can.
Place the hazelnuts in a food processor and process until fine and crumbly (about 30 seconds). Remove 1/4 C. of the hazelnut crumbs and set aside in a small bowl.
To the food processor, add the pitted and chopped medjool dates, oats, cocoa powder, vanilla, and sea salt, and process until the mixture forms a ball on the blade (about 2 minutes, depending on your processor). You may need to scrape down the sides of the processor once or twice.
Scoop out 1 to 1 1/2 tablespoon-sized balls of dough and toss the balls in the hazelnut crumbs you set aside.
Store in a container in the refrigerator.
Notes
These are also great straight out of the freezer. The dates keep them from freezing solid and they become extra chewy.