These apricot almond butter snack bites are healthy, raw, no bake and high protein.
Ok, so, apparently my mind only works in terms of flavors and taste when thinking up recipe combinations because clearly after seeing these pictures, it definitely does not think in terms of appearance or photography. So I'll just say I'm sorry up front for making you look at a post full of pictures that are far more reminiscent of something that belongs in the toilet rather than in your mouth. Who knew that's what you'd get when you blend dates, apricots and almond butter together?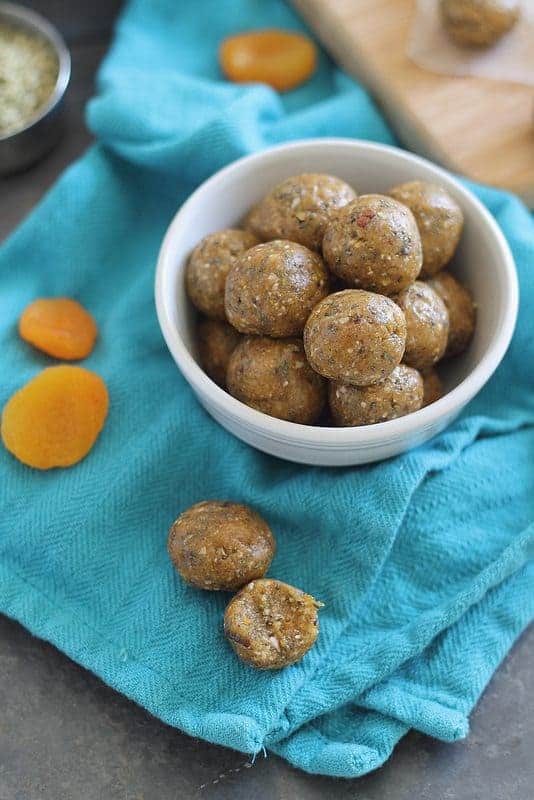 I got some hemp hearts recently and honestly, I had no idea what to do with them. Ulysses refused to eat them claiming he could fail a random work drug test with them in his system (even though I'm pretty sure he'd have to ingest way more than the 1/2 cup or so that came in the package for that to happen) and my hippie factor-ness pretty much stops around the chia seed mark (hemp hearts far exceeding that point).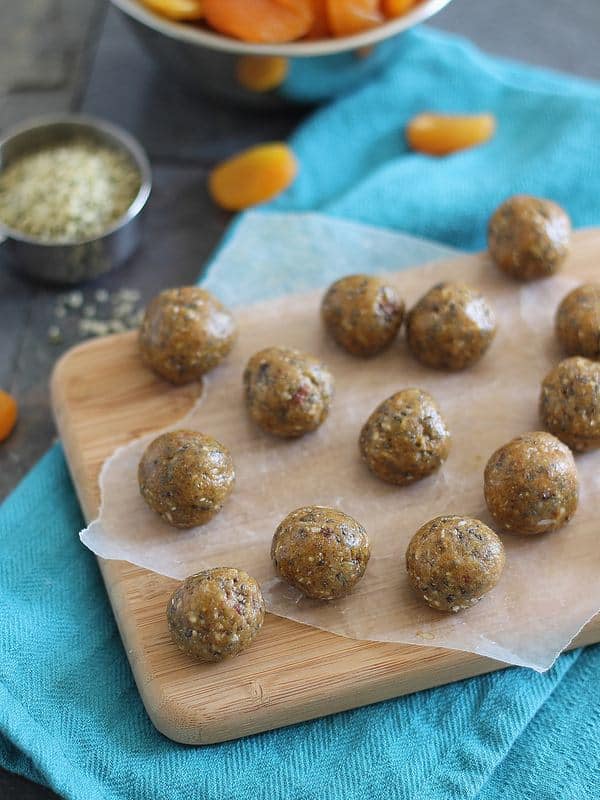 I did have one brilliant (at least in my opinion) idea to use them as bird seed in an attempt to lure my 6am wake up call close enough to the house to ensure a take down but my husband, the one that can't even kill an ant, refused to let me use his guns for that. But seriously, this bird has to go. It literally sounds like there's a star wars video game outside my window every morning. It's got the most un-bird-like chirps I've ever heard and all I can think about are lightsabers and lasers when I hear it. They permeate my dreams until I actually wake up and realize they're not part of my dream, it's the damn bird. Again. At 6am. If I had any confidence in my shooting abilities, I'd have done the bird seed thing anyway during the week when Mr. Can't Kill an Ant isn't around. But considering the one time I went to the outdoor shooting range I almost shot the people next to me, I think our neighbors might appreciate me letting the bird be.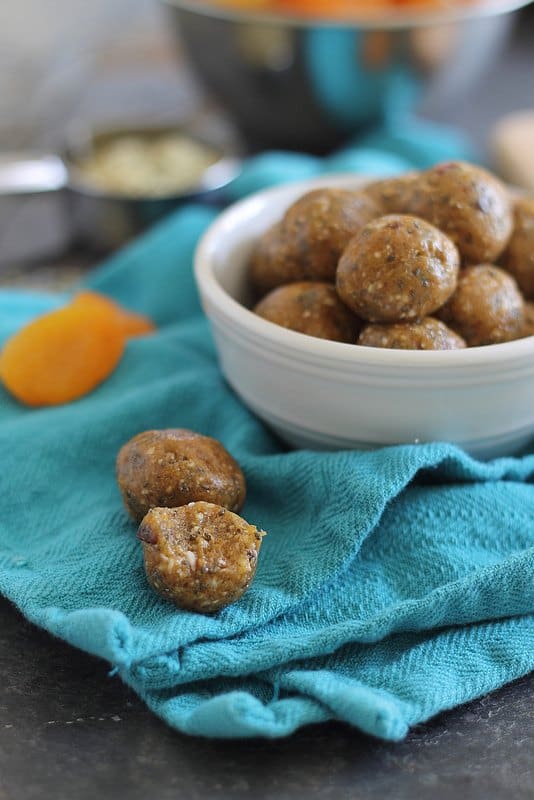 So I threw the hemp hearts in these snack bites instead. And if I'm wrong about their potential potency, maybe Yoda will be outside my window tomorrow morning too.
Be kind of cool that would. Hmmmmmm.
Apricot Almond Butter Snack Bites
A no bake, high protein snack made with dates, almond butter and dried apricots
Ingredients
5 medjool dates, pitted and halved
1/4 cup dried apricots
1/4 cup cashews
1/4 cup hemp hearts
2 tablespoons chia seeds
1 scoop (about 1/3 cup) vanilla protein powder
1 1/2 tablespoons almond butter
good pinch of kosher salt
1/2 teaspoon vanilla extract
about 1 tablespoon water (more or less depending on consistency)
Optional add ins:
cacao nibs
coconut flakes
Instructions
Combine all ingredients besides water and any add-ins in a food processor.
Turn on and process until mixture is finely chopped and starts to come together.
Depending on consistency, drizzle water in while running if the mixture needs a little help sticking together. (I used about 1 tablespoon)
Transfer to a bowl and fold in any additional ingredients if desired. I used cacao nibs for some crunch.
With wet hands, scoop dough out by the tablespoon and roll into balls.
Keep refrigerated.