These no bake oatmeal cookie bites are loaded with cranberries, orange and mini chocolate chips. A healthy snack that tastes just like a cookie!
It's been a minute since we had a new ball/bite recipe up in here. I think the last ones were these dark chocolate kahlua coffee bites and that was back in March. 9 months! I could've grown and birthed a human between now and then.
Blasphemy.
*This post is sponsored by Saucony.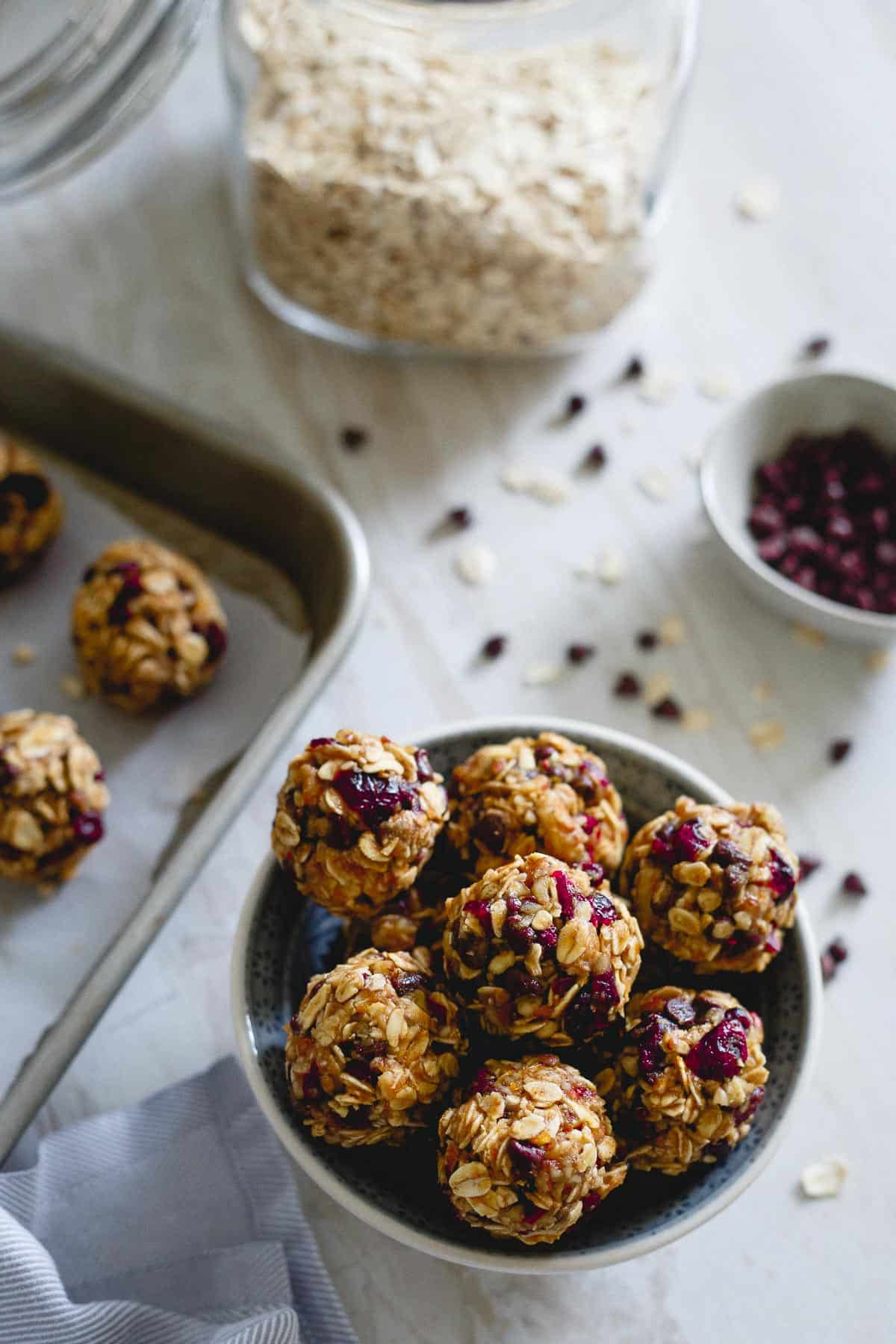 These kinds of snacks are my absolute favorite. They're easy to make (as opposed to a granola bar that you're constantly worrying about falling apart), the flavor possibilities are endless, they're portable and usually make an excellent pre or post workout snack (ok, maybe not those kahlua bites because of that whole alcohol thing but ones like these chia cherry crunch bites or these peanut butter chocolate chip balls definitely do!).
Any time I make these kinds of things, I'm inspired to run. I'm not really sure why as they make just as good a snack before or after a CrossFit workout as they do a run but for some reason, they make me want to lace up my shoes and head out for a couple of miles. I think it's because back when I legit ran (as opposed to the sporadic mile or two I do here and there now) and was training for half marathons and such, these type of snacks would be shoved in my Camelbak pockets and eagerly eaten somewhere between mile 7-10 on long runs for a boost of energy and a mental break. There were some training runs where these little balls of granola were literally the only thing that kept me going.
I look back at those days now and wonder why the heck I did that whole running thing when I'm somehow in better overall shape now, can run a 5k just as fast and happily eat cranberry orange oatmeal cookie bites without having to torture my legs for 7+ miles. Hindsight…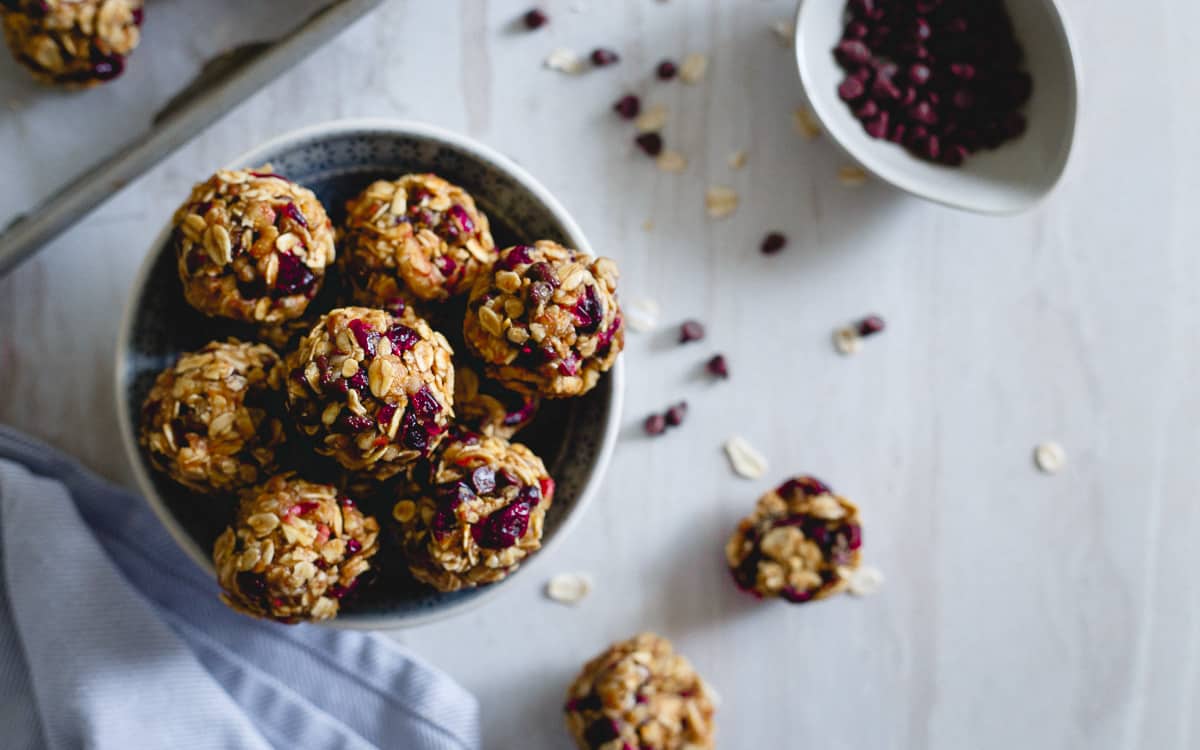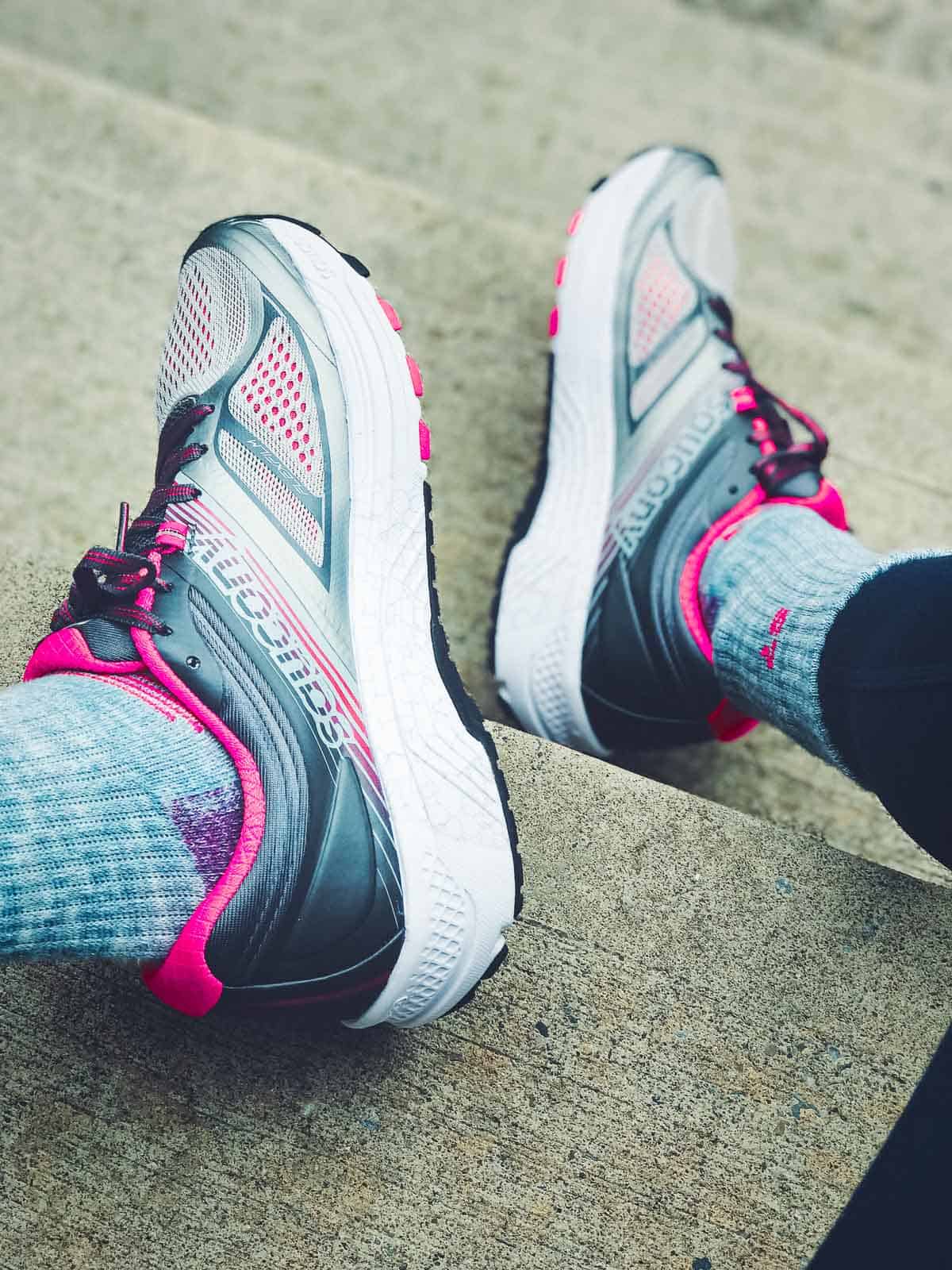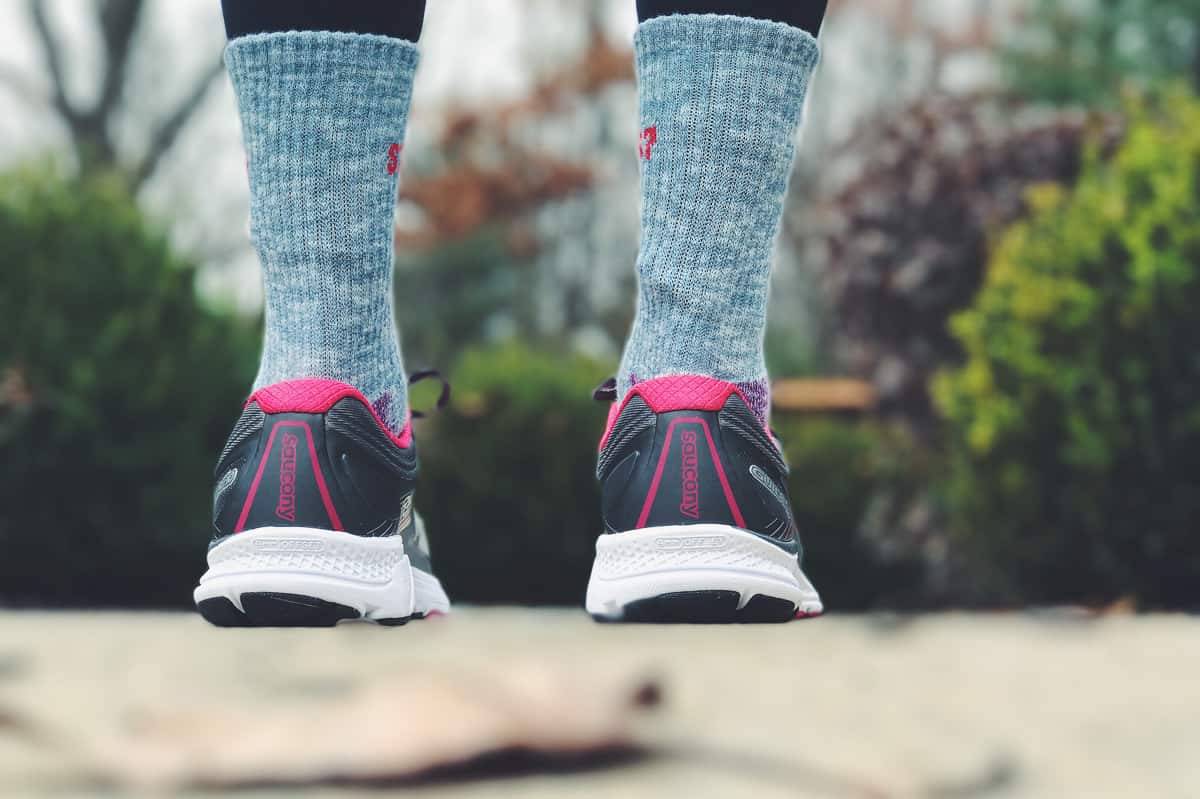 That's not to say the running urge doesn't strike from time to time and with these oatmeal cookie bites setting up in the freezer, I decided to take advantage of the perfect "almost winter" weather and head out for a quick run.
It was the perfect time to try out my new Saucony Guide 10 running shoes.
It's been almost 4 years since I got new running shoes and after a slow death from too much yard work and not enough running, my old pair were pretty much shot.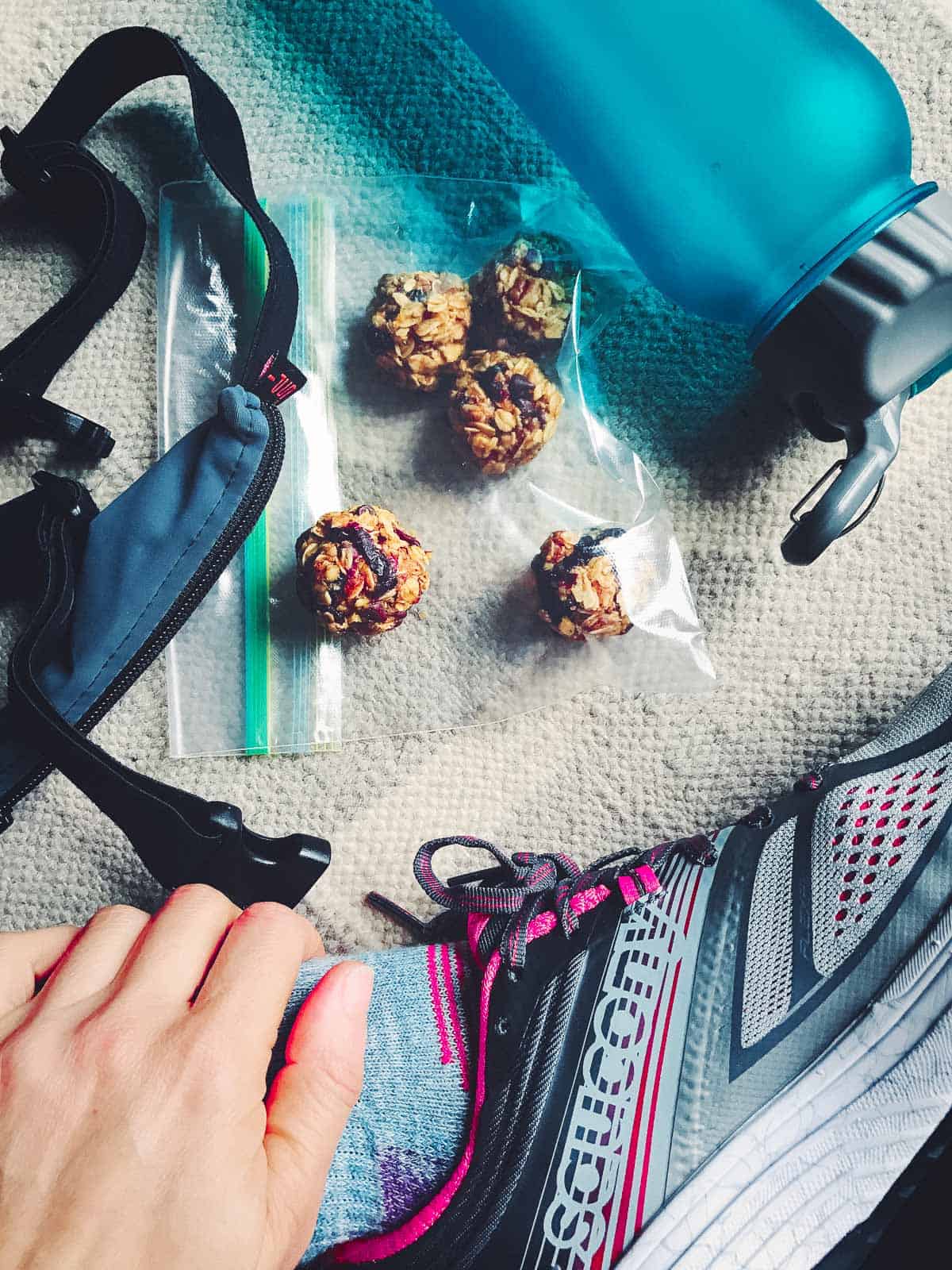 The Guide 10 is the perfect lightweight running shoe for those that need a little stability help. If you pronate or have had injuries, this shoe is what you want. You get that added support without the usual bulk and weight so many others tend to have. They literally felt like clouds on my feet for the *almost* 3 miles I squeaked out.
I'm a big fan of the material as well. Made of marl, a knit cotton fabric that gives them a super comfortable feel and that grey color, they're definitely one of the more aesthetically pleasing running shoes I've seen and worn.
I also got to try out the Kineta Relays and I might be even more in love with those as a fun all-around shoe, perfect for light workouts or just regular out and about things. They almost feel like wearing slippers!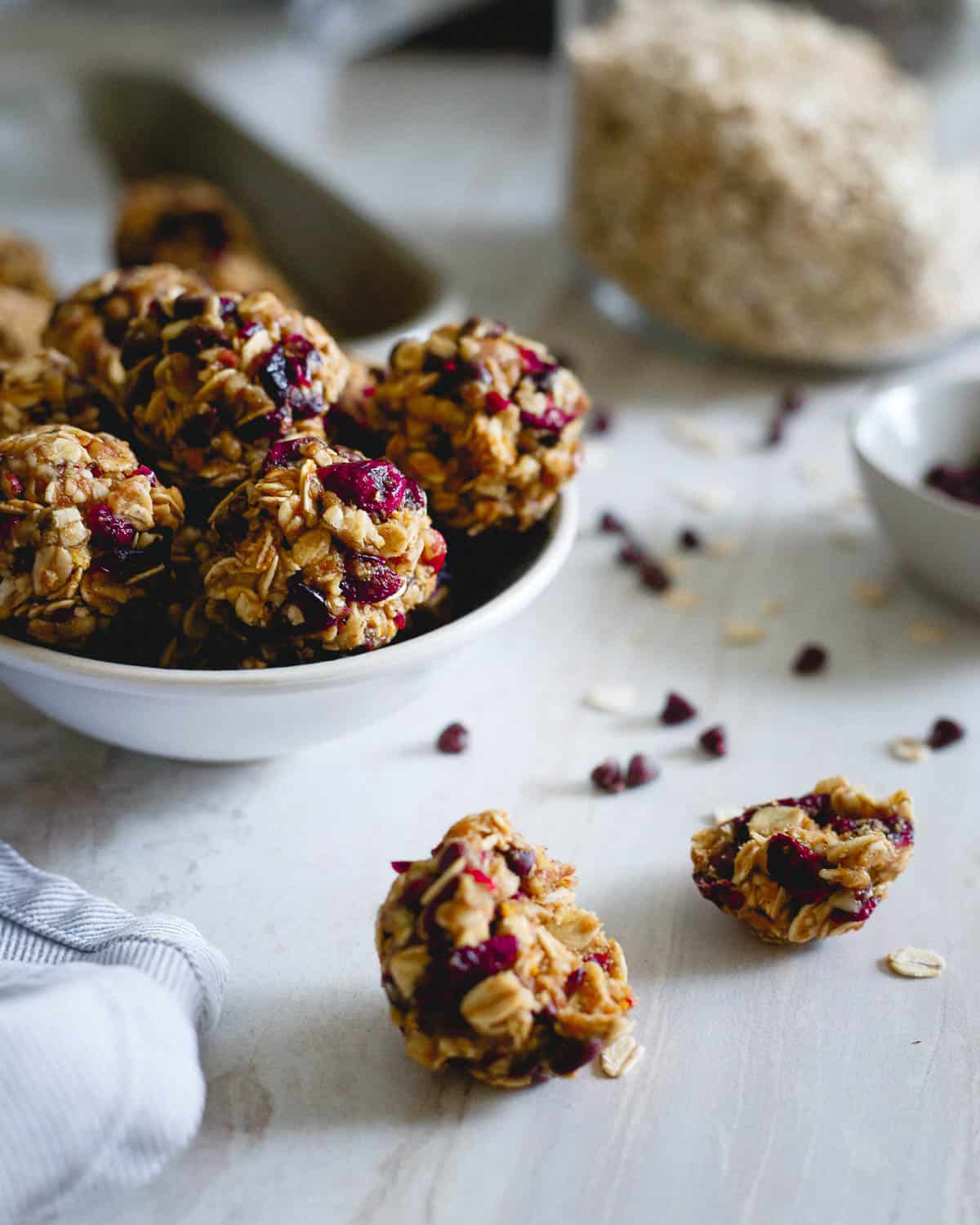 We'll see how long this running stint lasts but, I can say with confidence that as long as these cranberry orange oatmeal cookie bites are around, I'll be itching to lace up for a few miles!
Love this Cranberry Orange Oatmeal Cookie Bites recipe?
Try other no bake treats like: No Bake Peanut Butter Chocolate Chip Balls, No Bake Oatmeal Raspberry Sandwich Cookies and No Bake Brownie Fudge Balls.
Cranberry Orange Oatmeal Cookie Bites
These no bake oatmeal cookie bites are loaded with cranberries, orange and mini chocolate chips. A healthy snack that tastes just like a cookie!
Ingredients
50 grams pecans, about 1/3 cup
100 grams rolled oats, about 1 cup
50 grams dried cranberries, about 1/3 cup
1 tablespoon orange juice
zest from 1 orange
40 grams mini chocolate chips, *see notes for vegan
1/2 teaspoon cinnamon
pinch of kosher salt
75 grams cashew butter, about 1/3 cup
15 grams maple syrup, about 1 tablespoon
1 teaspoon vanilla extract
Instructions
Roughly chop the cranberries and place in a shallow bowl with the orange juice. Toss until combined and let them sit for 5 minutes.
Place the pecans in a food processor and pulse until finely chopped. Add to a large bowl.
To the bowl with the pecans, add the oats, orange zest, chocolate chips, cinnamon, salt and cranberries. Stir to combine.
Add the cashew butter, maple syrup and vanilla extract and stir until well combined.
With wet hands (makes the rolling process easier), roll the mixture into about 1 1/2 inch balls and place on a parchment lined baking sheet. You should get about 15 bites out of the mixture.
Place the baking sheet in the freezer for about 20 minutes to set. Store bites in a ziplock bag or airtight container in the refrigerator or freezer.
Nutrition Information:
Yield:

15
Serving Size:

1
Amount Per Serving:
Calories:

103
Total Fat:

6g
Saturated Fat:

1g
Trans Fat:

0g
Unsaturated Fat:

4g
Cholesterol:

0mg
Sodium:

26mg
Carbohydrates:

12g
Fiber:

2g
Sugar:

6g
Protein:

2g
This website provides approximate nutrition information for convenience and as a courtesy only. Nutrition information can vary for a variety of reasons. For the most precise nutritional data use your preferred nutrition calculator based on the actual ingredients you used in the recipe.