These pizza kale chips are tossed with a mixture of parmesan, sun dried tomatoes and spices to taste just like pizza. Healthy snacking never tasted so good!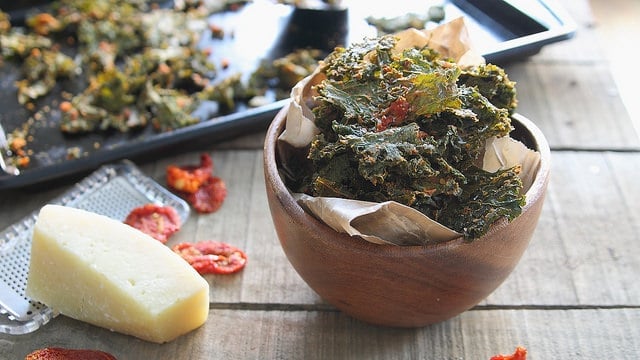 I became an aunt yesterday and when your brother and sister in law live 2.5 hours away, that means all plans to post the perfect Valentine's Day dinner of balsamic beef tenderloin roast you had planned go out the window because if there's anything that beats out beef tenderloin, it's an 8 hour old baby named Ava.
I'm really haphazard in the recipes I create for this site.
They're not diligently planned out by any means but rather something that usually comes to me as I'm walking through the grocery store and spot an ingredient I want to play with.
Some people have editorial calendars planned out for the next 3 months, I'm definitely not one of them.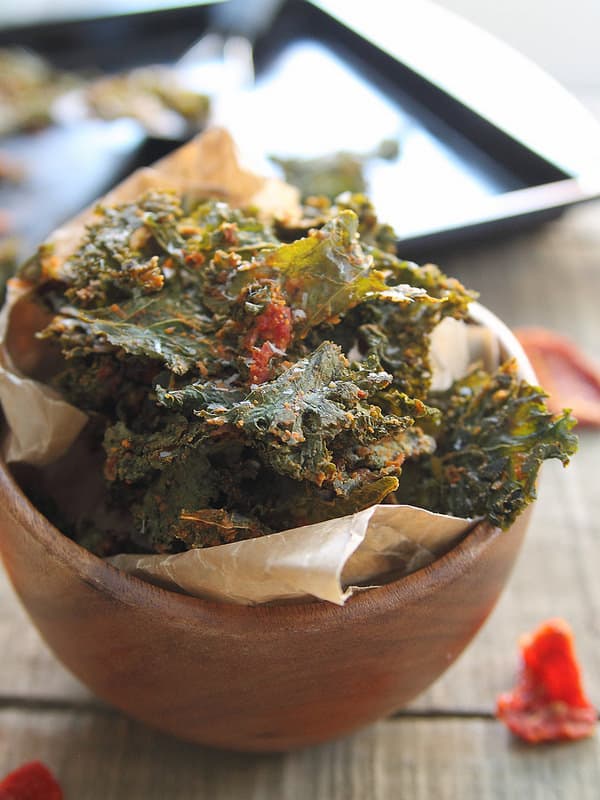 Writing for SheKnows though, I have to pitch 15-20 ideas at a time for each month so it forces me to brainstorm.
It's pretty much my worst nightmare because it's just not how my brain likes to operate but then at the end, when it's all over I look down the list and think "why the hell didn't I think of these for my own site?!"
Case in point, pizza kale chips.
I kinda think you guys might eat this one up (pun intended). Kale is coated in a parmesan, sun dried tomato and get this, nut mixture, along with pizza spices and then baked at the lowest possible setting in the oven to crisp up.
This was one of the first times I went with the low and slow approach for kale chips versus the high, fast, let me eat them as soon as possible one and I have to say, it makes a world of difference and is totally worth the 2 hour wait.
I can't make any promises that you won't end up eating the entire batch yourself. I mean, when a vegetable chip tastes like take out, how can you not?
Love this pizza kale chip recipe?
Try these other chip recipes: Mediterranean Eggplant Chips, Citrus Herb Jicama Chips, and Rosemary Sea Salt and Vinegar Beet Chips.
Get the recipe for pizza kale chips on SheKnows.