These fried jicama chips are tossed with fresh herbs and citrus zest for a deliciously crunchy alternative to potatoes.
I seem to be having a mental block when it comes to these jicama chips as I've referred to them as parsnips no less than 5 times. On my grocery list before I even made them, parsnips. When I was texting people while making them, also parsnips. When I talked about how good they were, parsnips. And lastly, when I was editing the pictures yesterday to share with you today, parsnips. Luckily, my brain started working again before naming the post otherwise that could've be awkward.
Funny thing is, I don't even really like parsnips! I mean, they're ok but one bad experience with an attempt at nut butter parsnip fries a couple of years ago was enough to kind of turn me off for awhile. So, I have no idea why my brain keeps confusing jicama with parsnips. They don't even look alike and they sure as heck don't taste alike!
Parsnips epitomize a root vegetable and jicama is more like a water chestnut with it's fresh crispiness. I know you're probably thinking, "um, the only time I've eaten jicama is in those lame store bought veggie trays with the nasty ranch dip in the middle" and my goal today is to push those far out of your mind and convince you to fry it up in chip form.
As a Crisp Ambassador, they sent me a bunch of fun cooking tools to play around with a few months back. And while I've enjoyed them all, I have to say, the wavy knife is by far, my favorite. Crinkle cut stuff is just more fun. I don't know why, it's just fact. Just like waffle fries beat traditional fries (hence my Chick-fil-A obsession), a few ridges in whatever it is you're slicing makes eating it that much better.
I've used it on potatoes, on beets and pretty much anything else conducive to slicing and roasting and figured it was time to get my fry on with it next.
Because of the freshness factor going on with jicama, I thought a citrus herb seasoning would go really well with the crispy chips after they're fried up in some coconut oil. A quick chop of whatever fresh herbs you have on hand (although I'm quite partial to rosemary), some lemon zest thanks to the 4-in-1 zester, a good dousing of kosher salt and you have the perfect seasoning to toss with the hot chips.
With Cinco de Mayo coming up and jicama being a plant native to Mexico, it's only fair to add this to your party plans. Move over, guacamole!
Yield: 4 servings
Citrus Herb Jicama Chips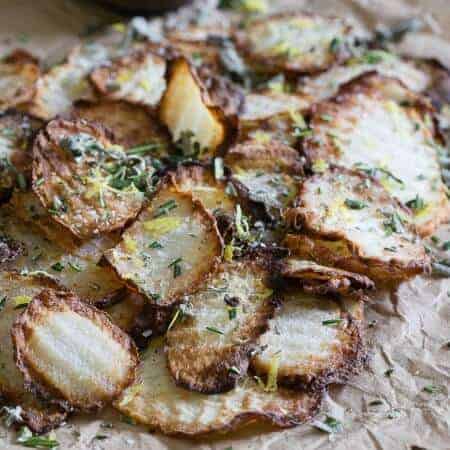 These fried jicama chips are tossed with fresh herbs and citrus zest for a deliciously crunchy alternative to potatoes.

Prep Time 5 minutes

Cook Time 20 minutes

Total Time 25 minutes
Ingredients
3 jicama, peeled and thinly sliced with a wavy/crinkle cut knife
¼ cup minced fresh herbs (I used a mixture of sage, rosemary and thyme)
2 tablespoons lemon
zest
kosher salt
coconut oil for frying
Instructions
Heat enough coconut oil so that there is a thin layer (about ½ an inch) in a large, heavy bottomed pot over medium-high heat.
Once hot, add jicama slices and fry until golden on each side.
Remove jicama from pot and transfer to a paper towel lined plate to drain.
Sprinkle salt, herbs and zest all over chips while still hot.
Serve immediately.

*This post is sponsored by Crisp Cooking. All content and opinions are my own.