This paleo gingerbread granola is made with all the good stuff, just nuts, seeds and natural sweeteners with a wintertime twist perfect for the holidays.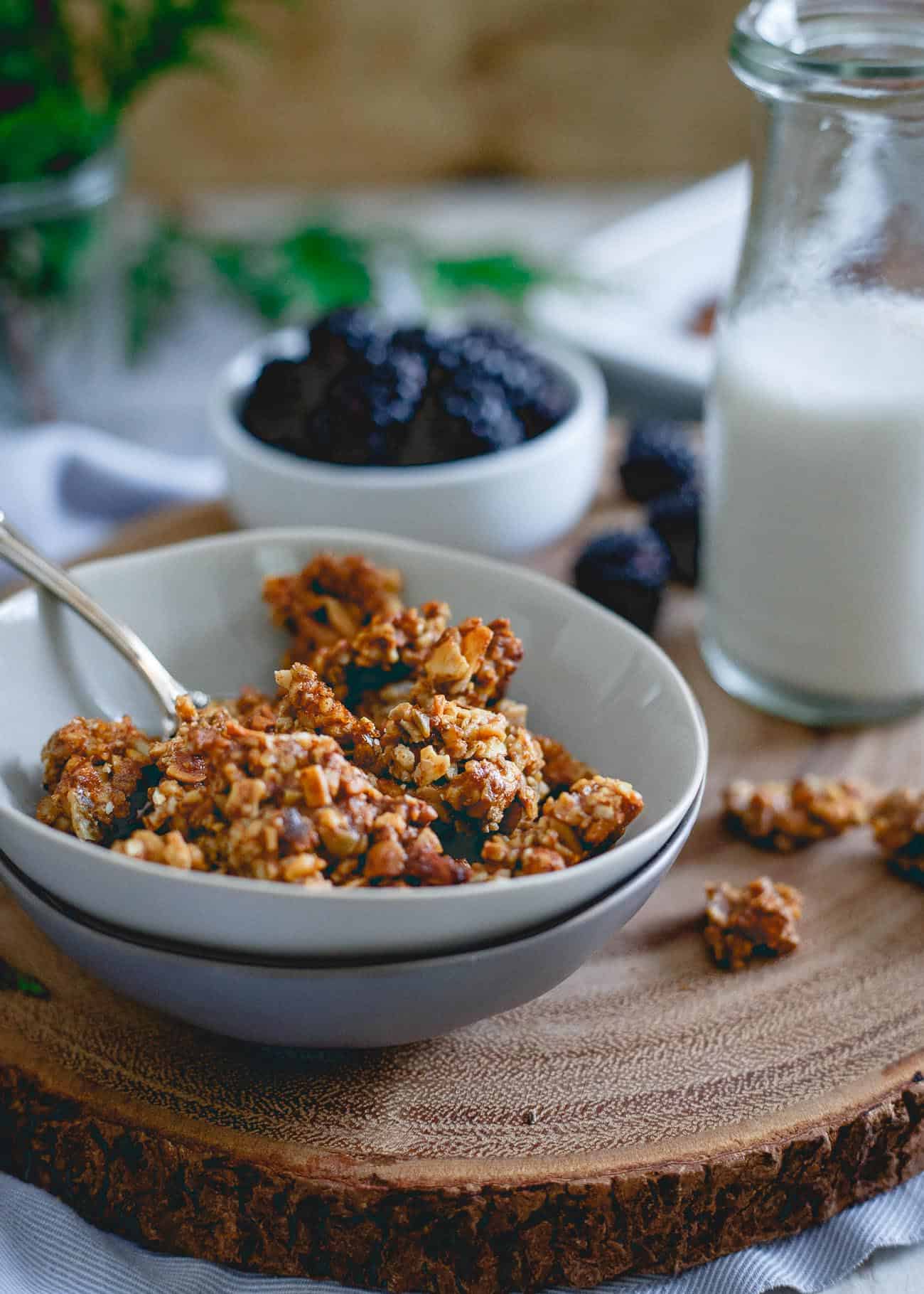 Last Wednesday I felt a tickle in one side of my throat. Just one side. It stayed that way for the next 48 hours, juuuuust long enough to make me thing "ok, maybe I'm not getting sick and it's just something weird". Then Friday came, shit hit the fan and my throat grew daggers that made every single swallow a torturous event.
Usually when I get sick, the sore throat thing is the first symptom but goes away once the head cold part takes over.
This time, the sore throat decided to stick around for the main event and my entire weekend became a game of "how long can I go without swallowing?" because it hurt that much.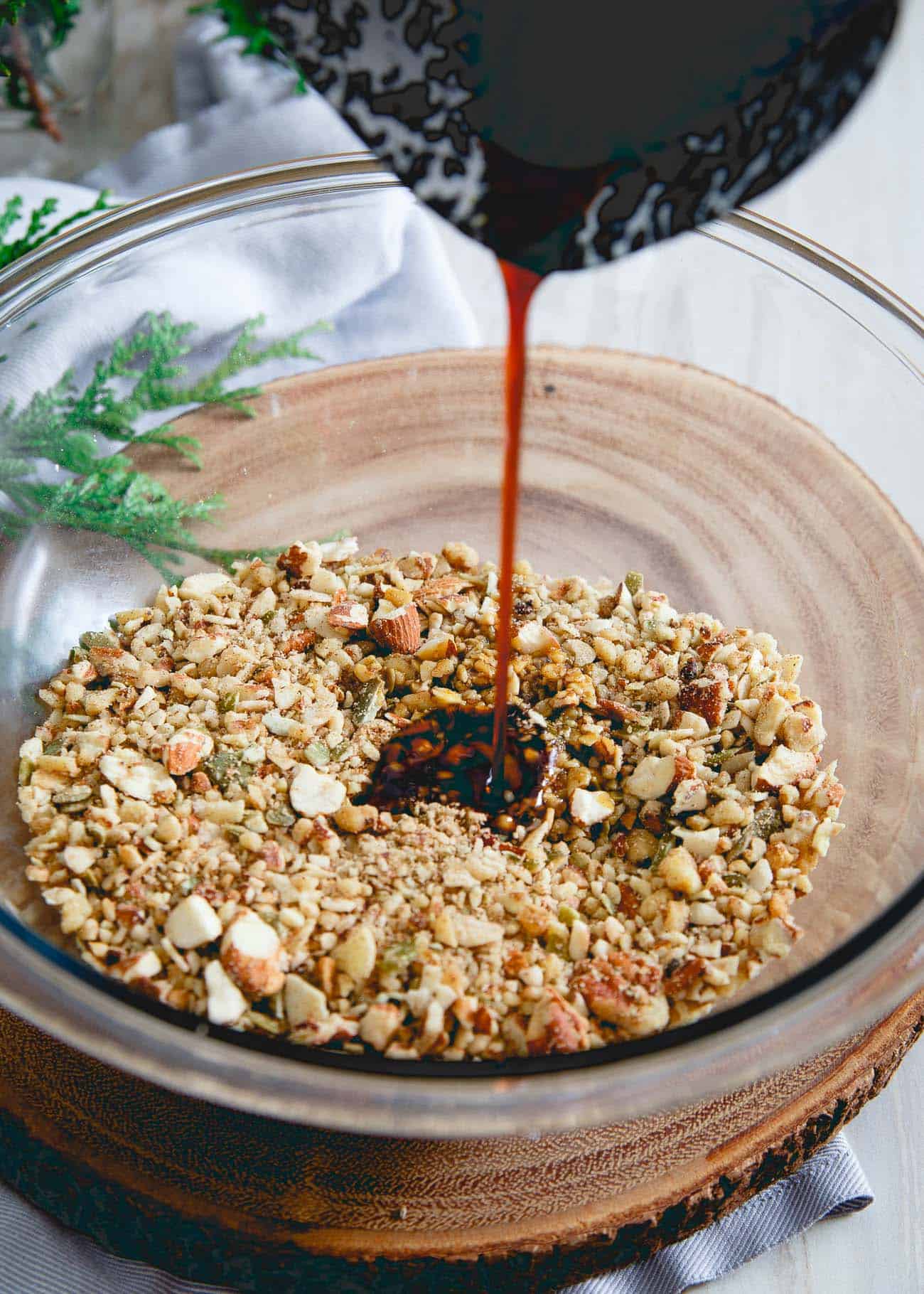 Couple that with the fact that it snowed out of nowhere yesterday morning (gross) and it all of a sudden very much feels like winter is here.
So, I figured in that case, it was time to break out the gingerbread.
We've all got our Thanksgiving menus planned by now anyway, right?
I've been eyeing the paleo granola in my girl, Lexi's new cookbook, Lexi's Clean Kitchen since it arrived.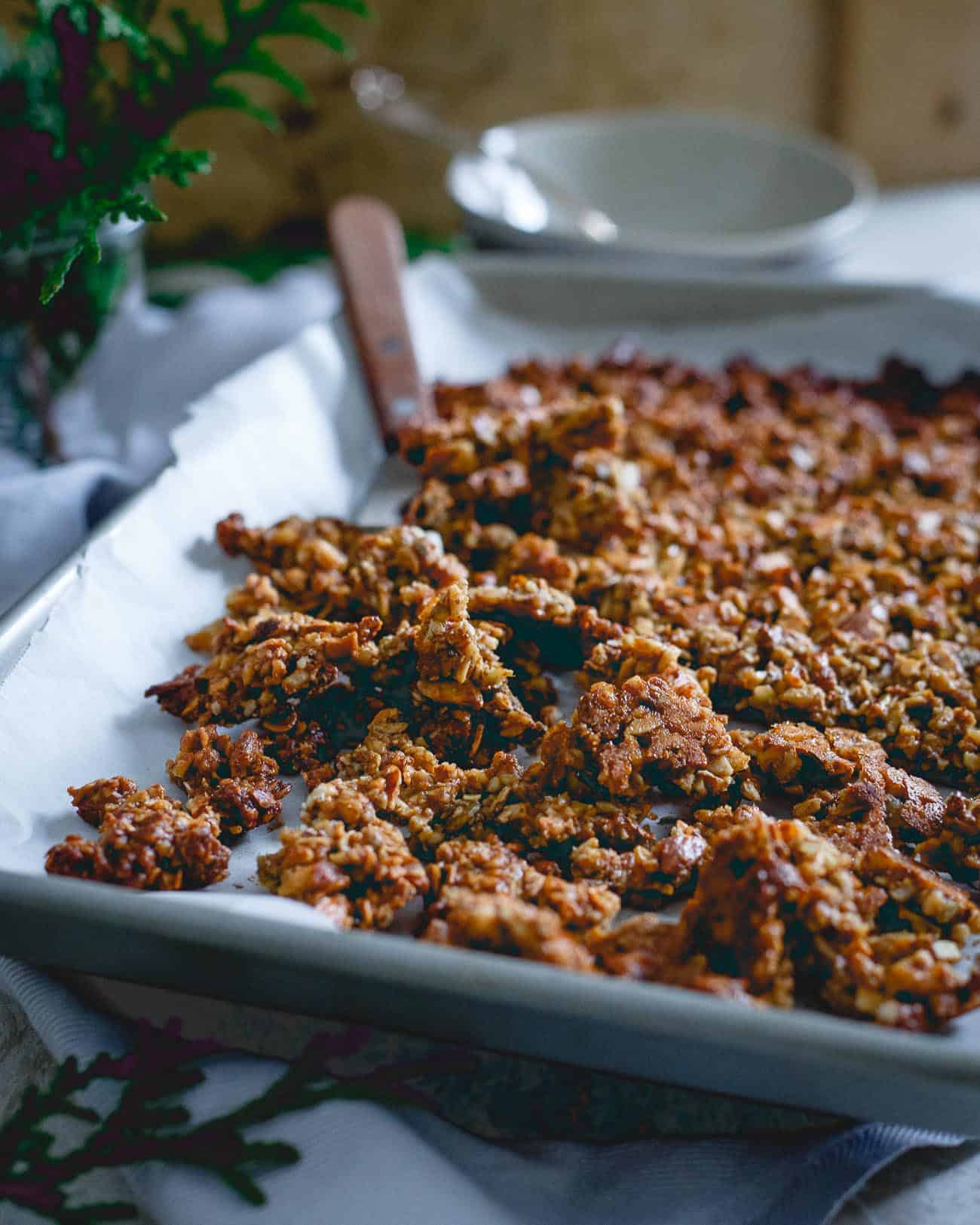 Not that I'm not down for some oats, but when it comes to granola, I actually prefer it to be mostly nuts, seeds and fruit and this recipe is exactly that all in the most crunchy, sweet and perfectly crumbly way.
The recipe already called for molasses (which is genius because it lends a great natural stickiness for getting those perfect granola clumps) so it was primed and ready for a gingerbread twist.
With the addition of some ground ginger and optional candied ginger pieces, I turned the paleo granola from the cookbook into paleo gingerbread granola.
Weirdly, my throat doesn't seem to hurt as much when I'm actually swallowing liquids or food so the weekend basically turned into a constant rotation of shoveling gingerbread granola in my face (with a little almond milk being my favorite way to eat it), downing copious amounts of Kevita's lemon cayenne probiotic drink (<–new fave!) or sipping sore throat lemon echinacea tea.
If this cold doesn't go away soon, at least there's still half a tray of this gingerbread granola left.
Pick up a copy of Lexi's Clean Kitchen on Amazon while it's still discounted (over 40% off right now). With 150 paleo-friendly recipes, it makes a great holiday gift!
Love this Paleo Gingerbread Granola recipe?
Try other granola recipes like: Coconut almond granola, Tart Cherry Chocolate Granola and Cashew Quinoa Granola.
Paleo Gingerbread Granola
Yield: 4 cups
Prep Time: 10 minutes
Cook Time: 20 minutes
Total Time: 30 minutes
This paleo gingerbread granola is made with all the good stuff, just nuts, seeds and natural sweeteners with a wintertime twist perfect for the holidays.
Ingredients
1 cup raw slivered almonds
1 cup raw pecans
1 cup raw walnuts
1/2 cup raw sunflower seeds (I used pepitas instead)
2 tablespoons maple sugar
1 tablespoon ground cinnamon
1 tablespoon ground ginger (my addition)
pinch of sea salt
3 tablespoons honey
3 tablespoons maple syrup
2 tablespoons molasses
1 teaspoon vanilla extract
1 large egg-white, whisked
Optional: 3 tablespoons chopped candied ginger (my addition)
Instructions
Preheat the oven to 350 degrees and line a baking sheet with parchment paper.
Combine the nuts and seeds in a food processor and pulse until finely chopped into rice-sized pieces.
In a large bowl, combine the nuts, seeds, maple sugar, cinnamon, ginger, salt and candied ginger if using.
In a small saucepan, heat the honey, maple syrup, molasses and vanilla until boiling. Once boiling, add to the nut mixture and stir until well combined.
Add the whisked egg-white to the bowl and mix well.
Spread the mixture out onto the lined baking sheet in an even layer and bake for 15-20 minutes until golden brown. Watch the granola towards the end to avoid burning. Remove the pan from the oven and let cool completely before breaking into pieces.
Store in an airtight container for up to 1 month.
Notes
The optional candied ginger isn't paleo friendly. If you can find dried ginger without sugar, feel free to use that or just skip it entirely.
*Recipe from Lexis Clean Kitchen cookbook. Reprinted with permission
Nutrition Information:
Yield: 6
Serving Size: 1
Amount Per Serving:
Calories: 279
Total Fat: 18g
Carbohydrates: 28g
Protein: 6g