*Note: This post first appeared on February 26, 2012. The recipe has been edited to include a buckwheat option and the photographs updated (shown with buckwheat option, not quinoa). I used to be OBSESSED with this quinoa cereal back in the day. It's warm, cozy, much more satisfying than typical cereals and like any breakfast bowl, the topping possibilities are endless. Then, my stomach revolted against quinoa some time in 2014 and it sadly became the one food I can't eat (think stomachache/cramps that make you feel like you're gonna die). Not really an "allergy" but something about that damn little seedy/grain-like food just doesn't agree with my body. So, I switched things up and started making it with buckwheat groats instead and to be honest, I think I like this version even better. Buckwheat is a bit heartier than quinoa and makes for a really cozy breakfast bowl when served this way (basically like oatmeal) and topped with the caramelized banana walnut compote. Both versions are in the recipe below. Try them both and decide for yourself! FYI – text is original (and totally irrelevant today, lol – sometimes I wonder what the hell I was babbling about back then!)
—–
This warm quinoa cereal is topped with a caramelized banana and walnut compote, drizzled in almond butter and garnished with superfoods like goji berries and chia seeds. It's also easily made with buckwheat groats as an alternative (both options in recipe below)!
I'm trying not to be bitter.
Really, I am.
But I guarantee you it's not working and that I'm uncomfortably sitting (from falling off a chair yesterday while doing sandbag step-ups) on a fully booked plane wishing I was still in my pajamas enjoying this with my cup of coffee on the couch for a lazy Sunday morning breakfast.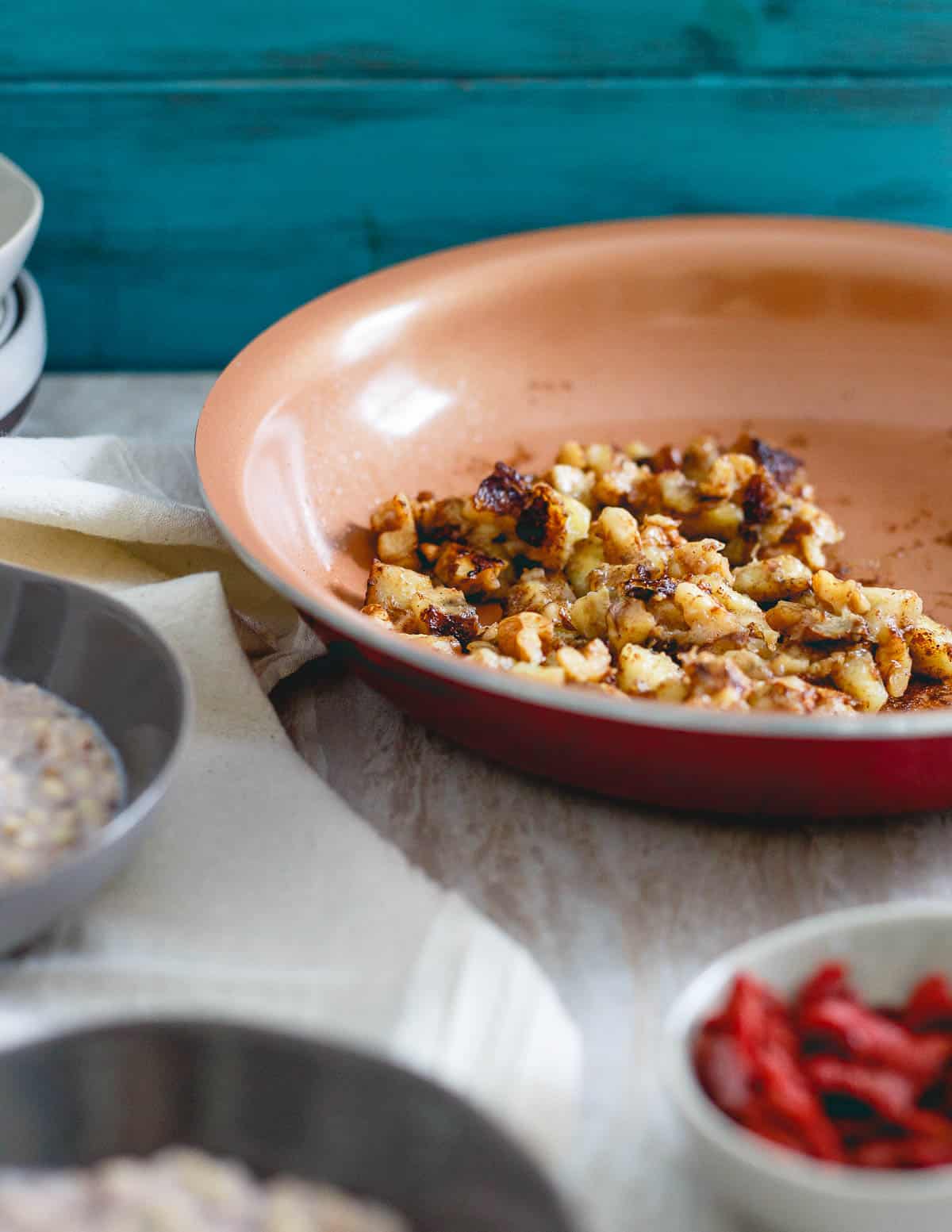 That was last Sunday.
Today, I've been up since 4am and will probably end up pulling a 23-24 hour day because of the time change.
Bright side?
I get to attend a cocktail hour in the space needle which I've always been too cheap to pay the ridiculous amount of money they want to go to the top every time I've been in Seattle.
This is barely a "recipe" and more so just one delicious way to enjoy quinoa that you probably haven't thought of.
Warmed, with coconut milk and topped with a mixture of caramelized bananas, walnuts and almond butter. Extra taste points for eating it with a little spoon.
Don't worry, the quinoa negates the butter used to caramelize the bananas. Fact.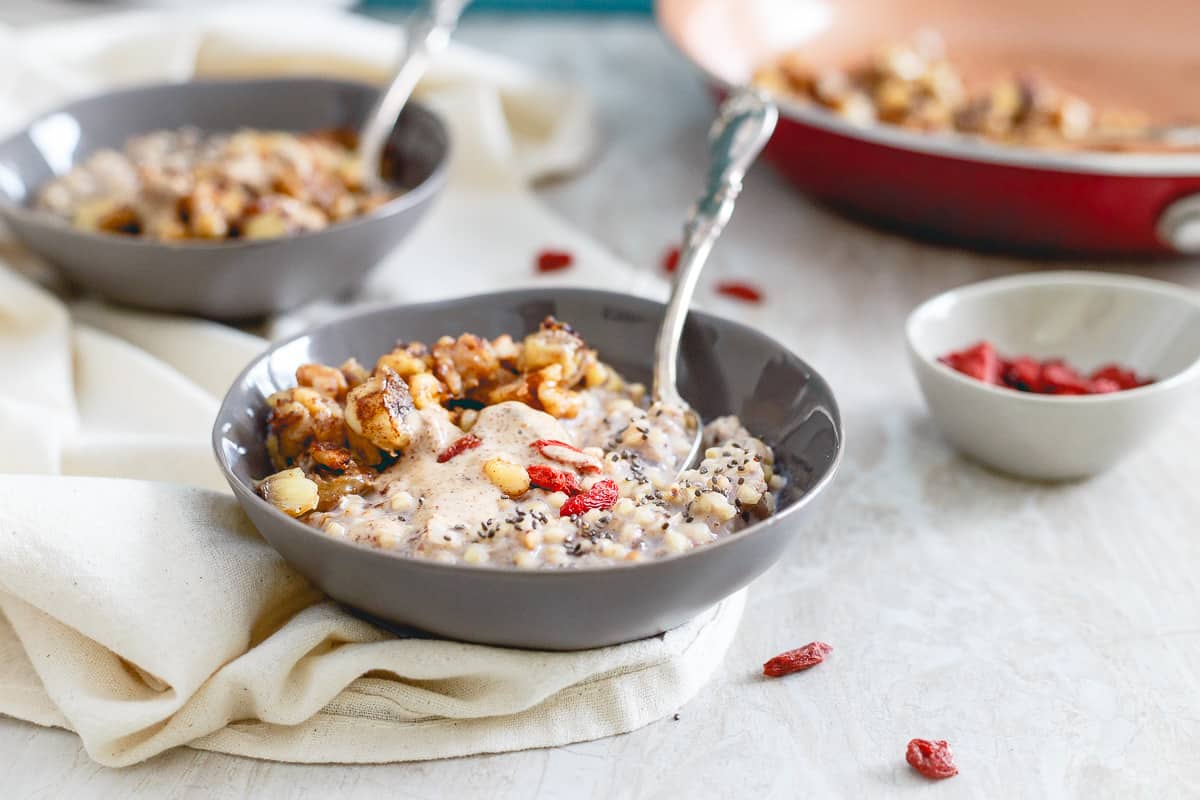 Fair warning though, husbands have been known to eat remaining caramelized banana walnut mixture straight from the pan in the 2 minutes you turn your back (to take pictures).
Don't make that mistake.
Love my quinoa cereal with caramelized bananas recipe?
Try other quinoa recipes like Mango kiwi breakfast quinoa, Meyer Lemon Quinoa Pancakes, and Quinoa Breakfast Cookies with Oatmeal and Raisins.
Yield: 2 servings
Quinoa Cereal with Caramelized Bananas
This warm quinoa cereal is topped with caramelized bananas and walnuts. It's a protein powerhouse of a breakfast. There's also an option for using buckwheat instead.
Ingredients
1 cup cooked quinoa
1/2-3/4 cup coconut milk
1 banana, chopped
1/2 teaspoon cinnamon
1/4 teaspoon nutmeg
2 tablespoons walnuts, chopped
1 tablespoon agave
1 tablespoon butter
1-2 tablespoons almond butter, if desired
Instructions
Combine bananas, spices, walnuts and agave in a small bowl and toss to coat.
In a medium skillet over medium heat, melt butter and add banana walnut mixture.
Cook for about 5 minutes, stirring occasionally until bananas start to caramelize.
While bananas cook, divide quinoa into two bowls and pour coconut milk on top. Warm in microwave.
Add caramelized banana mixture to quinoa and drizzle with almond butter if using.
Notes
For buckwheat option (shown in pictures): combine 1/2 cup buckwheat groats with 1 cup of any kind of milk/water mixture, 1 tablespoon chia seeds, 1/2 teaspoon of cinnamon, 1/2 teaspoon vanilla extract, pinch of salt and sweetener of choice (maple syrup, liquid stevia, coconut sugar, honey, etc.) in a small pot. Bring to a low boil, stir, reduce heat to low, cover and cook for about 10-12 minutes until most of the liquid has been absorbed. Divide into 2 serving bowls and top with the caramelized banana mixture from the recipe above.