This dairy free gingerbread pudding is made with an almond cashew milk blend for one creamy spoonful filled with all the holiday spices you love.
I'm really not ok (like at all) about a day that ends without dessert. It's just not acceptable. Never was as a kid and 30 something years later, still isn't. Most kids would whine "what's for dinner???" in their most annoying drawn out kids voice possible, but my version of that was always "mommmmm, what's for dessert???"
Priorities.
I'm pretty sure it was because of that there was a constant supply of instant jello and pudding in our pantry. Dessert in a pinch for when my whining got to be more than a parent could handle.
That said, I never gave a second thought to the fact that pudding could actually be made without some pantry powder packet until many years after what is probably acceptable to have come to that realization (like, um, in my 20s).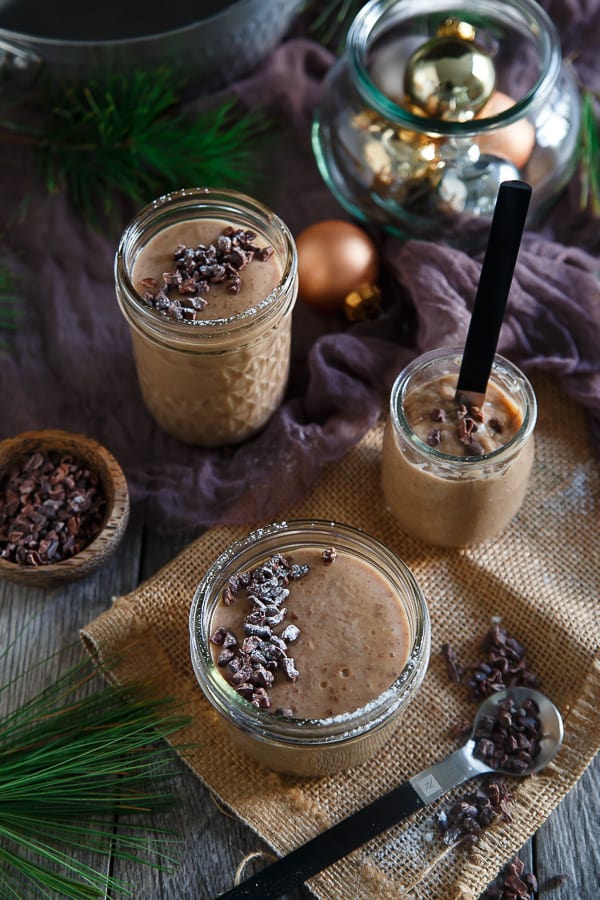 Since then, I've tried my hand at it from scratch a few times (like with this coconut caramel coffee pudding) but usually I end up baking it. This time, I wanted to make a simple pudding just like the old days with a sauce pot, a bunch of whisking and some simple chill/set time in the fridge.
Almond Breeze's new almond cashew blend that just came out is the perfect way to keep this dairy free gingerbread pudding creamy like you expect from pudding while still a healthy, lower-calorie treat. With molasses and all the holiday spices you can think of mixed in, it's like a spoonful of Christmas with each bite!
To celebrate this new blend, Almond Breeze is holding a Kitchen Prize Pack giveaway. Just enter the title of a recipe you'd like to create using the new almond cashew blend for a chance to win. Everyone will get some coupons (*while supplies last) to purchase the product just for entering! – GIVEAWAY ENDED

3-4
adjust servings
Dairy Free Gingerbread Pudding
This dairy free gingerbread pudding is made with an almond cashew milk blend for one creamy spoonful filled with all the holiday spices you love.
Ingredients
2

tablespoons coconut sugar

1/2

tablespoon molasses

2

egg yolks

3

tablespoons tapioca starch

1 1/2

teaspoons cinnamon

1

teaspoon ginger

1/4

teaspoon nutmeg

1/8

teaspoon ground cloves

pinch kosher salt

cacao nibs for topping
Instructions
Place the almondmilk cashewmilk blend, coconut sugar and molasses in a small sauce pot over medium heat and bring to a simmer.
Whisk together the egg yolks, tapioca starch, spices and salt in a small bowl.
Once simmering, slowly pour one ladle of the hot milk mixture into the bowl with the egg yolks whisking constantly until all the milk is incorporated.
Pour the egg yolk/milk mixture back into the sauce pot with the remaining milk and spices and whisk continuously over medium-low heat until thickened.
Once thickened, remove from heat and pour into servings jars/glasses/bowls.
Let cool to room temperature then cover with plastic wrap and place in the refrigerator for at least 1 hour until chilled.
Top with cacao nibs and serve.
*This post is sponsored by Almond Breeze Almondmilk. Enter for a chance to win the Ultimate Kitchen Prize Pack, get great savings and ideas for delicious Blendabilities at AlmondBreezeBlendabilities.com.