These almond cherry protein cookies are made with almond butter, coconut flour, almond flour, oats and loaded with cherries for a healthy treat.
New rule: all Mondays need to start with cookies.
Particularly, Mondays when you go from an awesome weekend with new friends, tons of fun exercise, great food and more swag than you know what to do with to being stuck in an over air-conditioned work conference in the middle of a corporate park while in one of the most beautiful cities in the country in a short 47 minute drive.
I tried to mentally prepare.
It didn't work.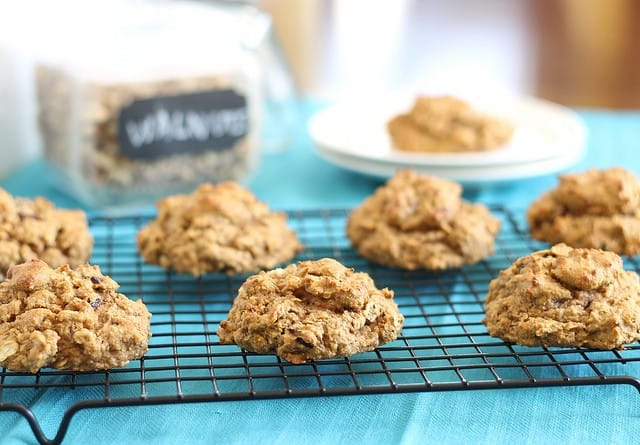 I made these protein cookies last week in preparation for this trip knowing that if I rely on conference food I'll be served sugar laden pastries with suspect jelly in the middle for breakfast, tollhouse ice cream cookie sandwiches for a snack and some cream doused pasta dish for lunch.
I can usually find better breakfast and lunch options with some success, but finding a decent snack that tastes good and has something besides sugar as the main ingredient is no easy feat in a convention center.
To give you some idea of my priorities when traveling…
Things I forgot to pack for this past weekend? Sunscreen, sunglasses, an outfit for the plane ride home, enough socks and business cards.
Things I didn't forget to pack for this past weekend? These almond cherry protein cookies.
They've got 10g of protein each and they're filled with goodies like almond butter, cherries and walnuts.
They're sweet enough to feel like a treat around 2pm when everyone is flocking to the ice cream sandwich social break and healthy and hearty enough to double as breakfast in a pinch.
I almost made a batch of these triple chocolate protein cake bars or this high protein cinnamon cake recipe but in the end decided on creating something new with these almond cherry protein cookies.
I'm not mad about it.
If only they could replace the booth, the heels and the business talk with a cabin, sneakers and a hike.
If you love protein cookies, try one of these protein pancake recipes too!
Perfect Protein Pancakes
Chocolate Protein Pancakes
Pumpkin Protein Pancakes
Almond Cherry Protein Cookies
These almond cherry protein cookies are made with almond butter, coconut flour, almond flour, oats and loaded with cherries for a healthy treat.
Ingredients
1/2 cup almond flour
1/4 cup coconut flour
1/4 cup rolled oats
1 scoop vanilla whey protein powder
1/4 teaspoon salt
1 teaspoon baking soda
2 tablespoons dried cherries, chopped
1/4 cup walnuts, chopped
1/4 cup almond butter
2 eggs
1/2 cup unsweetened applesauce
1 tablespoon coconut oil, melted
1 teaspoon vanilla extract
Instructions
Preheat oven to 350 degrees and line a baking sheet with parchment paper or a silpat.
Mix all dry ingredients together in a large bowl.
Whisk together all wet ingredients in a small bowl.
Pour wet into dry and mix with a spatula until fully incorporated.
Drop cookie dough onto baking sheet in large spoonfuls.
Bake for 12-15 minutes. They'll still be soft to the touch, but starting to brown on the bottoms.
Let cool on sheet for 2-3 minutes before transferring to cool completely on a wire rack.