These triple chocolate protein cake bars are a high protein snack with three different kinds of chocolate making each bar feel indulgent yet healthy.
Want to know the secret to having consistent motivation to workout?
Things like these waiting for you either pre or post exercise.
I'm not even kidding when I tell you my mood went from slightly dreading my workout for the last two days (only because of the length of these phase 2 livefit workouts, not because I don't like the program) to full out excited when I remembered these were in the fridge. Chocolate has that kind of affect.
It's a sad thing to come home to an empty fridge after traveling, but it's a whole other level of sad/difficult/frustrating to not have any good prepped workout food on hand. If I'm going to be anywhere near successful in eating well and focusing on protein content, I need stuff on hand and ready because if I come up the stairs from our gym in the basement (currently inhabited by a rogue cricket who will not shut the hell up as I type this from a level above him) without a post workout snack planned out, things go south quickly.
It just so happens that these planned snacks have 3 different kinds of chocolate going on with their 10g of glorious protein a piece.
Funny how that happened.
If Jamie is going to superset me to death for an hour and a half, you can bet there will be more of these being made for the remainder of phase 2.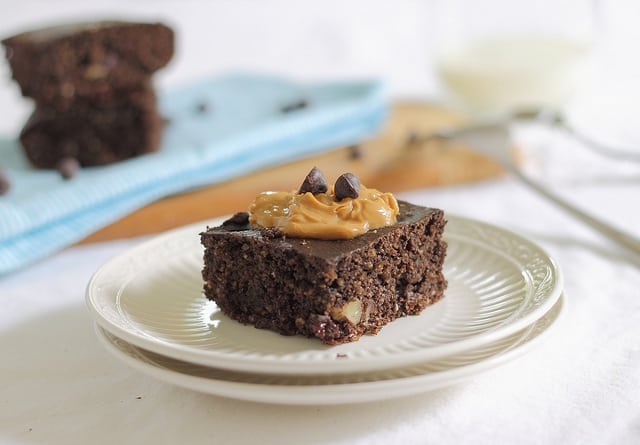 Oh, and pb on top? It's protein, why not?
Yield: 9 servings
Triple Chocolate Protein Cake Bars
These triple chocolate protein cake bars are a healthy high protein snack with three different kinds of chocolate.
Ingredients
1 cup oat flour
1/4 cup almond flour
1 scoop vanilla whey protein powder
1 scoop chocolate whey protein powder
3 tablespoons unsweetened dark cocoa powder
1/2 teaspoon baking soda
1/4 teaspoon salt
1 egg
2 tablespoons liquid egg whites (or 2 whites)
1/4 cup NuNaturals stevia baking blend
1/3 cup unsweetened applesauce
1/4 cup plain greek yogurt
1/4 cup almond milk
3 tablespoons dark chocolate chips (optional)
3 tablespoons chopped walnuts (optional)
Instructions
Preheat oven to 350 degrees, grease an 8 x 8 baking dish.
Combine through salt in a large bowl, set aside.
Combine eggs and stevia and whisk together until fully incorporated in a medium bowl.
Add remaining wet ingredients to the medium bowl and whisk together.
Pour wet into dry ingredients and add in chocolate chips and walnuts if using.
Pour batter into baking dish and bake for 20-25 minutes until a toothpick inserted comes out clean.
Let cool completely in pan and then cut into 9 squares, wrap individually and store in refrigerator.
Notes
-you can use all oat flour if you don't have almond flour. I just ran out of oats and had to improvise.
-use any sweetener you like, it doesn't have to be stevia. Adjust measurements as necessary.
*Each piece is about 145 calories with 10g of protein including the walnuts and chocolate chips.