These perfect protein pancakes have 30g of protein per serving and are the perfect blank slate to top however you want for a healthy start to your day.
*This post for Perfect Protein Pancakes was originally published on 4/15/2012. The photographs have been updated, the recipe tweaked a little bit to make it even better and more protein-packed! All the content below is original. I vividly remember writing this post on my 30th birthday as we celebrated with a trip to Niagara Falls. A lot has changed in the 6 years since but these protein pancakes are still perfect and pack an awesome nutritional punch to start the day. Enjoy!
—–
Before these last two days, before the fries, burgers, ice cream, wine, 5 course chef's tasting meal and $7.50 bottled water at Jamie Kennedy's restaurant, all of which are very necessary to distract yourself from the fact that you just entered your third decade, I was a bit obsessed with making sure my protein intake was at least 15g or so with every small meal I was eating. I've been trying my best to listen to Jamie Eason's advice as I make my way towards the end of phase 1, which, by the way, my arms are loving but the rest of my body seems to be taking as a sign to stockpile every single calorie I eat.
I refuse to weigh myself as many have warned of this in the beginning but let's just say my skinny jeans are starting to look more like stuffed sausages. Jamie better know what she's talking about…
The protein thing hasn't been too hard to accomplish, except for breakfast. After eggs, there's only so much cottage cheese and protein powder you can swirl in oatmeal before wishing for waffles, pancakes and other delicious carb-tastic options.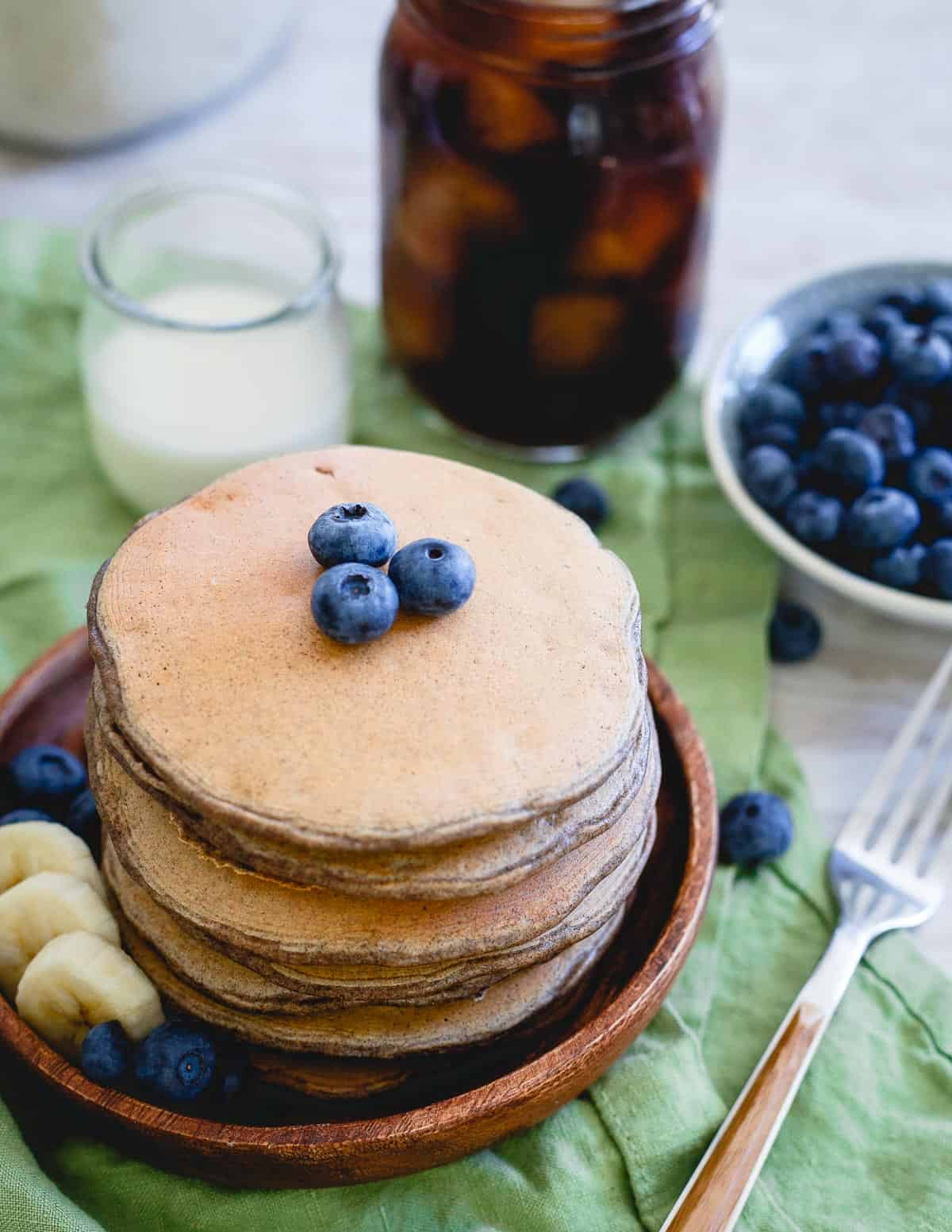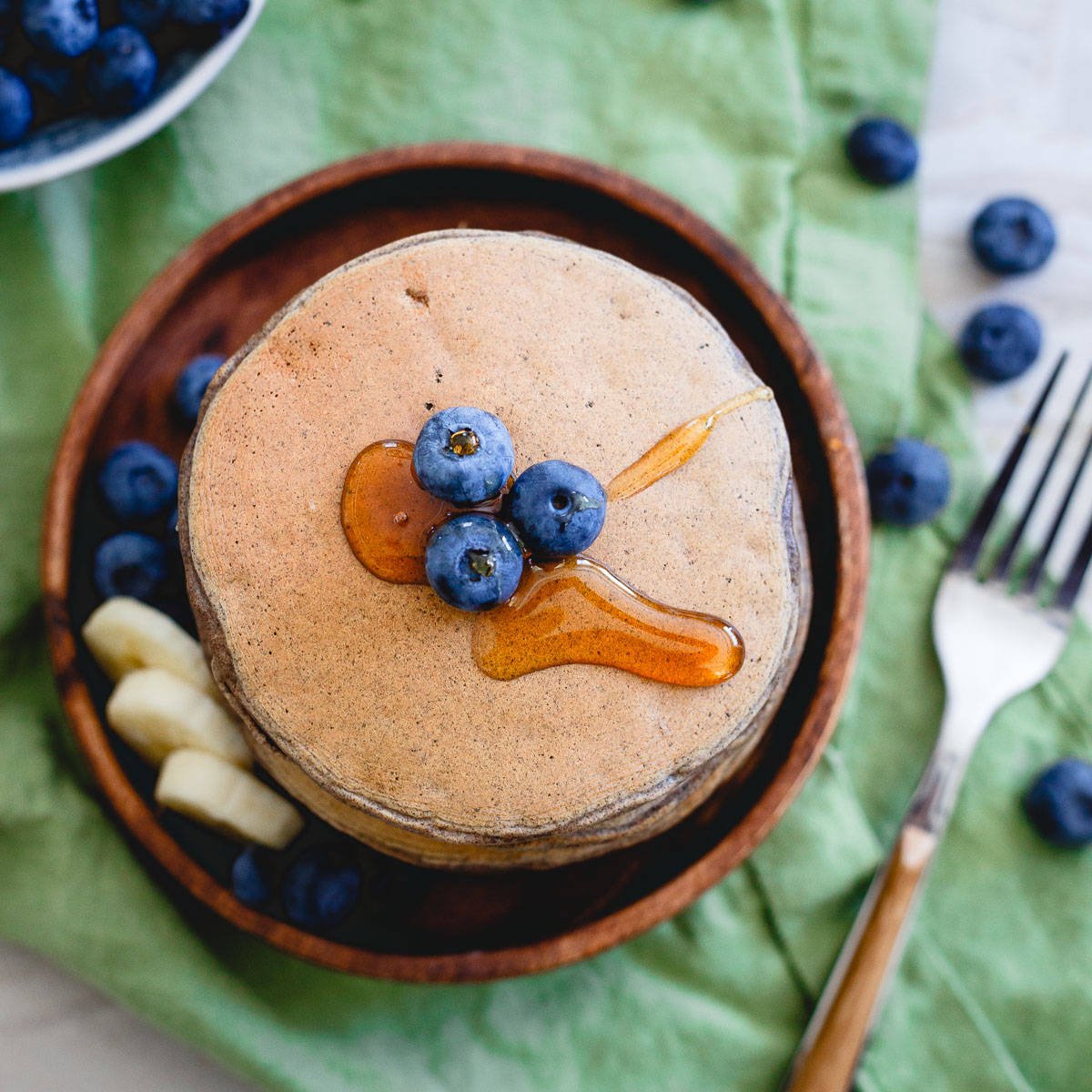 There's quite a few options when it comes to adding protein to pancakes…protein powder, egg whites, cottage cheese, higher protein flours, and greek yogurt just to name a few.
These were something like my 4th or 5th attempt playing around with different ingredients and ratios until I was finally satisfied with the flavor, texture and protein content.
The result is 30g of protein, fluffy enough to be "pancake-y" but dense enough to be filling and the perfect blank slate to top however you want.
I'm not usually one to enjoy protein in my carb sources (I'd rather eat two separate things – more volume!) but I know a lot of people like the convenience of that approach and these perfect protein pancakes give you just that. With 24g of carbs and 6g of fat – each serving really is a well-rounded meal in itself.
Of course, there's a little room for some fruit toppings and maple syrup because what pancake stack is complete without that?!
Check out all my pancake recipes for more breakfast inspiration. There's quite a few! Definitely one of my favorite ways to start the day.
These pumpkin protein pancakes are another protein packed option if you're like me and pumpkin lives in your pantry all year round.
Yield: 2 servings
Perfect Protein Pancakes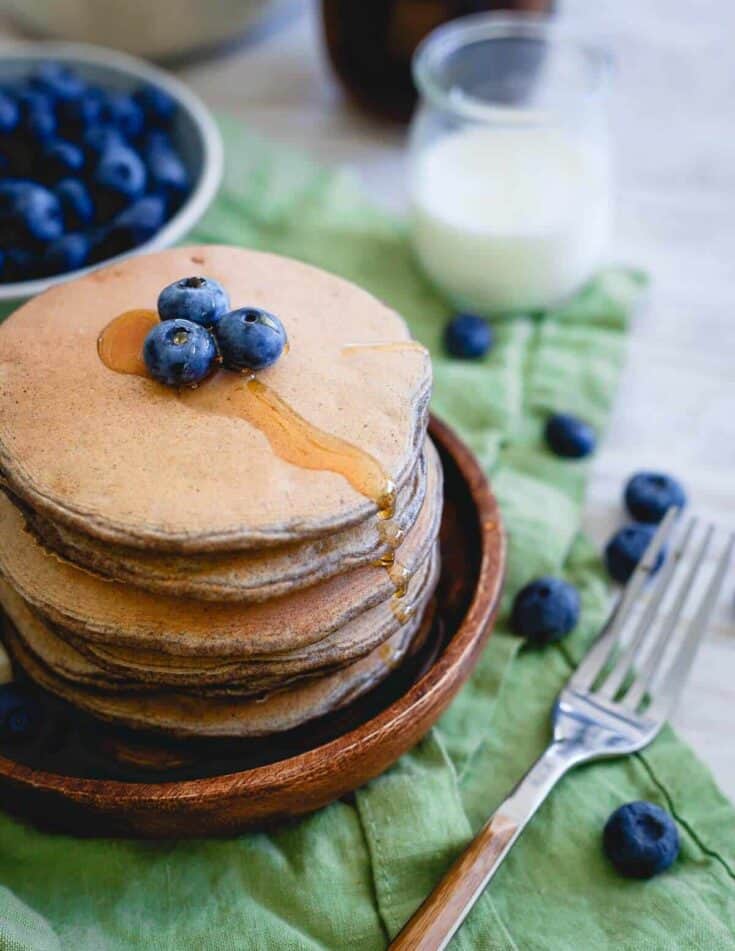 These perfect protein pancakes have 28g of protein and are the perfect blank slate to top however you want for a healthy start to your day.
Ingredients
6 tablespoons buckwheat flour
2 tablespoons almond flour
2 tablespoons vanilla whey protein powder
1/4 cup cottage cheese
1/3 cup liquid egg whites
1/2 teaspoon vanilla extract
1/2 teaspoon cinnamon
1/4 teaspoon baking powder
3 tablespoons milk
Instructions
Combine all ingredients in a medium bowl and whisk until smooth and fully incorporated.
Heat pancake griddle to medium and grease with butter or baking spray.
Pour batter and cook on each side for 1-2 minutes.