The search for a good grain-free, gluten-free fall pancake ends here. These pumpkin paleo pancakes are bursting with fall flavor and, unlike many other paleo pancake recipes, actually taste like a real pancake!
Of all the things in this world to cook or bake, I seriously never thought pancakes would give me such a hard time. But this stack of pumpkin paleo pancakes right here has been about 2 months in the making. And let me tell you, eight weeks of failure ridden, Sunday morning breakfasts was getting pretty annoying.
I find breakfast to be one of the hardest meals to do grain free. I know so many paleo advocates out there will say, "just treat it like another meal!" but here's the thing…I don't want to! I freakin live for breakfast. I go to sleep the night before thinking about it, when I randomly wake up in the middle of the night, it's the first thing that pops into my head and I just flat out refuse to let my restaurant quality waffle maker sit unused in a corner cabinet while I eat chicken and broccoli or some other "dinner" meal first thing in the morning. Not happening. So I googled paleo pancakes a few months back and let me just say this, just because it's on the internet, does NOT mean it's good.
Holy eff.
The amount of disgusting paleo pancake recipes out there is mind boggling. I'm not naming any names, but just be prepared to waste a lot of eggs, bananas and almond flour if you're ever testing some out. If you want an eggy souffle like pancake, you might be in luck because that's what most taste like. I, however, wanted a pancake that tasted like a pancake minus the flour part. Simple sounding, difficult in execution.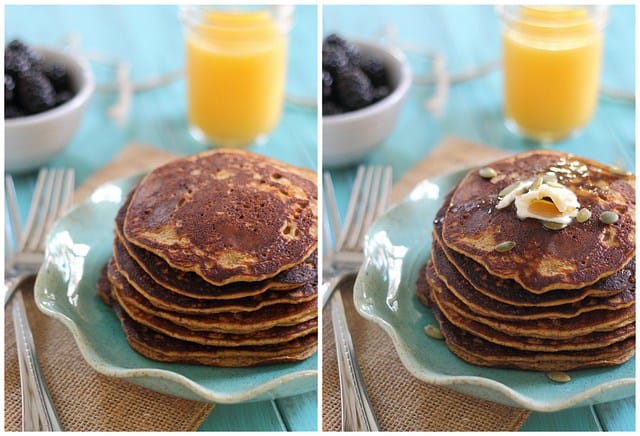 So after trying other people's recipes for 8 weeks to try and get that without any success, I gave up, got all my go-to paleo ingredients out, threw some pumpkin on the counter for good measure and totally winged it until I got a batter consistency I liked, crossed my fingers and came out with these pumpkin paleo pancakes.
These are good.
These taste like a pancake, not a banana-y egg casserole in the shape of a pancake.
WATCH THE VIDEO: How To Make Pumpkin Paleo Pancakes

When eaten on a weekend that includes 30 clean & jerks to support breast cancer prevention, motorcycle rides to Vermont, apple cider, pumpkin picking, pumpkin chip and salted caramel ice cream and riding dirt bikes around the yard to tire your dog (who must.chase.it) out, your life will be pretty complete.
You can also just eat them for breakfast with a cup of coffee and they'll be pretty damn good too.
And if you don't care about the whole "paleo" thing, try these pumpkin protein pancakes, they're like the more normal sibling to these pumpkin paleo pancakes and hella good too!
2
adjust servings
Pumpkin Paleo Pancakes
Pumpkin paleo pancakes that actually taste like a real pancake. They're grain and gluten free, full of pumpkin flavor and the texture of a normal pancake.
Ingredients
1/2

cup almond flour

2

tablespoons coconut flour

1

tablespoon ground flax seed

2

tablespoons vanilla protein powder (optional)

pinch of salt

1/2

tablespoon cinnamon

1

teaspoon pumpkin pie spice

1/4

teaspoon baking soda

1/2

cup pumpkin puree

3/4

cup egg whites

2

tablespoons honey (or maple syrup)

1/2

teaspoon vanilla extract

coconut oil for cooking pancakes
Instructions
Heat a pancake griddle over medium heat.
Combine dry ingredients in a bowl.
Whisk together wet ingredients in a small bowl.
Add wet to dry ingredients and stir together.
Add enough coconut oil to the pan to grease the center.
Spoon about 3 tablespoons of the batter onto the pan and spread out into pancake shape (the batter will be a bit thick and need some help to form a circle)
Cook for about 3-4 minutes on the first side, gently flip and cook for another 2-3 minutes on the second side.
Repeat with remaining batter, adding more coconut oil to the pan as needed
Recipe Notes
-As noted in the directions, the batter is thick, it won't pour like traditional pancake batter and you'll need to spread it into a circular shape with a spatula or spoon.
-I like to use my Cuisinart griddler to cook these instead of a stovetop pan. It's non-stick and eliminates any worry of the pancakes sticking to the pan. That said, they will cook fine over a medium consistent heat and enough coconut oil to grease a pan.