These cherry chocolate hazelnut balls are made with raw ingredients, perfect for curbing that sweet tooth in a healthy but tasty way.
This WIAW post definitely crept up on me. Short weeks are awesome in that kind of way. I'm expecting one of two things on all the WIAW posts today, either an excessive amount of cookies and sweets as people try to finish them up or, incredibly clean, detox kind of foods for those of us done with the sugar. I definitely fall into the latter category. Sugar be gone!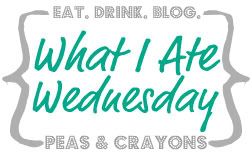 Breakfast:
Just a pretty standard cereal bowl with Trader Joe's shredded wheat, grapenuts, bananas, strawberries, some other nut/seed toppings and a small spoonful of Justin's hazelnut butter. Also, lots of unpictured coffee to get me through the first morning of work after 3 days of vacation.
Lunch:
A kale salad and dressing you'll be seeing more of this week and a cheese quesadilla. Kale has never tasted so good after 3 days without any leafy greens.
Snack:
In an effort to not grab any more Godiva chocolates from the entire tin we have sitting in our kitchen, I made a new raw snack ball combination, cherry chocolate hazelnut. Delicious, satisfied my 2-3pm snack attack and it's actually healthy. Beat that Godiva!
It's disturbing how much fun I have photographing balls. I snacked on these while trying to figure out a feedburner issue that I discovered this afternoon. Apparently, my feed was broken for the past 4 or 5 days. By some miracle, I actually figured it out and fixed it myself (woohoo!) so sorry if you got a slew of posts all at once from the past few days. It should be working normally now.

Cherry Chocolate Hazelnut Balls
These cherry chocolate hazelnut balls are made with raw ingredients, perfect for curbing that sweet tooth in a healthy but tasty way.
Ingredients
1/2 cup cashews
1/4 cup almonds
2 tablespoons Justin's chocolate hazelnut butter (or Nutella)
2 tablespoons dried cherries
1/2 tablespoon chia seeds
1/4 teaspoon vanilla extract
3/4 tablespoon maple syrup
Instructions
Combine all ingredients except maple syrup in a food processor and process until finely chopped.
Add in maple syrup and process until mixture just starts to form a ball.
Pour dough into a small bowl and roll into balls.
Keep refrigerated.
Dinner:
After a 3 mile treadmill run and some ab work, where I totally figured out the key to planks not totally sucking,
I had a small piece of leftover Christmas lasagna with more of that kale salad. I officially deem lasagna the most unappetizing food to photograph.
Tea for dessert with an episode of our new Netflix obsession, Breaking Bad. I'm on a Mad Men hiatus because the drama between Betty and Don was making me all anxious. Seriously. Cooking meth and cancer seem to be better storylines for me.
Are you still indulging in holiday treats or done with sugar too?
Anyone else watch Breaking Bad?