Peaches and coconut cream oats are a healthier coconut twist on the traditional peaches 'n cream oatmeal breakfast combination.
I think of two things when I hear the phrase "peaches 'n cream", those tiny little packets of Quaker oats instant oatmeal that maybe satisfy a mouse and the 112 song from my early college years.
Interesting enough, I roomed with a girl for 3 weeks in the beginning of my sophomore year that apparently dated one of the singers in that group.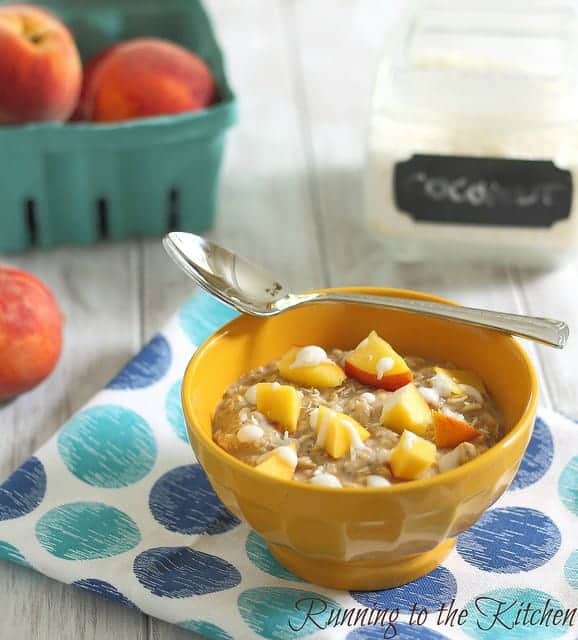 Unfortunately, that was about the only cool thing about her because after 3 weeks I ended up spending 3 nights in Motel 6 before finally changing rooms and moving in with random strangers (who later became my best college friends) when her sleep all day, party all night and bring random people into our room at 3am schedule resulted in me losing my mind and starting an all out scream fest.
I take my sleep seriously.
So the oatmeal has better memories.
Although, if we're talking about the packets, the brown sugar one was way better.
Just saying.
Now that I threw peaches under the bus yesterday in this nectarine brie pizza, I'm going to try and convince you to use them today.
Sound good?
When it comes to oatmeal, I need to doctor it up.
I actually used to hate oatmeal as a kid while my brother practically lived off the stuff. He'd shove his spoon of it in my face at the breakfast table and say "want to taste my oooooaaaatmeal, Gina???" all evil like.
It was mostly a texture thing (which I've subsequently gotten over) but also a nasty artificial taste thing of those packets.
The peaches and cream one always smelled so disgustingly sweet to me and unnatural. Which is a damn shame because who wouldn't want to gobble up a breakfast with the word "cream" in it?
Side note – try this strawberries and cream oatmeal for another riff off the Quaker packets. Or, this apple cinnamon oatmeal for a fall twist. They're both infinitely better than the packaged stuff!
So my doctored up, real food version uses fresh, summer ripe peaches and cooks in coconut milk for a healthier "cream".
It's topped with a coconut butter/coconut milk "icing" and it simply puts the packet to shame.
You can top with fresh chopped peaches or go all out for a more decadent breakfast and serve an air fried peach half on top instead.
…let me tell you what I wanna do, let me show that I'm feeling you….wanna taste, wanna put my lips all over you…
Oops, wrong one. But still appropriate.
Love peaches and cream oatmeal and want more easy stove-top oatmeal recipes?
Try green oatmeal – totally fun for St. Patrick's Day or just for making breakfast cool for the kids. Blackberry orange steel cut oats take a little more time but their flavor is so good! Or, there's always triple chocolate oatmeal to satisfy an early morning chocolate craving!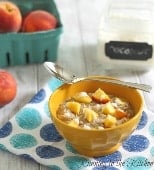 Peaches and Coconut Cream Oats
Peaches and coconut cream oats are a healthier coconut twist on the traditional peaches 'n cream oatmeal breakfast combination.
Ingredients
For the Oats
1/2 cup rolled oats
1/4 small banana, chopped
1/2 tablespoon chia seeds (optional)
1/4 teaspoon cinnamon
1/8 teaspoon nutmeg
pinch of salt
1/2 teaspoon vanilla extract
1/3 cup milk
2/3 cup coconut milk from a can
1 teaspoon agave
1 cup peaches, chopped & divided
1 tablespoon vanilla whey protein powder (optional)
For the Icing
1/2 tablespoon coconut butter
1 tablespoon coconut milk from a can
Instructions
For the Oats
Combine all ingredients except 1/2 cup of the peaches in a small sauce pan.
Cook over medium heat for 5-7 minutes, stirring frequently until oatmeal thickens.
Pour into serving bowl and top with remaining peaches.
For the Icing
Combine coconut butter and coconut milk in a small bowl.
Heat in microwave for 15 seconds and stir together.
Drizzle icing on top of oatmeal.
Nutrition Information:
Yield:

1
Serving Size:

1
Amount Per Serving:
Calories:

751
Total Fat:

47g
Saturated Fat:

38g
Trans Fat:

0g
Unsaturated Fat:

6g
Cholesterol:

8mg
Sodium:

216mg
Carbohydrates:

67g
Fiber:

11g
Sugar:

25g
Protein:

23g
This website provides approximate nutrition information for convenience and as a courtesy only. Nutrition information can vary for a variety of reasons. For the most precise nutritional data use your preferred nutrition calculator based on the actual ingredients you used in the recipe.