These chocolate dipped orange macaroons are the perfect little holiday treat!
You guys…I'm just all over excited about this post.
1. Cookies!
2. Said cookies are actually paleo (which is totally accidental and I just realized as I was writing the ingredient list out below).
3. See that silver platter? I've been salvation army hunting for something like that for AGES. Finally found it this time around and it cost me a whopping $.99. Score.
4. I'm in love with how these little cuties photographed.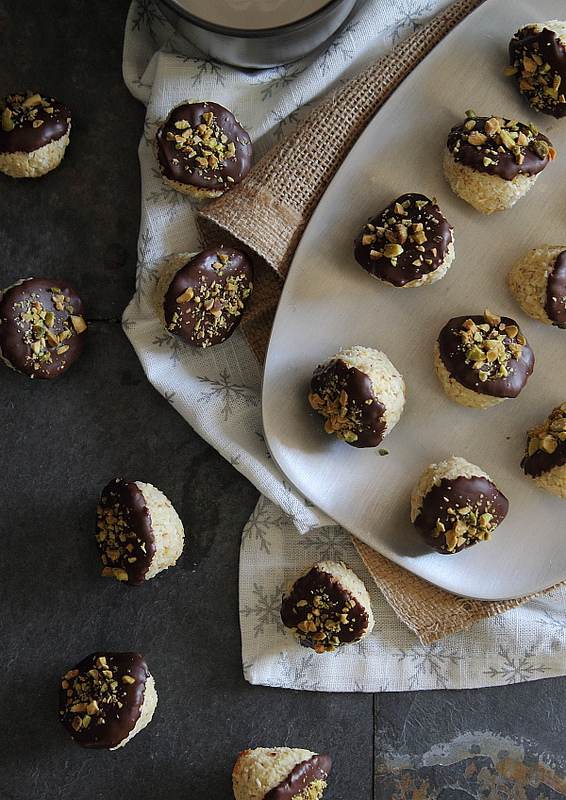 5. YOU get a chance to win a $500 Amazon gift card at the bottom of this post. (giveaway has ended) Wouldn't that make holiday shopping a bit more fun?!
Macaroons are one of my favorite cookies. They're pretty much impossible to screw up (unlike their cousin the macaron) and they're practically a health food; egg whites, coconut, dark chocolate…I mean those are some powerhouse ingredients right there. I also used maple syrup in these instead of sugar, a bit of almond flour to the coconut mix and the zest of an entire orange which gives them this awesome infused flavor. Oh, and then capped them off with a dark chocolate shell and chopped pistachios. So many of my favorite things all in one cute little acorn shaped package. If you're not down with the orange/chocolate combo, just leave the chocolate dipping part out. Want to know why I dipped them? Ulysses hates chocolate. More for me.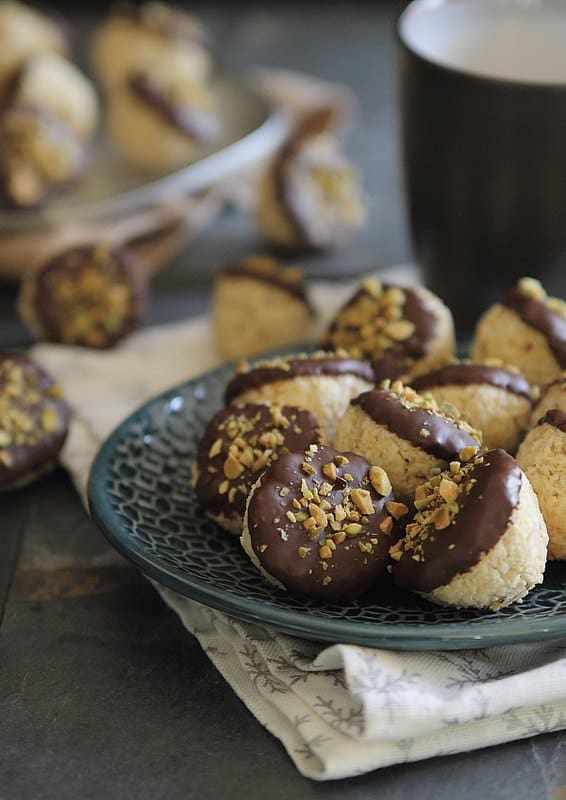 As I alluded to in a previous post, our house sale fell through at the last minute (the punk buying our house couldn't get a mortgage because he lied to the bank on his preapproval-awesome right?) so here I was thinking all this holiday baking I had lined up for this month would be perfect because I'd be living at my parents house with 2 extra mouths to help eat it all and instead, I'm still in my (now half empty because we sold or already packed a lot of our furniture) house alone with all these sweets.
When it comes to this recipe though, I can't say I mind not having to share.
Dark Chocolate Dipped Orange Macaroons
These chocolate dipped orange macaroons are the perfect little holiday treat!
Ingredients
2 large egg whites
1/4 cup maple syrup
zest of 1 orange
1 teaspoon vanilla extract
pinch of salt
2 cups unsweetened shredded coconut
1/2 cup almond flour
1/4 cup dark chocolate chips
1 teaspoon coconut oil
chopped unsalted pistachios
Instructions
Add egg whites to the bowl of stand mixer and beat with the whisk on high speed for about 2 minutes until fluffy.
Add the maple syrup and continue beating for another 2 minutes.
Remove the bowl from the stand and fold in the remaining ingredients with a spatula until the egg whites are completely incorporated.
Heat the oven to 350 degrees and line a baking sheet with parchment or a silpat baking mat.
Shape the dough into a cone/acorn shape in your palm using your fingers and place on the baking sheet.
Bake for about 15 minutes just until the tops start to turn golden brown. Remove from the oven once this starts to happen.
Let the macaroons cool completely.
Melt the chocolate and oil in a small bowl.
Once cooled, dip the flat end of the macaroons into the chocolate.
Place them on a cooling rack with the tip pointing down.
Sprinkle the pistachios on top of the chocolate coating and let them sit until hardened.
Store in an air tight container in the refrigerator.
Nutrition Information:
Amount Per Serving:
Calories:

110
Total Fat:

2g
Carbohydrates:

19g
Protein:

4g